PSX weekly review: Bulls dominate as KSE-100 index shoots past 42,000 mark
KSE-100 index gains 1,946 points.
Finishes four out of five sessions in green.
Interest in main board sectors kept market buoyant.
---
KARACHI: The Pakistan Stock Exchange (PSX) recouped losses from the previous week with the benchmark KSE-100 index gaining 1,946 points or 4.9% to settle at 42,096.24. Trading remained volatile throughout the week with the index finishing four out of five sessions in the green.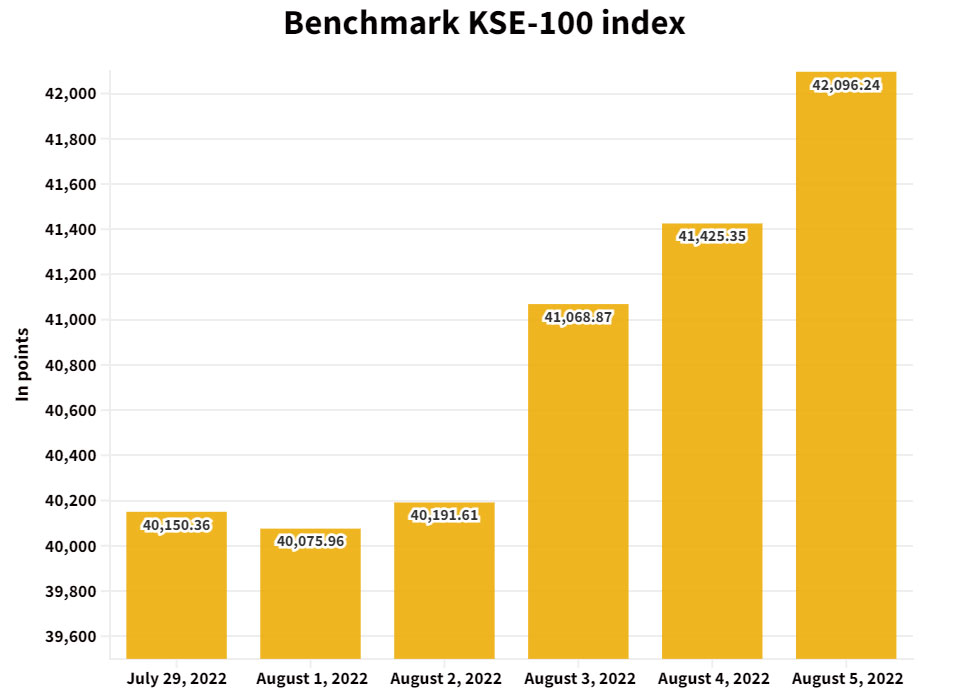 Interest in main board sectors kept the market buoyant as investor participation remained strong. The index maintained a healthy momentum on back of trade deficit and strengthening rupee against the US dollar. Additionally, sector-specific developments also spurred buying interest in select stocks, which further fuelled the rally.
The market commenced the week on a negative note as inflation for the month of July 2022 came in at 24.9%, — highest level in last 14 years.
Fortunately, tables turned and the sentiment turned positive after the International Monetary Fund (IMF) announced that Pakistan had fulfilled the last remaining pre-requisite for the loan (incremental hike in petroleum development levy on MS and hi-speed diesel).
With this renewed hope, the Pakistani rupee strengthened against greenback, gaining Rs15.33, or 6%, week-on-week to close at Rs224.04 this week.
Furthermore, trade deficit significantly declined in July, down by 47% month-on-month. Moreover, reduction in international oil prices post OPEC+ meeting (WTI trading below $88 per barrel compared to $98.62 per barrel last week) further cemented the ground for bulls.
Other major developments during the week were: ministry agreed to increase oil marketing companies margin on MS (petrol), hi-speed diesel, SBP's forex reserves fell $190 million to $8.4 billion, banks give Rs298 billion financing in PIB auction, refineries' gross margin declined 83% in August, and oil sales in July 2022 clocked in at the lowest level since February 2021.
Meanwhile, foreign selling this week clocked in at $0.69 million against a net buy of $0.57 million recorded last week. Selling was witnessed in banks ($0.9 million), and fertiliser ($0.6 million).
On the domestic front, major buying was reported by brokers proprietary ($2.2 million), followed by mutual funds ($1.6 million).
During the week under review, average volumes clocked in at 263 million shares (up by 75% week-on-week), while average value traded settled at $34 million (up by 56% week-on-week).
Major gainers and losers of the week
Sector-wise positive contributions came from banks (+427 points), cement (+421 points), fertiliser (+112 points), chemical (+111 points), and oil marketing companies (+106 points).
On the flip side, negative contributions came from close-end mutual fund (-3 points), and real estate investment trust (-1 points).
Scrip-wise major gainers were Luck Cement (+155 points), UBL (+124 points), MCB (+87 points), PSO (+78 points), and Colgate-Palmolive (+73 points).
Meanwhile, major losers were Faysal Bank (-10 points), Mari Petroleum (-6 points), Interloop (-4 points), and Adamjee Insurance Company (-3 points).
Outlook for next week
A report from AHL predicted: "We expect the market to remain in the green zone given hopes on loan disbursement from IMF once approval is granted by the Executive Board."
"Moreover, with the ongoing result season, certain sectors and scrips are expected to stay under the limelight given anticipation of robust results," it said, advising investors to cherry-pick fundamentally strong blue-chip stocks.
"The KSE-100 is currently trading at a PER of 4.3x (2022) compared to the Asia-Pacific regional average of 12.5x while offering a dividend yield of 8.9% versus 2.8% offered by the region," the brokerage house stated.
November inflation to spike on gas price adjustment, dashing slowdown hopes
CPI likely to rise to 28.6-29.6% year-on-year in Nov.
Inflation rate could register 2.1% month-on-month jump.
Weekly SPI on Nov 16 showed 480% surge in gas prices.
---
KARACHI: Inflation is expected to surge in November, primarily due to a massive hike in gas prices, according to brokerage reports released on Wednesday.
The consumer price index (CPI), which measures changes in the prices of goods and services, is likely to rise to 28.6-29.6% year-on-year in November, up from 26.9% in October.
A report by brokerage firm Insight Securities predicts that the inflation rate will register a 2.1% month-on-month jump, defying earlier expectations of a gradual slowdown from September onwards. Optimus Capital Management estimates that the CPI will increase by 2.9% month-on-month, primarily driven by an 11.6% jump in the housing index due to gas price revision and a 1.6% increase in the food index.
The primary cause behind the expected spike in November inflation is the adjustment of recently imposed fixed charges within the gas tariff structure. The weekly sensitive price index (SPI) inflation released on November 16 showed an astonishing 480% surge in gas prices.
However, a slight respite is expected from a 4.0% decrease in the transport index due to lower average fuel prices in November. The impact of the gas price hike was partially mitigated by the decline in fuel prices and the month-on-month fall in the food commodity adjustment (FCA).
Food inflation is attributed to a sharp increase in the prices of perishable items such as onions, tomatoes, potatoes, and eggs, as well as tea. Despite an increase in supply from imports, wheat prices still rose month-on-month, while sugar and cooking oil showed a significant decline during this period, based on weekly SPI data from the Pakistan Bureau of Statistics.
The recently implemented axle load regime, which limits the weight of goods transported by trucks, could put some pressure on the price levels of goods.
The higher October fuel cost adjustment (FCA) demanded at Rs3.5 per kilowatt hour (to be applicable in December) on electricity charges and a second-round impact of gas price increase could keep inflation under pressure. However, the base effect during the second half of the fiscal year is likely to help absorb the impact.
Commodity and energy prices, along with the exchange rate of the rupee against the US dollar, will remain important factors in keeping the CPI under control.
The reports projected the average inflation for the first five months of the fiscal year 2023/24 (July-June) to be 28.5%, compared with 25.2% in the same period last year and with an estimated ending at 19.4% year-on-year in June 2024.
They predicted that the State Bank of Pakistan (SBP) is likely to maintain the interest rate in its upcoming monetary policy committee (MPC) meeting due to the higher-than-estimated inflation in November. However, the SBP could opt to initiate an easing cycle in the first quarter of 2024, given the high base effect in the second half of the fiscal year.
Petrol price likely to remain unchanged in next fortnightly review
Petrol prices to hold steady in next review.
Diesel and kerosene prices to decline from Dec 1.
Next fortnightly review due tomorrow (Nov 31).
---
KARACHI: The prices of petroleum products will not see any major change in the upcoming fortnightly review with diesel and kerosene rates expected to go down slightly, according to the industry calculations.
According to a The News report published Thursday, the ex-refinery and ex-depot prices of petroleum products did not register any major fluctuation as global crude prices eased in recent days.
The ex-depot price of petrol, the most widely used fuel in the country, is slightly higher by Rs0.19 per litre to Rs281.53 per litre compared to the current price of Rs281.34, industry officials said.
The ex-depot price of high speed diesel (HSD), used mainly for transport, has been worked out at Rs290.47 per litre for the next fortnight compared to the existing price of Rs296.71 , showing a decline of Rs6.24 rupees per litre.
The ex-depot price of kerosene, used for cooking and lighting in rural areas, has been worked out at Rs202.16 per litre compared to the current price of Rs204.98, indicating a decrease of Rs2.82 per litre.
The ex-depot price of light speed diesel, another variant of diesel, has been worked out at Rs176.18 per litre for the next review against the present price of Rs180.45, registering a decline of Rs4.27 per litre, the report stated.
According to the industry's working, the estimated exchange adjustment of petrol is zero whereas it is Rs1.80 per litre for HSD.
However, the industry officials said that the prices of petroleum products can change with the exchange loss as the industry did not put the exchange loss figure in its working for the next review.
The country fixes fuel prices on a fortnightly basis after evaluating fluctuating international energy market costs and the rupee-dollar parity to transfer the impact on domestic consumers.
They said global oil prices remained under pressure during November, falling below $75 a barrel in mid-November.
WTI was trading at $76.5 a barrel on November 29, down by nearly 7% as compared to October 29. Brent was down by 5.4% in the past month, trading at $86.35 a barrel, they added.
Another day, another high: PSX continues bull run as KSE-100 goes past 61,000 points
KARACHI: The Pakistan Stock Exchange (PSX) on Wednesday reached another historic high as the bulls continue to dominate the benchmark KSE 100 index with hopes of the State Bank of Pakistan lowering the policy rate in the coming days.

The benchmark index gained 702, or 1.16%, during the intraday trade and stood at 61,433 points at 10:09am.
Commenting on the bull run, Head of Research at Pakistan-Kuwait Investment, Samiullah Tariq said that the market was reacting positively because it expects an interest rate cut, a quick International Monetary Fund review and strong profitability of companies.