Why violence against women continues unabated despite presence of laws
Over the last few years, there has been a surge in the reported cases of domestic violence across Pakistan. Studies show that most marriages in our society are based on toxic relationships, often involving physical and emotional abuse. This, in particular, pertains to women in the country and even if they try to open up to their families about being abused, they are often sent back to their abusers in a bid to "save the household".
Many a time, victims of domestic violence are told that "everything would be fine once a baby is born". In hopes of making the situation better, women keep having children, but the cycle of domestic violence rarely stops.
As a result, a toxic, abusive marriage — which could easily be ended within a few months — lingers on and women have to stay with their abusers for years, only for the sake of their children. In doing so, not only is the victims' life is ruined but children also suffer equally while being forced to live in an abusive household.
Grim numbers
Recently, a detailed report documenting incidents of domestic violence in the last three years was presented before the National Assembly of Pakistan. According to the document, a total of 63,367 cases of violence against women were registered with the police over the last three years. Meanwhile, between 2019 to 2021, 3,987 women were killed as a result of domestic violence.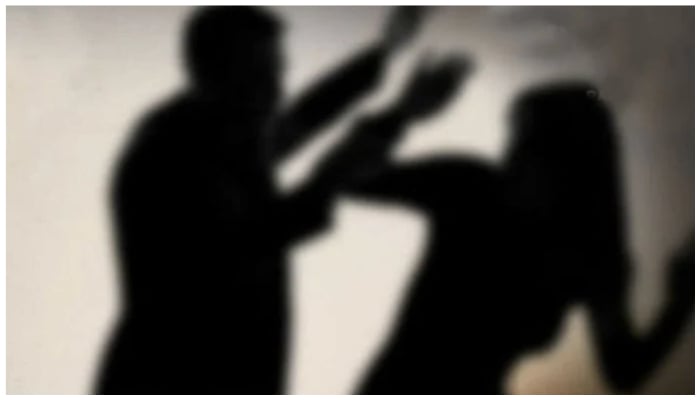 The report, citing police records, further showed that a total of 5,171 cases related to physical abuse and torture were registered during this period, while 1,025 women were subjected to honour killings and another 103 women became victims of acid attacks. Similarly, a total of 10,517 rape cases and 643 incidents of gang rape were registered with the police during the aforementioned period.
Prevalent in all socioeconomic classes
The statistics show that despite the presence of domestic violence laws in the country, women are still not safe. Such cases are also not confined to specific socioeconomic classes, as women belonging to all backgrounds have witnessed intimate-partner violence, which has even led to murder. A few examples include the Noor Mukadam and Sarah Inam murder cases, as well as the ongoing domestic abuse case of Syeda Aliza Sultan, who recently submitted evidence of domestic violence in a court against her ex-husband, renowned Pakistani actor Feroze Khan.
According to Aliza, over the last four years, Khan allegedly subjected her to physical violence several times while also torturing the couple's son, Sultan. She also submitted her medico-legal reports and images before the court to prove that she was assaulted by him.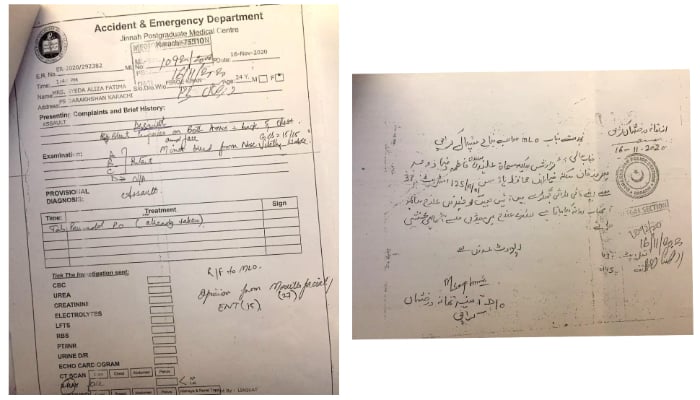 Shedding light on such incidents, Pakistani lawyer and legal expert Sara Malkani reiterated that cases of violence against women are rampant in all socioeconomic classes and even those who are highly educated or belong to respected families are not immune to it. The cases of Aliza Sultan, Noor Mukadam, and Sara Inam serve as relevant examples.
"It doesn't matter whether you belong to the upper class, lower class, or the middle class and it makes no difference if you are educated or not. Cases related to domestic violence, rape, and honour killings are found everywhere in the country," Malkani told Geo.tv.
Fatima TuZara Butt, an Islamabad-based lawyer who specialises in cases related to women including domestic violence, meanwhile, said that such cases continue because, in Pakistani society, a girl's parents hold the belief that once their daughter is married, she should stay obedient to her husband, otherwise no one would accept her.
"Often when a victim approaches her family and expresses her desire to return to her home, her father and brothers refuse to take her back under the pretext of preserving the family's honour," Butt said while speaking to Geo.tv.
Tip of the iceberg
Sara Malkani went on to say that "we are only aware of reported cases", but thousands of victims never go to the police to report their ordeals. "The statistics, therefore, do not portray the real picture."
She maintained that while the focus is largely on punishment for the crimes committed against womenfolk, it is the duty of society to also talk about prevention so that such cases do not happen in the first place.
"We, as a society, have to understand that the root cause of these horrible incidents lies in patriarchy, so there is a dire need to address this issue and stop such cases from happening," she said, adding that accountability was largely missing from the Pakistani culture.
"We mostly see that there is no accountability if someone does something wrong and they won't be answerable to anyone. On the other hand, while we talk about accountability, many a time women approach the police and court to seek security. But our state's system in this regard is very weak. The police don't respond," she maintained.
Butt said that the reason why cases of domestic violence are increasing despite the presence of law is because of the patriarchal system.
"If a man is subjecting his wife to domestic abuse, the victim seldom finds any support from other family members," she said, adding as a result, they often have to become victims of domestic violence at the hands of their husbands.
Owing to this social stigma, females don't want to report the cases, she added.
"Even when they muster the courage to do so, police officials often discourage the victims from proceeding with the case and suggest they go home and resolve family matters within the family," the lawyer stated.
Need for early intervention
Malkani, while citing the example of other countries, said that around the world, it has been established that such assaults should be dealt with in a timely manner to save women from being killed.
"If the response is timely, it is possible to prevent serious cases. But we don't see such a response, even though the awareness regarding these matters has increased a lot," she said, adding that most domestic violence victims require immediate protection.
"Their first question is mostly about how they can protect themselves because they fear the abuser would follow them even if they leave their homes and how they can protect themselves in such a situation. But [women should be aware that] the Sindh Domestic Violence Act, for instance, has a provision that allows women to seek protection from the court, while Punjab's law also has this provision."
She said that if the laws are properly implemented by the court and police, then several women and children can be provided proper protection. "We can see that this law was passed nine years ago in Sindh, but the courts don't understand it properly because when we file an application with the magistrate, they still neither understand nor have the sensitivity that they are supposed to issue such an order immediately and for police to instantly act upon them," she said.
Answering a question related to how the public has a lack of trust in the police and the country's judicial system, Malkani cited the example of the Noor Muqadam murder case and said that it was an exception because the speed with which the trial proceeded and timeliness of the criminal's conviction has not happened in other cases, adding that other cases of a similar nature would not get the kind of publicity that Noor's case received.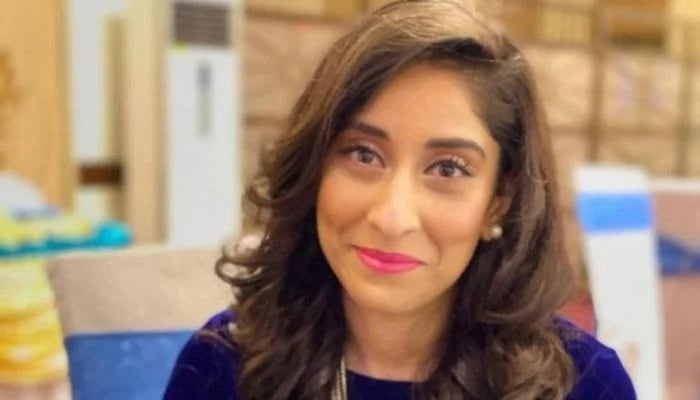 "When there are so many cases, the media and public wouldn't approach it the same way. Trust is an issue here. Even in a city like Karachi — where so many sensitisation training sessions have been conducted from time to time and the civil society has also done a lot of work to create awareness — whenever a woman goes to the police station to lodge a complaint related to domestic violence, they are often discouraged to register a first information report (FIR) and are instead suggested to "compromise" and continue living with the abuser."
Can domestic violence law protect women after divorce?
In cases where a couple has had an abusive relationship that ended up in a divorce, after which several cases were filed in a court of law by both parties involved and the victim is threatened regarding the custody of her children, Malkani said that the victims can still register an FIR because there is no statute of limitation in the law regarding that.
"I have also dealt with a case where the proceedings for khula (woman's demand for a divorce) and domestic violence were tried simultaneously. Therefore, there is room [for filing a report] in the law even after a woman has divorced," she said, adding that cases like that should be brought to the forefront where even if the woman leaves the husband and opts for divorce, the proceedings for domestic violence can also take place simultaneously and the trail can be initiated. "This should happen and the law is open to it."
Butt, on the hand, said that Pakistan's government has passed legislation to deal with cases in which women are subjected to violence at home, on the streets or anywhere else.
"The laws exist to deal with these cases. However, its implementation is weak because women don't take a stand. They fear that if they take any action, they might be kicked out of their homes and might hurt their honour. Such cases usually remain buried due to the aspect of 'honour' associated with it," Butt said.
She further shared that the length of these cases also makes redressal a challenge.
"Women have to fight for years to prove domestic violence; they have to visit the court numerous times, hire a lawyer and pay their fees. On the other hand, Pakistan's justice system is also very slow and by the time a case is heard in the court, a judge may get transferred or take a leave. A lawyer may not be available or a strike may take place in the court," she shared.
Keeping these scenarios in mind, Butt informed, there is no time limit to clarify when the case would get resolved or whether the court is bound to issue a verdict soon and punish the abuser.
Butt also pointed at a woman's lack of financial independence, as money is required to pay for the case to be processed and hire a lawyer which can be difficult for women.
"Women who approach the court are judged by our society, as they consider them to be very unabashed for taking the decision to confront their abuser," she said, adding that women are labelled as "bold and characterless".
"Women feel vulnerable and give up on reporting such cases. All these factors are interlinked when it comes to the lack of implementation of laws and legislation," Butt shared when commenting on the issue of implementation.
US Fulbright scholarship prgramme opens for Pakistani students
ISLAMABAD: The United States Educational Foundation in Pakistan (USEFP) has invited students to apply for the prestigious Fulbright Student Programme 2024.
The Fulbright Program in Pakistan is funded by the United States Government and is the world's largest in terms of financial contribution, said a press release on Thursday.
Applications are welcome from all disciplines, including energy, water, agriculture, health, education, environmental science, and climate change. While clinical medicine is not included in the Fulbright Program, non-clinical public health applications are encouraged.
Interested applicants can apply at www.usefp.org before the deadline on February 28, 2024. The premier academic exchange program covers graduate studies, tuition, maintenance, insurance, and air travel.
All applicants are required to take the Graduate Record Examination (GRE) and must have a minimum score of 145 in both the verbal and quantitative sections of the exam. Shortlisted candidates will be required to take the Duolingo English Test.
On the impact of the Fulbright Program in Pakistan, US Ambassador Donald Blome said: "Pakistani Fulbrighters have solved social problems, written new laws, advanced policies to ensure equal access and voices to all, and so much more. They do this all for one purpose: to create a better, safer, and more prosperous Pakistan. In this goal, the United States and Pakistan are united."
Under the Fulbright Programme, nearly 3,000 Pakistani students have received fully funded scholarships to study for graduate study since 2005. These awardees have completed their studies and research and are now making significant contributions to the public and private sectors with their knowledge and expertise.
In a message to potential applicants, USEFP Executive Director Rita Akhtar encourages talented students and working professionals to consider applying.
"We especially want to encourage applicants from public universities and under-served areas. Fulbright is a merit-based program, but in defining merit, the program considers the obstacles and challenges applicants have faced as well as their achievements.
"One of the goals of the program is to build human capacity in Pakistan, so successful applicants will plan to return to Pakistan on completion of their degrees and use their new skills and knowledge for the benefit of the country."
FDE announces winter vacations for schools
ISLAMABAD: The government has announced the winter vacations for educational institutes functioning under the federal administration.
The winter break in the federal educational institutes will officially start from December 25 to December 29, a notification issued by the Federal Directorate of Education read.
However, Federal Directorate of Education officials said that the institutes will close on December 22, which falls on Friday, and reopen on January 1, 2024, (Monday).
Earlier in the month, Punjab and Sindh governments also announced the winter vacation schedule for the year.
In Punjab, the winter break for school children will commence from December 18, 2023, and continue till January 1, 2024.
"Winter vacations for children will commence from Dec 18 , 2023 to Jan 1, 2024," Punjab caretaker Chief Minister Mohsin Naqvi had announced.
Meanwhile, the Sindh schools will have the vacations from December 22 to 31.
After the winter break, the educational institutions will reopen on Monday (January 1, 2024).
"In pursuance of decisions taken in the steering committee meeting, all public and private educational institutions under the administrative control of School Education and Literacy Department Government of Sindh shall remain closed w.e.f 22-12,023 to 31-12,023 for Winter Vacation," a statement by the provincial government read.
Meanwhile, the new academic year in the public and private schools across Sindh will commence on April 15, 2024, and August 1, 2024, in the colleges.
The matriculation and intermediate exams will be started in the last week of May 2024, while the results will be announced on July 31 and the second week of August, respectively.
Pakistan to 'ascertain facts' on Afghan minister using its passport
Haqqani possessed a Pakistani passport until recently: report.
FO says the answer will come only after facts are ascertained.
US officials are set to visit Pakistan to discuss several matters.
---
ISLAMABAD: Pakistan said Thursday it will first ascertain facts before issuing a comment on a report that claims that Afghanistan's acting Interior Minister Sirajuddin Haqqani possessed a Pakistani passport until recently.
In her weekly press briefing, Foreign Office (FO) spokesperson Mumtaz Zahra Baloch said: "I have seen the report on the use of a Pakistani passport by the Afghan minister. The matter will be answered after [ascertaining] the facts."
A report published in The News today revealed that Haqqani was issued a Pakistani passport for five years which he used to travel abroad, particularly to Qatar for negotiations with the United States for the signing of the Doha Agreement that resulted in the latter's exit from Afghanistan.
The publication, via the interior ministry officials, learnt that these passports were issued from different cities of Khyber Pakhtunkhwa, Balochistan, and Sindh.
Meanwhile, two passport officials involved in issuing Haqqani's passport have been arrested, one of whom had retired from service by the time the action was initiated against him.
The issue around the minister using the Pakistani passport comes at a time when Pakistan continues to repatriate illegal foreigners, most of whom are undocumented Afghan migrants.
Baloch also briefed the presser about top officials from the United States visiting Pakistan this week.
"The focus of these visits is not only Afghanistan. These visits are related to the multifaceted aspects of Pakistan-US relations," she said, adding that Pakistan has decided to talk to America.
Pakistan and the US will conduct consultations over several issues including the situation in Afghanistan, the FO said last week.
In the meetings between Pakistan and US officials, reservations of both sides will be discussed. "We will also discuss the issues on which we have objections."
Updated list of Afghans from US
The spokesperson further shared that Pakistan has received an updated list from the American authorities regarding the transfer of Afghan nationals to the US.
Last month, a coalition comprising former high-ranking United States (US) officials and resettlement organisations issued an urgent appeal to Pakistan, urging it to not deport Afghan individuals applying to seek refuge in and visas for the US.
The appeal came weeks after Pakistan announced November 1 as the deadline for all undocumented migrants — a substantial number of whom are Afghans — residing in the country to either leave on their own or face expulsion once the ultimatum ends.
The population of the aforementioned migrants includes roughly 20,000 or potentially more Afghans, who escaped their homeland following the Taliban's return to power in 2021. Many of these migrants in Pakistan are awaiting their applications for the US Special Immigration Visas (SIVs) or refugee resettlement in the United States to be processed.
Commenting on regular skirmishes at the Pakistan-Afghanistan border, the spokesperson said: "There are often misunderstandings between the border authorities. These misunderstandings are cleared through communication channels."
She added that the Torkham border was opened for all kinds of traffic yesterday.
Israels' 'barbaric attacks'
The FO yet again condemned the continuous Israeli aggression in the Gaza Strip, stating that the situation in the Strip is rapidly deteriorating.
"No place in Gaza is safe for the public," Baloch said.
The UN Security Council must perform its primary responsibility under the Charter, impose an immediate and unconditional ceasefire and protect the people of Gaza from an impending genocide, the FO spokesperson said.
"We call on Israel's backers to urge Israel to end its barbaric attacks and inhumane siege against Gaza," she added.
The spokesperson further stated that Pakistan calls for an international conference for long-term peace on the Palestinian question.
"Durable peace in the region will emerge from the internationally agreed two-state solution and from the creation of a secure, viable, contiguous, and sovereign state of Palestine on the basis of the pre-June 1967 borders, with Al-Quds Al-Sharif as its capital," she said.
Baloch also spoke about the United Nations Secretary-General Antonio Guterres's efforts for Palestinians.
The head of the UN warned that he expects "public order to completely break down soon due to the desperate conditions" in Gaza, currently under relentless Israeli bombardment and invoked Article 99 of the UN Charter for the first time in his tenure owing to the gravity of the humanitarian crisis in the Strip.
'Pakistani citizens welfare top priority'
During the presser, Baloch commented on the recent revelations regarding Dr Aafia Siddiqui, a Pakistani neuroscientist jailed in the United States for over a decade.
According to her lawyer, the Pakistani doctor has been sexually assaulted at least two times during her incarceration.
"The statements related to Aafia Siddiqui are serious," the spokesperson said.
She further added that Caretaker Prime Minister Anwaar-ul-Haq Kakar has instructed that the matter should be taken up with the US Department of State and investigations should be conducted.
"The welfare of Pakistani citizens is among our priorities," Baloch reiterated.
She also spoke about the acid attack on former special assistant to the prime minister Shahzad Akbar last week.
"Shahzad Akbar did not seek help from the Pakistani High Commission in this regard," she said.
The FO strongly rejected the allegations of involvement of Pakistani agencies in the incident. "Pakistan has faith in the British authorities' investigation."