WhatsApp rolls out new feature
WhatsApp is releasing new options when selecting phone numbers in chat bubbles.
New feature will let you use some shortcuts when selecting phone numbers in chat bubbles.
Messaging app is planning more activations are planned for the future.
---
Meta-owned instant messaging app WhatsApp is rolling out a new update through the Google Play Beta programme, releasing new options when selecting phone numbers in chat bubbles, WABetainfo reported.
According to the WhatsApp news tracker, the platform is now releasing a new feature that lets you use some shortcuts when selecting phone numbers in chat bubbles.
"In the previous updates, when you interacted with a phone number in a chat bubble, the application would take you straight to your default dialer app.
However, now with the new update when the user will tap a phone number in the chat bubble a new menu will show up.
"In this case, WhatsApp will check if the phone number is available on WhatsApp, so if the contact has a WhatsApp account," WABetainfo stated.
It further reported that when the phone number is on WhatsApp, you can immediately start a new chat thread with the contact.
"There is also an option to call the contact by using the default dialer app and the ability to quickly add the contact to your address book. These two options always show up when the phone number is not on WhatsApp," it mentioned.
These new options are available to more people today, and more activations are planned for the future.
Elon Musk lands in Tel Aviv to meet Israeli president, families of hostages
Tech entrepreneur Elon Musk has begun his wartime visit to Israel as he landed in Tel Aviv on Monday to discuss "rising antisemitism" on social media with Israeli President Isaac Herzog.
During his visit to Tel Aviv, the tech billionaire will also meet the relatives of the hostages held by Hamas following their October 7 attack.
"In their meeting, the president will emphasise the need to act to combat rising antisemitism online," said President Herzog's office on Sunday after announcing the meeting with Musk.
His meeting comes after the tech guru was accused by civil rights groups of amplifying anti-Jewish hatred on the microblogging website X, formerly known as Twitter.
The tweet accused Jews of promoting hatred against whites, and Musk's reply, acknowledging the statement as the "actual truth," triggered a fierce online backlash.
Musk, later defending himself against accusations of anti-semitism, asserted that such claims were "nothing could be further from the truth." He clarified his intentions, expressing goodwill towards humanity and a desire for a prosperous future for all.
In an effort to counterbalance the controversy, Musk announced his commitment to donating advertising revenue from his company, X, to hospitals in Israel and Gaza.
Last week, Israeli media reported that Musk would visit Israel this week, with plans to tour Gaza border towns.
According to N12, the Tesla magnate was expected to engage in discussions with Prime Minister Benjamin Netanyahu and President Herzog during his visit.
Additionally, Musk had previously pledged to provide internet satellite connectivity to Gaza's remaining civilians and humanitarian workers.
Here's how WhatsApp plans to enhance display of profile info
To further enhance user experience, WhatsApp is working on a new update to further enhance the display of profile information by acting on the user feedback and incorporating desired updates into the platform.
The development was discovered via the latest WhatsApp beta for Android 2.23.25.11 update available on the Google Play Store, reported WaBetaInfo.
The meta-owned platform is working to allow the displaying of profile information within conversations beneath the contact name.
Once introduced, the feature will provide users with an easier and faster way to interact with profile information when it is made visible in our conversations.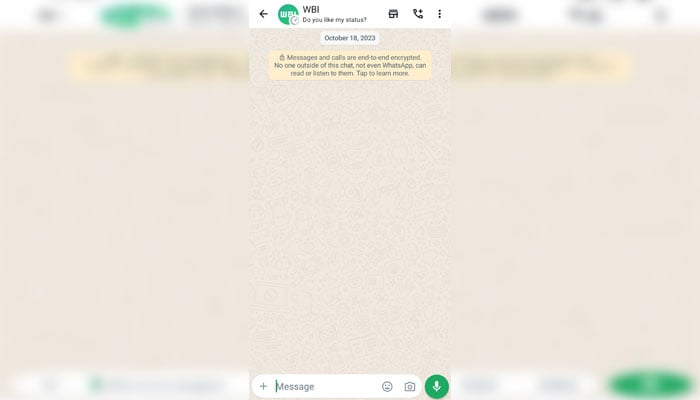 Users would be able to easily view the profile information within the chat rather than having to navigate to the chat info screen.
Furthermore, this enhances visibility in the event that users have recently updated their profile information, guaranteeing that those involved in the conversation are promptly informed of any modifications.
It is significant to remember that the user's privacy settings will only permit the display of this information.
OpenAI's ChatGPT offers human-like voice feature for all regular iOS, Android users
OpenAI has rolled out a significant update for ChatGPT, enabling regular users on both iOS and Android devices to engage with the chatbot using a human-like voice.
Initially introduced in September, the voice feature was exclusively available to Plus and Enterprise users until yesterday. This expansion signifies a milestone in ChatGPT's accessibility, allowing a broader audience to experience conversational capabilities in voice mode.
To activate the voice feature, users will find a headphone icon at the bottom right of the screen upon opening ChatGPT. Clicking on it prompts users to choose from five distinct voice options: Juniper, Ember, Breeze, Cove, and Sky, representing a spectrum from feminine to masculine. Users can easily switch between these options later.
The interaction with the voice assistant is visually engaging, with a grey circle appearing in the centre, transforming into a white cloud-like image while the chatbot processes information.
The voice assistant, exemplified by options like Sky with a raspy voice, introduces a more human-like element, including pauses during responses, fostering a conversational experience.
Despite the innovative leap, some users noted that the voice function occasionally prompted assistance queries even when the user remained silent, and there was a lack of a clear mechanism to turn off the application.
However, the flexibility to exit the app while keeping it active in the background enhances multitasking possibilities, catering to scenarios where users may want information while engaged in other activities.
This move towards a voice-centric interaction marks a departure from traditional text-based chatting, offering a more natural and engaging conversational AI experience.
OpenAI's decision to make this feature available to a wider user base underscores the evolution of ChatGPT, positioning it as a versatile and accessible tool for diverse interactions.