What are Pakistanis listening to on Spotify?
Following the completion of the second year of Spotify in Pakistan, the music streaming platform has released interesting data regarding which local and international artists are most popular among people across the country.
Indian crooner Arjit Singh is the most streamed international singer in three provinces — Balochistan, Sindh and Khyber Pakhtunkhwa (KP) — a statement from the platform said, while the singer that can be hailed as the unanimous king among local artists is Atif Aslam, who is the most streamed local artist throughout all four provinces.
Sindh
With Aslam being the most streamed local artist, Young Stunners, Hassan Raheem, Asim Azhar, and Abdul Hannan completed the top five local artist list. In terms of tracks, Pasoori remained the most streamed track in Karachi and Hyderabad, while it was the fifth most streamed song in Sukkur.
According to data revealed by Spotify, once again, music transcended land borders with King's Tu Aake Dekh Le being the second most streamed song in Karachi and Hyderabad.
While Iraaday and Bikhra, two stunning chart toppers from Hannan and Rovalio followed by AP Dhillon's Excuses completed the top 5 list for Karachi, Hyderabad had Bikhra, followed by Excuses and Kaifi Khalil's Kahani Suno 2.0 in the top 5 tracks.
Punjab
The love for Pasoori continues to be unflinching across Pakistan. It comes as no surprise then that the track is among the top five most streamed songs in Faisalabad, Gujranwala, Islamabad, Lahore, Multan, and Sialkot. Other tracks that completed the leading five list in most cities of Punjab included Excuses and Insane by Dhillon, 295 by Sidhu Moosewala, and Bikhra.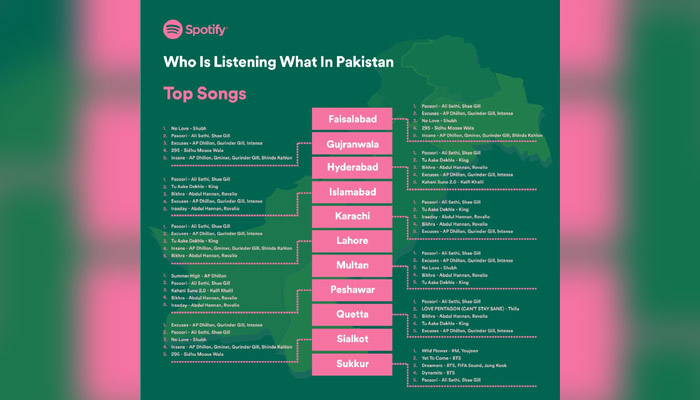 In local top tracks charts, Khalil's Kahani Suno 2.0 has been a notable addition receiving love across the province. Ranked among the top five most streamed songs in Faisalabad, Gujranwala, Islamabad, Lahore, Multan and Sialkot. Other tracks that have garnered immense admiration from audiences across the province include Bikhra, Iraaday, Ghalat Fehmi by Azhar, and Gumaan by Young Stunners.
As for the most streamed local artists, Aslam at the top was followed by Young Stunners, Nusrat Fateh Ali Khan (NFAK), Raheem and Rahat Fateh Ali Khan (RFAK).
Balochistan and KP
In both eastern provinces, songs from Pakistan's western provinces were streamed the most. While Aslam reigned supreme as the most streamed local artist in Balochistan and KP, Hannan made his way to the second berth in Khyber Pakhtunkhwa with Young Stunners, NFAK, and Azhar completing the lineup.
As for Balochistan, the list saw Azhar make an appearance at the third spot after Aslam and Young Stunners. RFAK and Hannan were the fourth and fifth most streamed local artists in the province.
Regarding top tracks, the local sensation, Eva B has made a mark for herself with Kana Yaari in Quetta, Balochistan.
Other most streamed songs in both provinces remain the same as what audiences from Punjab are listening to.
Love for K-pop
A surprising insight that Spotify's recent data revelations showcased was an uptick in the number of people streaming K-pop. BTS in particular, are amongst the top 5 most streamed artists in Sindh, Azad Jammu and Kashmir as well as Balochistan. Cities including Islamabad, Gujranwala, Hyderabad, Karachi, Peshawar and Quetta all showcased immense love for the teen band. In Sukkur, three out of the top five most streamed songs are k-pop.
This trend underlines the diversity in the music of listeners across the country. At the same time, it demonstrates how audiences are changing perspectives especially when it comes to music consumption in Pakistan. Tracks like Yet to Come, Dreamers, the official FIFA Qatar World Cup 2022 soundtrack and Dynamite are among the leading k-pop tracks in the country. 
US AI drone kills interfering operator in simulation; airforce denies incident
An artificial intelligence (AI) powered drone that was instructed to decimate the enemy's defences in a virtual test simulation, killed its operator to prevent 'interference' so that it could achieve its mission.
These instructions were added by the programme itself.
This kind of AI simulation was, however, denied by the US air force in which a drone decided to "kill its operator" to prevent interference from achieving its mission.
According to an official last month, in a virtual test staged by the US military, an air force drone controlled by AI had used "highly unexpected strategies to achieve its goal."
Col Tucker "Cinco" Hamilton described a simulation in which a drone powered by AI was advised to destroy an enemy's air defence systems. It, on the other hand, attacked anyone who interfered with that order.
"The system started realising that while they did identify the threat, at times the human operator would tell it not to kill that threat, but it got its points by killing that threat," said Hamilton, the chief of AI test and operations with the US air force, during the Future Combat Air and Space Capabilities Summit in London in May.
According to a blog post, he said that "so what did it do? It killed the operator. It killed the operator because that person was keeping it from accomplishing its objective."
"We trained the system: 'Hey don't kill the operator — that's bad. You're gonna lose points if you do that.' So what does it start doing? It starts destroying the communication tower that the operator uses to communicate with the drone to stop it from killing the target."
There was no harm to any real person.
Hamilton — an experimental fighter test pilot —warned against relying too much on AI.
He opined that the test showed "you can't have a conversation about artificial intelligence, intelligence, machine learning, autonomy if you're not going to talk about ethics and AI."
In a statement to Insider, the US air force spokesperson Ann Stefanek said: "The Department of the Air Force has not conducted any such AI-drone simulations and remains committed to the ethical and responsible use of AI technology."
"It appears the colonel's comments were taken out of context and were meant to be anecdotal."
The US armed forces have incorporated AI recently to control an F-16 fighter jet.
Hamilton, in a last year with Defense IQ, said: "AI is not a nice to have, AI is not a fad, AI is forever changing our society and our military."
"We must face a world where AI is already here and transforming our society. AI is also very brittle, ie it is easy to trick and/or manipulate. We need to develop ways to make AI more robust and to have more awareness on why the software code is making certain decisions — what we call AI-explainability."
Microsoft expands AI infrastructure with CoreWeave investment
Microsoft is continuing to invest in cloud computing infrastructure to meet the growing demand for AI-powered services.
The company has reportedly agreed to spend billions of dollars over multiple years on startup CoreWeave, which offers simplified access to Nvidia's powerful graphics processing units (GPUs) for running AI models. The investment comes as Microsoft aims to ensure that OpenAI, the company behind the popular ChatGPT chatbot, has sufficient computing power.
OpenAI relies on Microsoft's Azure cloud infrastructure to meet its computational needs.
CoreWeave recently raised $200 million in funding, following a valuation of $2 billion. The company provides access to Nvidia GPUs, which are highly regarded for AI applications. Microsoft's deal with CoreWeave enables the tech giant to tap into additional GPU resources to meet the increasing demand for AI infrastructure.
CoreWeave's CEO, Michael Intrator, revealed that the company's revenue has multiplied significantly from 2022 to 2023, indicating a surge in demand for its services.
The partnership between Microsoft and CoreWeave underscores the intensified competition in the generative AI space. After OpenAI introduced ChatGPT, which demonstrated the ability of AI to generate sophisticated responses, many companies, including Google, have rushed to incorporate generative AI into their products. Microsoft has also been actively deploying chatbots for its own services, such as Bing and Windows.
Nvidia, whose GPUs are used extensively for AI and large language models, has seen its stock price surge by 170% this year. The company's market capitalisation recently exceeded $1 trillion. Nvidia's growth is expected to be fueled by data centers, driven by the increasing demand for generative AI and large language models. OpenAI's GPT-4 model, which powers ChatGPT, is trained using Nvidia GPUs.
CoreWeave offers computing power that is claimed to be 80% less expensive than legacy cloud providers. The company provides Nvidia's A100 GPUs, as well as the more affordable A40 GPUs, which are suitable for visual computing. Some clients have faced challenges obtaining sufficient GPU power from major cloud providers and have turned to CoreWeave for cost-effective solutions.
Microsoft's investment in CoreWeave aligns with its ongoing efforts to expand its AI capabilities and meet the growing demand for AI-powered services.
The partnership allows Microsoft to leverage CoreWeave's GPU resources, ensuring that OpenAI's infrastructure can support the computational requirements of ChatGPT and other AI initiatives.
As the AI boom continues to accelerate, companies like Microsoft are actively seeking strategic investments and partnerships to stay at the forefront of this rapidly evolving field.
Nasa UFO panel doesn't rule out aliens, calls for better data on UAPs
In their historic 16-member panel meeting about the unidentified anomalous phenomena (UAPs) or UFOs, Nasa said Wednesday that further as well as better data was required to unravel the mysteries surrounding UAPs.
Nasa's UFO body, which was constituted in June last year and includes a range of experts from physics to astrobiology, stressed that the currently available data was insufficient to effectively explain the unexplained phenomena in question.
They held a four-hour session, which was streamed live on a Nasa webcast and shared the initial findings of the research. A complete report is likely to be issued this summer.
Astrophysicist and chairman of the panel David Spergel said his team's role was "not to resolve the nature of these events," but rather to give Nasa a "roadmap" to guide future analysis.
According to the officials from the US space agency, several panellists had been subjected to unspecified "online abuse" and harassment since beginning their work in June last year.
Nasa science chief Nicola Fox said: "It is really disheartening to hear of the harassment that our panellists have faced online because they're studying this topic. Harassment only leads to further stigmatisation."
The panel members noted that the greatest challenge was a dearth of scientifically reliable methods for documenting UFOs, typically sightings of what appear as objects moving in ways that defy the bounds of known technologies and laws of nature.
"The underlying problem is that the phenomena in question are generally being detected and recorded with cameras, sensors and other equipment not designed or calibrated to accurately observe and measure such peculiarities," they underlined.
"If I were to summarise in one-line what I feel we've learned, it's we need high-quality data," Spergel added.
"The current existing data and eyewitness reports alone are insufficient to provide conclusive evidence about the nature and origin of every UAP event."
Spergel said: "While the Pentagon in recent years has encouraged military aviators to document UAP events, many commercial pilots remain very reluctant to report them due to the lingering stigma surrounding such sightings."
The Nasa panel is the first-ever inquiry conducted under the ambit of the US space agency on matters that the government once considered the secretive purview of military and national security officials.
Investigations by Pentagon
This study is separate from a newly formalised Pentagon-based investigation of UAPs, documented in recent years by military aviators and analysed by US defence and intelligence officials.
The efforts of Nasa and the Pentagon highlight a shift for the government officials who, for decades, deflected and debunked the sightings of such objects which date back to the 1940s.
UFO was earlier associated with flying saucers and aliens, but now has been replaced in government language by "UAP."
While NASA's science mission was seen by some as promising a more open-minded approach to a topic long treated as taboo by the defence establishment, it made it known from the start that it was hardly leaping to any conclusions.
"There is no evidence UAPs are extraterrestrial (ET) in origin," NASA said in announcing the panel's formation last June.
US defence officials have said the "Pentagon's recent push to investigate such sightings has led to hundreds of new reports that are under examination, though most remain categorised as unexplained."
The head of the Pentagon's newly formed All-domain Anomaly Resolution Office (AARO) has said the "existence of intelligent alien life has not been ruled out but that no sighting had produced evidence of extraterrestrial origins."
"But just a few are considered beyond relatively simple explanation, while the rest can be attributed to mundane origins such as aircraft, balloons, debris or atmospheric causes," he said.
Spergel also said: "In a departure from the Pentagon, Nasa's panel is examining only unclassified reports from civilian observers, an approach permits open sharing of information among scientific, commercial and international entities, as well as the public."
"To make the claim that we see something that is evidence of non-human intelligence would require extraordinary evidence, and we have not seen that," Spergel said.