US ignores 'strong' Indian objections over Pakistan's F-16 package
State Dept notifies Congress about Pakistan's F-16 programme.
Ned Price says Pakistan important counterterrorism partner.
India "protested" over proposed sale of F-16 parts to Pakistan.
---
WASHINGTON: The Biden administration has ignored the "strong objections" raised by India over the proposed foreign military sale of $450 million to Pakistan to sustain the Pakistan Air Force's F-16 programme and notified Congress in this regard.
Last week, the US Defence Security Cooperation Agency (DSCA) delivered the required certification of this possible sale, angering India who raised the matter during meetings with US official Donald Lu in New Delhi, according to a report by The Hindu.
The publication stated that the Indian Ministry of External Affairs "protested" against the sale of spares of the jet to Pakistan despite the DSCA's clarification that "the proposed sale does not include any new capabilities, weapons, or munitions" and it "will not alter the basic military balance in the region".
While responding to a question in this regard, US State Department Spokesperson Ned Price said, "well, we did recently notify Congress of a proposed foreign military sale valued at $450 million for maintenance and sustainment services for the Pakistani Air Force's F-16 programme."
The US official stressed that Pakistan is an important partner in a number of regards and an important counterterrorism partner.
"And as part of our longstanding policy, we provide life cycle maintenance and sustainment packages for US-origin platforms," he said.
"Pakistan's F-16 programme, it's an important part of the broader US-Pakistan bilateral relationship, and this proposed sale will sustain Pakistan's capability to meet current and future counterterrorism threats by maintaining the F-16 fleet. This is a fleet that allows Pakistan to support counterterrorism operations, and we expect Pakistan will take sustained action against all terrorist groups."
Flood devastation
When asked to comment on the devastation caused by the floods, Price said, "we are deeply saddened by the devastation and by the loss of life throughout Pakistan that these historic floods have caused. We stand with the people of Pakistan at this difficult time".
He said that as of September 12, a total of nine US Central Command flights delivered more than half of the 630 metric tons of relief supplies from USAID's Dubai warehouse for the response to these massive floods.
"In total, CENTCOM will airlift more than 41,000 kitchen sets, 1,500 rolls of plastic sheeting, tens of thousands of plastic tarps, 8,700 shelter fixing kits — all in support of USAID's flood relief."
In this fiscal year alone, we've provided more than $53 million in humanitarian assistance, including urgently needed support for food, nutrition, multipurpose cash, safe drinking water, nutrition, sanitation and hygiene, as well as shelter assistance. We're going to continue to work very closely with our Pakistani partners to continue to assess the damage that has been wrought by these floods, and we'll continue to provide assistance to our partners in this time of need."
'Concerned by significant restrictions on media'
Price, in response to a question regarding media restriction in the country, said that the US continues to be concerned by significant restrictions on media outlets and civil society in Pakistan and raises its concerns about press freedom to all stakeholders around the world, including Pakistan.
"We're concerned that media and content restrictions, as well as a lack of accountability for attacks against journalists, undermine the exercise of freedom of expression, peaceful assembly and association. A free press and informed citizenry we believe are key to democratic societies around the world, key to our democratic future. That applies equally to Pakistan as it does to other countries around the world."
Sindh schools winter vacations from Dec 22
KARACHI: The Sindh government on Thursday announced the winter vacation schedule for public and private educational institutions across the province.
According to a notification issued by the Sindh School, Education, and Literacy Department, the educational institutions in the province will observe winter vacation from December 22 to 31.
"In pursuance of decisions taken in the steering committee meeting, all public and private educational institutions under the administrative control of School Education and Literacy Department Government of Sindh shall remain closed w.e.f 22-12,023 to 31-12,023 for Winter Vacation."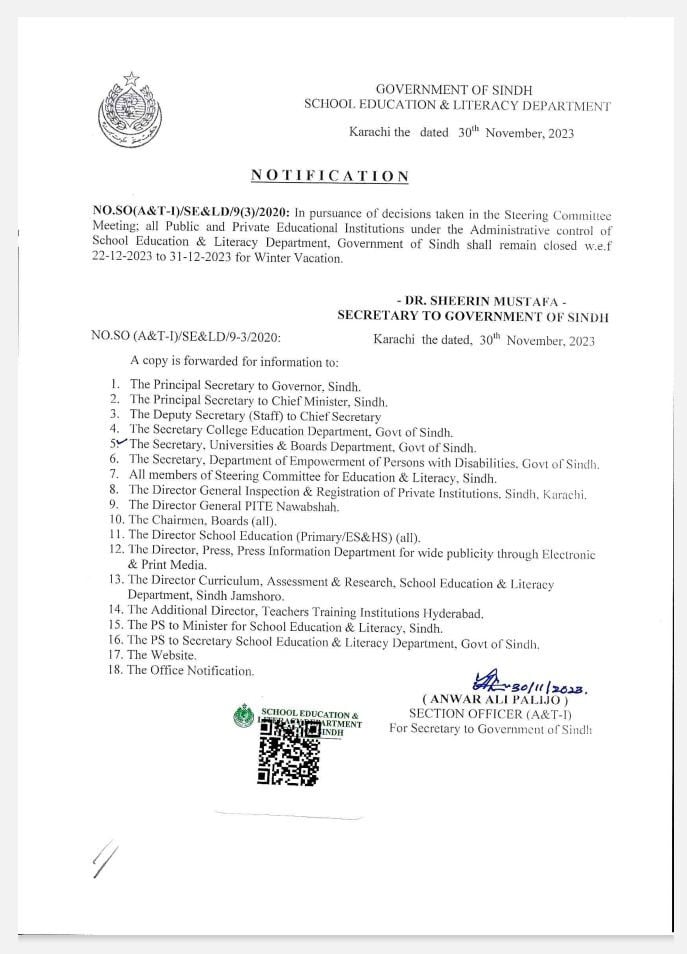 After the winter break, the educational institutions will reopen on Friday (January 1, 2024).  
Meanwhile, the new academic year in the public and private schools across Sindh will commence on April 15, 2024, and August 1, 2024, in the colleges.
The matriculation and intermediate exams will be started from the last week of May 2024, while the results will be announced on July 31 and the second week of August, respectively.
COAS Gen Asim Munir meets Kuwaiti crown prince
PM Anwaar-ul-Haq Kakar to meet Kuwaiti crown prince today.
Both army chief and PM are in Kuwait on official visit.
PM Office says multiple MoUs expected to be signed during visit.
---
Army chief General Asim Munir on Tuesday met Kuwait's Crown Prince Sheikh Mishal Al-Ahmed Al-Jaber Al-Sabah as part of his official visit to the gulf country, reported Kuwait News Agency (KUNA).
The meeting was also attended by Caretaker Law Minister Ahmed Irfan Aslam, Pakistan Ambassador to Kuwait Malik Mohammad Farooq and other members of the delegation.
Meanwhile, PM Kakar has also arrived in Kuwait City after concluding the UAE visit and is expected to meet the crown prince today, the PM Office said on Wednesday.
The premier will also meet his Kuwaiti counterpart Sheikh Ahmed Al-Nawaf Al-Ahmad Al-Sabah.
The PM office said that a number of memorandum of understanding (MoUs) will be signed for mutual cooperation in various sectors including manpower, information technology, minerals and mining, food security, energy and defence.
In UAE, Pakistan signed several MoUs worth multi-billion dollars in a range of areas on Monday to boost economic and strategic cooperation between the two countries, PM Kakar said.
The prime minister said with the signing of the MoUs, the bilateral economic and strategic relations had entered into a new era of bilateral cooperation.
Congratulating the people of Pakistan and the UAE, he said the foundation of friendship with Pakistan which was laid by Sheikh Zayed bin Sultan Al Nahyan in the 1970s, had been taken forward by his son Sheikh Mohamed bin Zayed Al Nahyan to a new era.
PM Kakar expressed the hope that the MoUs that were signed by the two countries would turn into tangible projects very soon.
Haj 2024: Pakistanis to get 'free SIMs with internet'
Caretaker Minister for Religious Affairs and Inter-faith Harmony Aneeq Ahmed said Tuesday that the government would provide free-of-cost mobile SIMs with roaming internet packages to Pakistanis performing Haj in 2024.
In conversation with a private news channel, the caretaker minister said abayas would also be given to female pilgrims, having a Pakistani flag on the backside, and 13kg suitcases would be given to all.
The minister called the reduction of around Rs100,000 in the Haj cost a "historic step" taken by the caretaker government, noting that a further Rs50,000 would be slashed and the amount would be refunded to the people in their accounts.
He said a new mobile application has been designed to assist pilgrims, which will provide navigation support and enable constant communication between pilgrims and relevant officials.
Initially available in English and Urdu, the application will later incorporate various regional languages, he said, adding, that the app would also provide digital training programmes to every pilgrim.
The minister also disclosed a project that Haj ministry, with the collaboration of the education ministry, has planned to convert city mosques into schools to enroll out-of-school children where the mosques' imams would play a leading role.
The minister said that mosques will play their role as community centers in every city areas, adding that imams will resolve community issues as well after offering prayers.
He said that haj ministry is taking all four provinces on board and enhancing the connectivity of mosques.
While describing another project, the minister said that his ministry with the collaboration of the health ministry has another project in the works, in which medical clinics will also be part of mosques.