Unemployed and out of options, Pakistani women turn to social media to earn
A growing number of women, excluded for formal sector, are turning to informal online commerce to earn money

Hailing from a remote village in Punjab's Mianwali district, Khadjia Malik had only one dream that kept her going through difficult times: to see her four children receive a good education.
The 43-year-old mother was married to a sailor when she was just 18. After marriage, Khadija found work at a clothing factory in Islamabad to earn enough to feed her children. But then in 2020, she lost her job.
Due to the coronavirus pandemic and lockdowns, the company she worked for had to cut back costs and as a result sacked many workers.
Out of work and with no other options, Khadija took to taking stitching orders at home. But that was not enough to meet her families daily expenses.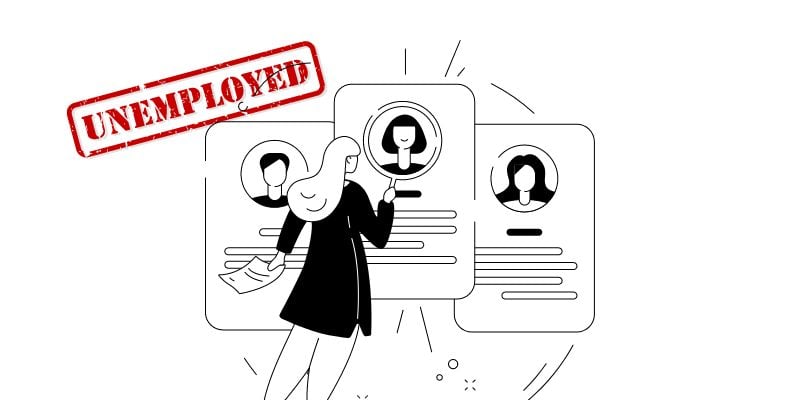 One day, after finishing an applique order for her neighbour, Khadija used the Rs2,000 she had saved to buy three towels, some cloth and a quilt from a local wholesale market.
She embroidered the towels and the quilt and made two separate cushions and pillows. The next day, she decided to have her hand-embroidered products dry cleaned. She was holding onto the bag as she waited outside the school to pick up her children, when a friend noticed. She asked Khadija if she can take the bag home to copy the designs. Khadija agreed.
Soon the word spread. People in the neighbourhood began calling her to ask if she was selling the bedsheets and cushions. She sold them for Rs700 each and made Rs2,100 that day.
Khadija is among those 7.3 million people who lost their jobs during a lockdown in Pakistan between April to June 2020, as per the Pakistan Bureau of Statistics. Of the 7.3 million, 74% were women working in the informal sector.
When a women loses her job, it affects the entire family, as 46% of low income households in Pakistan rely on the earnings of the women.
The Lahore-based Institute of Development and Economic Alternatives (IDEAS), found that only 71% of the women who responded to its survey were concerned about being infected by the deadly coronavirus. The rest feared losing their jobs more.
The World Bank in its report released in 2021 presents an even bleaker picture. As per the report, the post-pandemic recovery for males is faster than women, adding that this could lead to a further decline in women's participation in the country's economy.
While Khadija Malik was able to quickly bounce back and set up a small business after being unemployed, Ghania Arsalan didn't have it so easy.
She had given birth to her fourth child during the pandemic in 2020. At the same time, she lost her job as a teacher at a local school in Karachi. Ghania struggled financially for six months, unsure how she would feed her children, until a friend at a wedding helped her get back on her feet.
"The friend gave me her stock of makeup and jewelry to sell," Ghania tells Geo.tv, asking her to return the money after keeping a profit.
To promote her business, the mother of four turned to social media, posting ads on women-only groups on Facebook and WhatsApp. After roaring success, Ghania has now expanded her business and also sells clothes, sandals, purses and other household items.
"After the ban on imported luxurious goods, more and more people are turning towards online sellers for low-cost alternatives," she said, "I now have loyal customers all over Pakistan."
A growing number of women, excluded for the formal sector, are turning to informal online commerce to earn money.
In 2022, Nuzhat Kamran, 29, enrolled herself in baking classes. Then, she set up an Instagram account to promote her baked goods. "People loved the pictures of my cakes and kept asking me for orders," she said.
The Consultative Group to Assist the Poor (CGAP), a global partnership of more than 30 leading development organisations that works to advance the lives of poor people, especially women, through financial inclusion, has found that women are heavily involved in informal e-commerce.
"This type of e-commerce often enhances women's livelihoods while deepening their use of digital and financial services, such as mobile wallets and online banking," it notes in a recent report.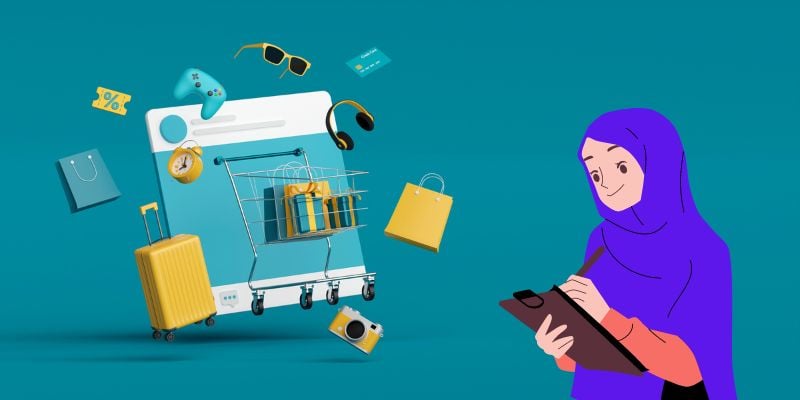 Ultimately, the study found that informal e-commerce could be the path to financial inclusion and economic independence for women in Pakistan and other countries.
But there are drawbacks to e-commerce as well, explains Zunaira Shah, a research consultant for CGAP in Pakistan.
"Most informal e-commerce businesses in Pakistan are gendered in that they deal with traditionally feminized skills and products," she told Geo.tv, "These women-dominated businesses are often undervalued and trivialised, which makes it harder for women to raise investments and be recognised as 'real' business owners."
There is also a risk that home-based, informal work could reinforce patriarchal norms by restricting a woman's mobility wrote Shah, in a research paper.
There are no exact numbers of how many women work in the informal sector, neither are there any on how much their contribute to the economy. Even though more and more women are turning to the informal sector to support themselves.
Khadija, Ghania and Nuzhat are just some examples of women who refuse to return to a daily 9am to 5pm job. For these women, by staying at home, they can save up on the cost of commute and baby-sitting. None of which is provided to working women in the formal sector. Not only that, these women can now work on their own terms.
Pakistani authorities have 'delivered' on economic front, says top IMF official
IMF official says Pakistan 'important' country in the world.
"Our country is destined to succeed," says Masood Khan.
Nathan Porter hails actions and policies of Pakistani govt.
---
WASHINGTON: Bahador Bijani, an Executive Director of the International Monetary Fund (IMF), has noted an overall improvement in the economic situation, saying, the "Pakistani authorities have delivered".
He made these remarks at an event hosted by Pakistan's ambassador to the US in honour of friends of Pakistan from International Financial Institutions including IMF, International Finance Corporation (IFC), World Bank (WB), and Multilateral Investment Guarantee Agency (MIGA), at Pakistan House in Washington.
"I think the future for Pakistan is very bright. Pakistan is not just any country. It's one of the most important countries in the region and in the world. Pakistanis deserve much more," the IMF executive director was quoted as saying in an official statement.
The meeting took place as Islamabad awaits the IMF board's meeting to approve a staff-level agreement on the first review of a $3 billion bailout, which will unlock $700 million in funding for the country.
Addressing the event, Ambassador Masood Khan observed that the past year was difficult for Pakistan. "We have passed through a wrenching transition and we are moving toward a new phase of stability," he added.
"Have faith in Pakistan. Our country is destined to succeed," he said.
"Our confidence stems from the people of Pakistan. We have a growing middle class and our human capital is increasing at a very fast pace," he added.
Addressing a gathering of over 40 guests from the IFIs, the ambassador said that we were grateful to IFIs for their steadfast support in navigating through a difficult economic period.
Nathan Porter, IMF Mission Chief to Pakistan, speaking on the occasion, expressed satisfaction over the recently concluded staff-level agreement. He said that the actions and policies of the current government reflected its commitment to steer the country towards stabilisation.
"With that base, hopefully, we can build on and be able to move forward to reforms to build a stronger, prosperous and inclusive Pakistan," he said.
He also appreciated the cooperation and the policies pursued by the State Bank of Pakistan for ensuring fiscal stability in the country.
Athanasios Arvanitis, Deputy Director Middle East and Central Asia Department IMF, also spoke on the occasion and expressed the hope that the elections in Pakistan would usher into a new beginning of undertaking a reform process that the country needed to make progress and address some of its structural issues.
Thanking them for their strong support, Ambassador Khan observed that the digitisation of Pakistan's economy was creating new opportunities in the country for its youth and professionals taking the lead role in steering the country towards a bright future.
Lauding the professional achievements of Pakistanis working in the IFIs, the ambassador observed that Pakistani professionals have proved their mettle and have made the entire nation proud of their accomplishments.
"We are a nation of talented people. If you can make it, Pakistan will also make it," observed the ambassador.
Syed Ali Abbas, Advisor Mission Chief UK, European Department IMF, in his remarks, expressed the hope that with the successful completion of the electoral process in Pakistan, the country would move towards a long-term and more durable approach which would change the trajectory of Pakistan.
Aftab Qureshi from the World Bank and Sidra Rehman from the IMF also spoke on the occasion and assured their continued cooperation.
The ambassador thanked the members of the IFIs and said that the country looked forward to working with its development partners.
SNGPL demands 137% increase in gas tariff
SNGPL's prescribed gas prices amount to Rs1,715.49 per MMBTu.
Company seeks revision of rate to Rs2,961.98/MMBTu.
SNGPL calculates cost of RLNG's service at Rs72.16bn.
---
ISLAMABAD: To address the looming revenue shortfall, the Sui Northern Gas Pipeline Limited (SNGPL) is yet again demanding a significant 137% increase in the average prescribed gas prices, amounting to Rs1,715.49 per MMBTu.
The state-owned company, responsible for supplying gas to Punjab and Khyber Pakhtunkhwa, has submitted a formal request to the Oil and Gas Regulatory Authority (Ogra) for the fiscal year 2023-24, seeking a revision of the rate to Rs2,961.98/MMBTu, effective from July 1 of the current financial year.
The company's petition to Ogra outlines an estimated revenue requirement for FY24 at Rs179.16 billion, including Rs697 million allocated for LPG air-mix projects in Gilgit for the ongoing fiscal year.
On this basis, SNGPL is seeking a hike in the average prescribed gas price by Rs506.35/MMBTu, effective from July 1, 2023. It has notably incorporated the cost of re-gasified liquefied natural gas (RLNG) diverted to domestic consumers into the overall cost of gas, in alignment with a decision by the federal cabinet on October 10, 2023.
Additionally, the utility has factored in Rs427.83 billion to offset shortfalls from previous years. To justify a 137.6% increase in average prescribed prices to Rs2,961.98/MMBTu from July 1, 2023, SNGPL cites the rise in the cost of gas/RLNG and other components outlined in its petition.
Furthermore, SNGPL has calculated the cost of RLNG's service at Rs72.16 billion (equivalent to Rs293.07/MMBTu) for the current fiscal year. The company indicates that the subject petition is undergoing revisions based on actual cost data and sales figures for July and August 2023, resulting in a reduction of the indigenous gas business shortfall from Rs181.516 billion to Rs179.160 billion.
The revised segment-wise shortfall and RLNG business cost for FY2023-24 are detailed as Rs179.160 billion for indigenous gas business and Rs427.830 billion for shortfalls from previous years. The total indigenous gas business shortfall, inclusive of previous years' shortfalls, amounts to Rs606.990 billion, with an additional Rs72.160 billion designated as the RLNG cost of supply, as stated in the petition.
Ogra has invited comments from all interested and affected parties, including gas consumers and the general public. A public hearing on the petition is scheduled for December 11, 2023, in Lahore, where the regulatory authority will determine the gas prices.
PSX sets new record as KSE-100 crosses 63,000 mark
KARACHI: Bulls on Monday gripped the Pakistan Stock Exchange (PSX) as the benchmark index achieved a new milestone by crossing the 63,000 mark for the first time.
According to the PSX website, the benchmark KSE-100 index gained 447.13 points or 0.71% to reach 63,403.15 points during the intraday trading at 10:59am.

Pakistan-Kuwait Head of Research, Samiullah Tariq, told Geo.tv that major catalysts for the recent bull run in the equity market include strong profitability, attractive valuation, and expectations of a reduction in interest rate — scheduled to be announced on December 12.
He added that the "market should remain bullish in the coming days".
A day earlier, stocks were boosted by expectations of improved economic conditions following signs of progress in securing financial support from the International Monetary Fund (IMF) and friendly countries.
Benchmark KSE-100 index rose 0.74% or 463 points to close at 62,956 points.
Investors were confident about the outlook for the economy, which has shown some improvement in key indicators such as trade deficit, remittances and exports. The local currency also remained stable and gained for the sixth consecutive session.
"There is a positive sentiment in the market, driven by optimistic expectations of an improved economic landscape," said analyst Naveed Nadeem at Topline Securities.
"This positive outlook is supported by anticipated financial inflows from the IMF and friendly countries. Additionally, there is speculation about a potential reduction in interest rates in the upcoming monetary policy committee meeting, further enhancing the positive environment."