Unemployed and out of options, Pakistani women turn to social media to earn
A growing number of women, excluded for formal sector, are turning to informal online commerce to earn money

Hailing from a remote village in Punjab's Mianwali district, Khadjia Malik had only one dream that kept her going through difficult times: to see her four children receive a good education.
The 43-year-old mother was married to a sailor when she was just 18. After marriage, Khadija found work at a clothing factory in Islamabad to earn enough to feed her children. But then in 2020, she lost her job.
Due to the coronavirus pandemic and lockdowns, the company she worked for had to cut back costs and as a result sacked many workers.
Out of work and with no other options, Khadija took to taking stitching orders at home. But that was not enough to meet her families daily expenses.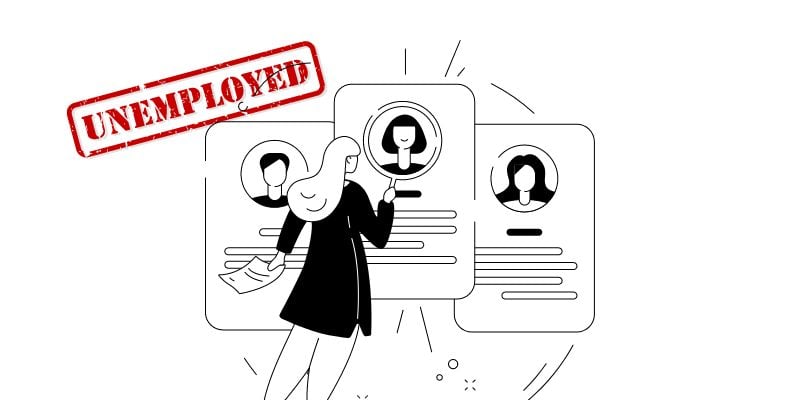 One day, after finishing an applique order for her neighbour, Khadija used the Rs2,000 she had saved to buy three towels, some cloth and a quilt from a local wholesale market.
She embroidered the towels and the quilt and made two separate cushions and pillows. The next day, she decided to have her hand-embroidered products dry cleaned. She was holding onto the bag as she waited outside the school to pick up her children, when a friend noticed. She asked Khadija if she can take the bag home to copy the designs. Khadija agreed.
Soon the word spread. People in the neighbourhood began calling her to ask if she was selling the bedsheets and cushions. She sold them for Rs700 each and made Rs2,100 that day.
Khadija is among those 7.3 million people who lost their jobs during a lockdown in Pakistan between April to June 2020, as per the Pakistan Bureau of Statistics. Of the 7.3 million, 74% were women working in the informal sector.
When a women loses her job, it affects the entire family, as 46% of low income households in Pakistan rely on the earnings of the women.
The Lahore-based Institute of Development and Economic Alternatives (IDEAS), found that only 71% of the women who responded to its survey were concerned about being infected by the deadly coronavirus. The rest feared losing their jobs more.
The World Bank in its report released in 2021 presents an even bleaker picture. As per the report, the post-pandemic recovery for males is faster than women, adding that this could lead to a further decline in women's participation in the country's economy.
While Khadija Malik was able to quickly bounce back and set up a small business after being unemployed, Ghania Arsalan didn't have it so easy.
She had given birth to her fourth child during the pandemic in 2020. At the same time, she lost her job as a teacher at a local school in Karachi. Ghania struggled financially for six months, unsure how she would feed her children, until a friend at a wedding helped her get back on her feet.
"The friend gave me her stock of makeup and jewelry to sell," Ghania tells Geo.tv, asking her to return the money after keeping a profit.
To promote her business, the mother of four turned to social media, posting ads on women-only groups on Facebook and WhatsApp. After roaring success, Ghania has now expanded her business and also sells clothes, sandals, purses and other household items.
"After the ban on imported luxurious goods, more and more people are turning towards online sellers for low-cost alternatives," she said, "I now have loyal customers all over Pakistan."
A growing number of women, excluded for the formal sector, are turning to informal online commerce to earn money.
In 2022, Nuzhat Kamran, 29, enrolled herself in baking classes. Then, she set up an Instagram account to promote her baked goods. "People loved the pictures of my cakes and kept asking me for orders," she said.
The Consultative Group to Assist the Poor (CGAP), a global partnership of more than 30 leading development organisations that works to advance the lives of poor people, especially women, through financial inclusion, has found that women are heavily involved in informal e-commerce.
"This type of e-commerce often enhances women's livelihoods while deepening their use of digital and financial services, such as mobile wallets and online banking," it notes in a recent report.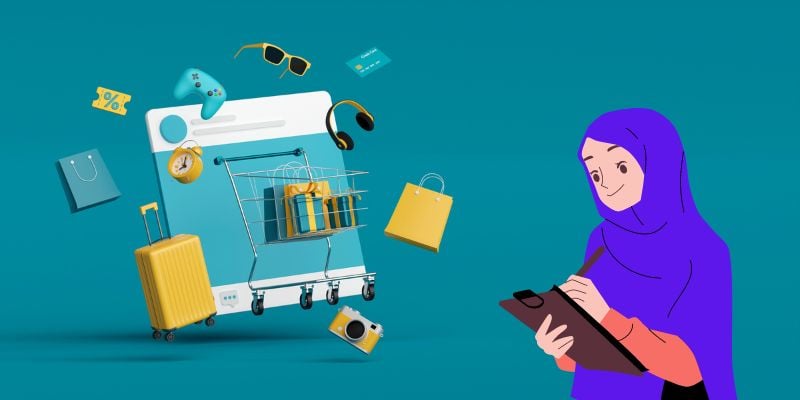 Ultimately, the study found that informal e-commerce could be the path to financial inclusion and economic independence for women in Pakistan and other countries.
But there are drawbacks to e-commerce as well, explains Zunaira Shah, a research consultant for CGAP in Pakistan.
"Most informal e-commerce businesses in Pakistan are gendered in that they deal with traditionally feminized skills and products," she told Geo.tv, "These women-dominated businesses are often undervalued and trivialised, which makes it harder for women to raise investments and be recognised as 'real' business owners."
There is also a risk that home-based, informal work could reinforce patriarchal norms by restricting a woman's mobility wrote Shah, in a research paper.
There are no exact numbers of how many women work in the informal sector, neither are there any on how much their contribute to the economy. Even though more and more women are turning to the informal sector to support themselves.
Khadija, Ghania and Nuzhat are just some examples of women who refuse to return to a daily 9am to 5pm job. For these women, by staying at home, they can save up on the cost of commute and baby-sitting. None of which is provided to working women in the formal sector. Not only that, these women can now work on their own terms.
Govt mulls slashing duty on mobile phones in budget
ISLAMABAD: The Federal Board of Revenue (FBR) is mulling options to reduce the duty on mobile phones in the federal budget for the fiscal year 2023-24 — which is expected to be unveiled on June 9 — keeping in view the suggestions of Pakistan Mobile Phone Traders, The News reported Monday.
Previously, the government was obliged to raise the duty on mobile phones by 100% to 150%, and resultantly, only Rs5 billion to Rs10 billion were being deposited in the national exchequer instead of Rs85 billion.
The number of mobile phone users in Pakistan has exceeded 186.9 million.
In order to cope with the financial crisis of the current financial year, in the new budget, a proposal for a conspicuous reduction in the rates of duties on cellular phones is under consideration, which is about 100% to 150% at present on small and big mobile phones. 
The mobile industry is on the brink of collapse due to an increase in taxes. It not only affected traders but also made the life of millions of people difficult to earn a livelihood.
It has been learnt that a delegation of the Mobile Phones Traders Association has given recommendations to Finance Minister Ishaq Dar and other senior officials.
The delegation ensured that efforts would be made to include the recommendations in the budget. These proposals and recommendations are being reviewed to make them a part of the new budget.
It has been learnt that a 75% duty was imposed on cellular phones in Pakistan as compared to other countries of the region like Singapore, Bangladesh and Turkey where it is not at that level. That is the reason people are using smartphones without paying duties in connivance with FBR.
The additional 100% to 150% duty on cell phones has made it out of reach of the poor, labourers, daily wagers, students, professionals, the lawyer community, and civil society.
All Pakistan Mobile Phones Traders Association General Secretary Munir Beg Mirza said that due to the ban on the import of used mobile phones, smuggling has increased to give favour to a few companies.
Also, people are using smartphones illegally without paying heavy taxes to enjoy all functions of smartphones, which is inflicting a loss on the national kitty.
He said that not only every consumer would pay tax but also the government would get Rs100 billion instead of Rs5 billion on phones if an appropriate duty was imposed in the new financial year.
Pakistan agrees to share budget details with IMF to unlock stalled programme
"Pakistan has already completed all conditions of IMF," Ishaq Dar says.
FinMin says some powers do not want economic stability in Pakistan.
Financial czar slams Imran Khan-led govt for violating pact with IMF.
---
Finance Minister Ishaq Dar has revealed that the coalition government has agreed to share details of its upcoming budget details with the International Monetary Fund (IMF) in order to unlock the stalled funds.
"They have asked us for some more details like the details of (the) budget, we will give that to them," Dar said while speaking on Geo News programme Jirga on Sunday.
He reiterated that the country has fulfilled all conditions laid forth by the Washington-based lender to revive the stalled $6.5 billion programme and urged the global lender to release the funds before the upcoming federal budget due next month.
The financial czar said some powers do not want economic stability in Pakistan and blamed the previous Pakistan Tehreek-e-Insaf (PTI) government for "destroying" the country's economy.
"Record inflation was witnessed during Imran Khan's tenure," he said, adding that the former prime minister did not honour the agreement with the IMF.
The IMF's $1.1 billion funding to Pakistan, which is part of the $6.5 billion rescue package agreed in 2019, has been held up since November.
The IMF and Pakistan held two weeks of talks in February in Islamabad to conclude the 9th review, but the lender has not yet released the money, which is critical for the country to unlock other bilateral and multilateral financings.
The federal minister further said that he would want the IMF to release the funds before the budget was presented, which is due in early June. He added, "We will not do the 9th and 10 reviews together. This is unfair."
Pakistan is making last-ditch efforts with the IMF to revive the stalled Extended Fund Facility (EFF) programme, The News reported earlier this month.
The hopes are diminishing each day mainly because the ongoing programme of $6.5 billion under the EFF will expire on June 30.
The parleys between Pakistan and the IMF continue for the completion of the ninth review, which was due on November 3 of last year. The formal negotiations started on January 31 when an IMF delegation visited Pakistan for in-person talks.
However, the two sides could not reach a consensus during the course of scheduled talks that ended on February 9. Since then, multiple online sessions have been held but the differences persist on conditions set by the Fund for the Staff Level Agreement (SLA).
If the SLA is not struck ahead of the upcoming budget for 2023-24, scheduled to be unveiled on June 9, the ongoing programme will face a failure.
"There are a couple of options left for moving forward. The first is by signing the SLA on an immediate basis and forwarding Pakistan's request before the IMF Executive Board for approving the next tranche of $1 billion and also securing an extension in the EFF programme period by a few months in order to accomplish the 10th and 11th Reviews," sources, privy to the background discussions told the publication.
The second option could be combining the 9th and 10th reviews and for Pakistan to share upcoming budgetary numbers with the IMF.
Then the SLA should be signed after the announcement of the budget and in case of its approval from parliament, the IMF's Executive Board could approve combined tranches and also grant an extension to the EFF programme for accomplishing the 11th Review by July or August 2023.
"There are no easy options available; both sides will have to work out modalities for evolving consensus. But with the existing approach of maintaining the status quo, no breakthrough can be achieved," said the official who spoke on the condition of anonymity.
High electricity prices moving beyond consumers' affordability: study
A study found that rising electricity tariffs are increasingly moving beyond the affordability of the masses and adversely impacting their consumption patterns.
The study was conducted by the Institute of Policy Studies, Islamabad titled "Impact of Rising Electricity Prices on Consumer Behavior: The Case of Power Distribution Companies in Pakistan".
The research study covered over 1,000 households and 140 shop owners in the top 10 cities of Pakistan.
The survey results indicate that most of the respondents have experienced moderate to significant increases in their electricity bills in recent months.
The study further highlights the correlation between the magnitude of the bill increase and the extent of consumption reduction, indicating that higher price hikes lead to more significant efforts in reducing electricity usage.
However, despite the overall reduction in electricity consumption, a significant portion of the survey participants reported no noticeable decrease in their bills.
It recommends the need for improved governance and regulatory measures in the energy sector along with affordable electricity tariffs and alternative payment options to accommodate different economic circumstances.
The study also stresses the importance of addressing issues such as load shedding and raising consumer awareness about peak hours when electricity costs are higher.
Moreover, it also found that the alarming trend also caused a sharp decline in the recoveries of distribution companies (DISCOs) which can lead to difficulties in paying for power purchases from the generation companies, maintaining distribution networks, and servicing debts.
These factors further hinder the ability of DISCOs to invest in infrastructure upgrades, provide quality services, and improve the overall reliability of electricity supply.
The research emphasises effective measures to address power affordability concerns and suggests strategies for distribution companies to mitigate the negative effects of rising prices.
Overall, the study provides valuable insights into the impact of rising electricity prices on consumer behaviour in Pakistan and offers recommendations for DISCOs and policymakers to address affordability concerns and ensure a sustainable balance between electricity prices and consumers' ability to bear these costs.