TikTok updates community, safety guidelines
ISLAMABAD: TikTok has announced its refreshed community guidelines, to ensure safety and transparency and standards for inclusion in the TikTok community which apply to everyone and everything on the platform, according to a statement.
The short video-sharing platform has also introduced community principles.
TikTok is advancing its rules for how they treat synthetic media, which is content created or modified by AI technology.
TikTok is adding 'tribe' as a protected attribute in their hate speech and hateful behaviour policies.
The platform will provide more detail about their work to protect civic and election integrity, including their approach to government, politician and political party accounts.
Further, the presser stated that TikTok has also laid out the four pillars for their approach to moderation:
Remove violative content.
Age-restrict mature content, so it is only viewed by adults (18 years or older). However, the content must still abide by TikTok's Community Guidelines.
Make content ineligible for recommendation in the For You feed that isn't appropriate for a broad audience.
Empower TikTok's community with information tools and resources to stay in control of their experience.
Today's update to TikTok's Community Guidelines also expands on their enforcement strategy by:
Sharing more information about the actions that the platform takes against accounts that violate their rules, following their update earlier this year, and clarifying that they do not allow the use of multiple accounts to intentionally bypass the platform's rules or their enforcement.
Explaining the considerations that TikTok takes into account when they enforce their rules based on public interests and the platform's approach to content that critiques public figures.
Including more detail about how TikTok uses informational labels, warnings, and opt-in screens.
The community principles will help users and the wider community to better understand the decisions about how the platform works to keep TikTok a safe place for users, stated the press release.
These principles are based on TikTok's commitment to upholding human rights and are aligned with international legal frameworks.
These principles guide TikTok's decisions about how they moderate content so that the platform can strive to be fair in its actions, protect human dignity, and strike a balance between freedom of expression and preventing harm, added the official statement.
"TikTok's new Community Guidelines will take effect on April 21 and over the coming months, the platform will provide additional training to their moderators in order to help enforce these updated rules and standards effectively as they start to roll out.
Rules and guidelines have now been organised thematically into different topic areas such as Behavioural and Mental Health.
For each topic, TikTok provides a brief explanation of what isn't allowed, followed by additional details such as definitions and the range of actions the platform might take if they are violated, the statement read.
Through these refreshed Community Guidelines, TikTok is offering their community more transparency around their rules and how they're enforced.
It takes a whole village to keep people safe online, and TikTok is grateful to everyone in the platform's community and to all of the external experts who have contributed and continue to help TikTok advance its rules and stay a step ahead of emerging threats.
Zindagi Trust gets featured on Meta website for transforming Pakistan's education system
KARACHI: In Pakistan, where a staggering number of over 28 million children are out of school and education infrastructure widely suffers, Zindagi Trust which is a non-profit organisation, is dedicated to revolutionising the education system.
Founded in 2003 by famous Pakistani singer Shehzad Roy, the trust works on the mission to provide quality education to underprivileged children and reform government schools in Pakistan, through pilot projects at model schools and advocacy with the government.
For its success in reaching and engaging supporters as an early adopter of WhatsApp Channels, Zindagi Trust has been featured on Meta's website as a case study for government and charities.
The Trust is notably the first non-profit organisation from Pakistan to receive this recognition.
Capitalising on the popularity of Meta-owned messaging app, WhatsApp, Zindagi Trust set out with the objective of reaching new audiences, raising awareness, and facilitating fundraising.
It launched a WhatsApp Channel, through which emphasis was placed on initiatives extending beyond model schools, impacting government schools nationwide.
Zindagi Trust saw a significant surge in followers, a 7% increase in donations, and increased reach across its social ecosystem.
Speaking to Geo.tv, Zindagi Trust's Senior Marketing & Resource Development Manager Faiq Ahmed said that WhatsApp channels have significantly contributed to the realisation of Zindagi Trust's objectives by establishing a direct and interactive platform for communication with education and child protection enthusiasts.
Talking about collaboration with the government sector, Faiq said that their advocacy initiatives with the government's help have left an indelible mark on Pakistan, catalysing groundbreaking changes nationwide.
"Through collaboration and perseverance, we continue to shape a brighter future for the children of Pakistan, not only in the education sector but also in areas vital to the well-being of our society," he added.
Facebook and Instagram full of predators for children, alleges lawsuit
Meta's social media platforms of Facebook and Instagram have become fertile grounds for child predators and paedophiles, revealed New Mexico's Attorney General, Raul Torrez in a lawsuit.
Torrez's office used fake accounts to conduct investigations and discovered that these fake accounts of minors were dispatched 'solicitations' and explicit content.
The lawsuit seeks court-ordered changes to protect minors, asserting that Meta has neglected voluntary actions to address these issues effectively.
In its response, Meta defended its initiatives in eradicating predators. However, New Mexico's investigation disclosed a higher prevalence of exploitative material on Facebook and Instagram compared to adult content platforms.
Attorney General Torrez underscored the platforms' unsafe nature for children, describing them as hotspots for predators to engage in illicit activities.
While US law shields platforms from content liability, the lawsuit argues that Meta's algorithms actively promote sexually exploitative material, transforming the platforms into a marketplace for child predators.
The lawsuit accuses Meta of misleading users about platform safety, violating laws prohibiting deceptive practices, and creating an unsafe product.
Moreover, the lawsuit targets Facebook founder Mark Zuckerberg personally, alleging contradictory actions in enhancing child safety while steering the company in the opposite direction.
In response, Meta reiterated its commitment to combating child exploitation, emphasizing its use of technology and collaborations with law enforcement to address these concerns.
Meta finally launches end-to-end encryption on Messenger
Meta announced Thursday that it is finally implementing end-to-end encryption for one-on-one conversations and calls on Messenger, delivering on a long-standing commitment.
The company states that when end-to-end encryption is enabled, the only people who can view the contents of a message sent through Messenger are the sender and the recipient.
Messenger's encrypted chat function was initially made available as an opt-in feature in 2016. However, following a protracted legal dispute, end-to-end encrypted messages and calls for two-person discussions will now be considered the norm.
"This has taken years to deliver because we've taken our time to get this right," Loredana Crisan, vice president of Messenger, said in a statement shared with The Verge.
"Our engineers, cryptographers, designers, policy experts and product managers have worked tirelessly to rebuild Messenger features from the ground up."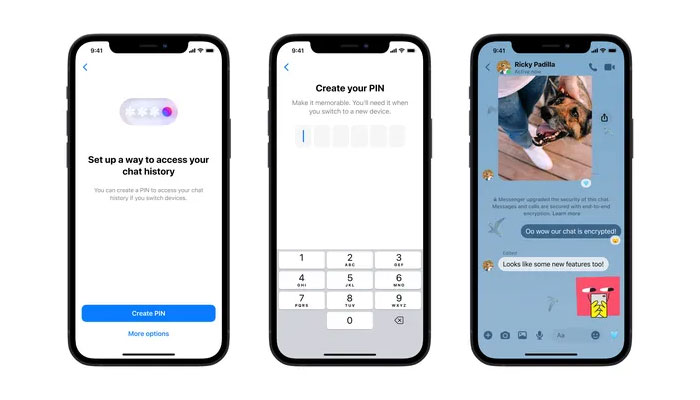 Crisan states that encrypted chats will not compromise Messenger features like themes and custom reactions. However, it may "take some time" for all chats to switch to default encryption.
The end-to-end encryption for group chats is still opt-in. Additionally, Instagram messages are still not encrypted by default, but Meta expects this to happen "shortly after" the rollout of default private Messenger chats.
Meta CEO Mark Zuckerberg announced in 2019 that the company planned to move toward encrypted ephemeral messages across its messaging apps, according to The Verge.
"I believe the future of communication will increasingly shift to private, encrypted services where people can be confident what they say to each other stays secure and their messages and content won't stick around forever," he wrote in a Facebook post. "This is the future I hope we will help bring about."
By enabling encryption by default, most Messenger chats should remain unseen by Meta, and it will also prevent the company from providing the data to law enforcement.
Last year, a 17-year-old from Nebraska and her mother faced criminal charges for illegal abortion after police obtained their Messenger chat history.
Anti-encryption advocates argue that encryption makes it harder to identify bad actors on encrypted messaging apps like WhatsApp.