The Legend of Hamza Ali Abbasi: The superstar returns with 'Maula Jatt'
Hamza Ali Abbasi, a superstar years into self-inflicted exile from showbiz, is now ready to return with nothing short of a magnum opus, The Legend of Maula Jatt.
The 38-year-old actor, who would rather dedicate his time to learning and bettering himself than churning out inevitable hits, took a bow from the big screen in 2018 and now, after a long hiatus, is eyeing a triumphant return with Bilal Lashari's retelling of a classic tale.
While The Legend of Maula Jatt has itself gained the reputation as somewhat of a legend in the making for about a decade now, Hamza has also made a name for himself as an enigma during his time away from the screen.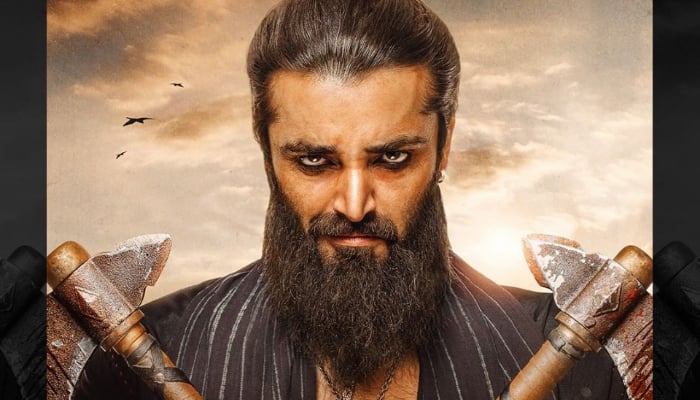 However, he is now ready to get candid about his hiatus, and his much-awaited return to the silver screen.
In a conversation with Geo TV, Hamza opened up about his thoughts about Maula Jatt, what the public should expect from him, and his understanding of the fusion of his craft and the religion he holds so close to his heart.
"I took a long break to focus on educating myself," Hamza shared, adding that even now, as the world awaits the release of the biggest Pakistani production starring him, he is "focusing on doing less but quality work."
Hamza then dives into detailing his reasoning behind the 'break' from acting, which he believes he already explained in a 18-minute-long video he shared some four-and-a-half years ago announcing the said break.
"I never announced my exit from the industry, in fact, I made a whole video that majority of the people didn't watch, and just read the headlines that I've left acting," he said.
He continued: "In that video… I specifically said that I've reached that point in life where I have 100% belief in the whole system of Allah, the Holy Prophet (PBUH), holy books, Day of Judgement, the concept of heaven and hell…"
Hamza further explained: "I realised that all of it is real, and so, I will be taking a long break to watch the whole film of the trailer I've seen about religion. I want to reach to the depths of my questions, and learn more about my own self."
The Alif actor also categorically stated: "The version of religion that I align myself with, the religion of Allah, does not categorize entertainment in itself, be it music or acting, as haram (prohibited)."
So, where does The Legend of Maula Jatt lie within Hamza's version of his craft? By his own admission, it holds quite the top spot because he has huge expectations with the project which he proudly describes as the 'biggest production in Pakistan'.
"I am very hopeful about Maula Jatt because it's one of the biggest productions of Pakistan, budget and scale wise. Its success is gonna set a milestone for other films," said Hamza.
"I am really hopeful not just because it's my own project, but it will be a huge step forward for the media industry overall. If Maula Jatt is successful, it will also encourage others to make projects on such a big scale and budget."
Hamza is also confident that the story, a remake of the 1979 cult classic Punjabi flick of the same name by Younis Malik, is eternally relevant, and so will not have a hard time resonating with people more than four decades after the original.
"Good versus evil, the clash between good and bad and principal versus evil, like in Maula Jatt, has existed in every society since the dawn of time, it's an integral part of humanity," Hamza believes.
According to the Parwaaz Hai Junoon actor, the Maula Jatt team has worked hard to not limit the film by a time/period constraint.
"As far as the script is concerned, the way we've shown it is very time neutral. It's not shot in this age or even in prehistoric times, you can interpret it in whatever time and age… because, the story itself is relevant," Hamza said.
As the release of The Legend of Maula Jatt inches closer each day; the film is slated to hit theatres on October 13, 2022, Hamza has also revealed that fans can expect to see him in something new as early as next year.
"I might do something new by next year. Something that is within the limits defined by Allah," Hamza concluded on a high note.
Kahani Suno 3.0? Kaifi Khalil to drop new song soon
Singer Kaifi Khalil, who took over the music industry by storm with Kahani Suno 2.0, has revealed that he will be releasing a continuation of the song very soon.
The young singer also talked about the story behind Kahani Suno 2.0 during a Junaid Akram's podcast released on Eid ul Fitr.
He said that the new song wouldn't be Kahani Suno 3.0 but it would be an explanation of his previous song. He also said he was trying to release it after the Eid.
"Kahani Suno was an old song and I decided to rewrite it and do justice to that track. I wanted people to relate to the song as if they are listening to someone's story," he said while talking to the host.
He said that he completed writing the song within three days, adding that he was scared it was a love song as this feeling is not taken very seriously these days.
When asked if his song is based on a real story, Khalil said he would answer this question in the next song that he is about to release as it would continue.
Replying to a question if a female version of this song would come, the singer said that he has no idea about it.
Here are details of world's second deepest blue hole
Blue holes are believed to be the mysterious space underwater that go very deep and are abundant with plant and animal life. A similar blue hole has been identified by scientists at Chetumal Bay off the coast of Mexico.
The second deepest blue hole is named Taam Ja in Mayan, meaning "deep water". It is estimated to be 900.2 feet (274.4 metres) deep.
The first deepest hole is located off the coast of China, with a depth of 987 feet (300.89 metres). It was discovered in 2016 and was named Dragon Hole or Longdong.
The observation and survey were carried out in 2021; however, the experts have revealed its existence in recent research published in Frontiers in Marine Science.
According to the team, based at Colegio de la Frontera Sur (ECOSUR), a research centre in Mexico: "The information gathered revealed a maximum recorded depth of 274.4 metres below sea level (mbsl). This makes the now-named 'Taam ja Blue Hole (TJBH)' the world's second-known deepest blue hole. Origin and geological evolution of the TJBH deserve further investigation."
The blue holes are similar to sinkholes on land. The only difference is they're filled with water which makes it possible for boats and ships to pass over them.
The Mexican researchers said that knowledge provided by local fishermen prompted them to investigate this particular location. This was despite finding no references to blue holes at Chetumal Bay in the existing scientific literature.
With the help of echo-sounding, the team determined its dept whereas it sought scuba diving to measure upper depths.
The researchers said that "Taam ja has a nearly circular shape at its surface and steep sides with slopes of more than 80 degrees that form a large conic structure, adding that the walls of the blue hole are covered by a fine-grained layer and coated by brown algal biofilms — slippery communities of algae that bind together to survive."
They also noted that the blue hole is close to the coasts of Mexico and Belize and its discovery could lead foreign and local visitors.
The researchers concluded in their paper that currently, the local population is not aware of the existence of the TJBH.
"[We] encourage the scientific community to explore, monitor, and broaden the research of the TJBH to settle an adequate basis for responsible social appropriation in the near future," they maintained.
Naseem Shah reveals who responded to Urvashi Rautela
Pakistan pacer Naseem Shah has finally revealed that it was not him, but his manager who responded to Indian model and actress Urvashi Rautela's comment on Instagram, which has since become a hot topic for the rumour mills of both countries.
During a talk show on a private TV channel, the interviewer asked Naseem what the plans were regarding his upcoming tour to India for the ICC World Cup 2023.
Before he could even complete the question, Naseem responded: "My only plan is to play cricket. I have no other plans."
The interviewer then asked if he had no plans to see Rautela, Naseem said he had none.
The purported social media interaction between the young pacer and Rautela has been one of the most interesting topics lately as Pakistanis want to know if there is actually something cooking between the two.
Naseem and the ex-pageant winner have been associated with each other due to a fan-made video, posted by the model after a Pakistan-India match in Asia Cup 2022. Naseem was playing in the match and Rautela was among the spectators.
The video showed the model smiling and blushing, and coincidentally, Shah was also recorded smiling during the same match — giving her the opportunity to juxtapose herself in the video.
Ever since the video came to light, Naseem Shah and Rautela's relationship has been the talk of the town and this made the fans hunt for any interaction between the two on social media.
Months after posting the video, the Indian model and actress Urvashi Rautela was at it again.
She wished the pacer a "happy birthday" on Instagram as the cricketer turned 20 this year.
The ex-pageant winner commented on an Instagram post shared by Naseem congratulating his fellow teammate Shadab Khan on his wedding.
"Congratulations mere Chotay bhai @shadab0800 […]may Allah bless you both on this day with a lifetime of shared love and joy," the cricketer had written in his caption adding "Best Wishes Always" for his colleague's married life.
Deep down in the comments section was a birthday wish by Rautela for the young pacer alongside a congratulatory message for being conferred with an honorary Deputy Superintendent of Police (DSP) rank by the Khyber Pakhtunkhwa Police.
"Happy birthday @inaseemshah congratulations on being conferred with honorary DSP rank," she wrote in her comment.
To everyone's surprise, the young cricketer responded to the model with a humble "thank you" followed by an emoji gesturing gratitude with both hands joined together.
However, during the interview, Naseem finally broke the silence on the matter and shared that it was not he that replied to the comment — but his manager.
He said that he doesn't see his Instagram account much so he had told his manager to respond if he received any birthday wishes.
"I didn't know that he [manager] would write thank you to just anyone," the young cricketer said smilingly.
When prompted to tell if he likes Rautela or not, Naseem said that he loves all the people.
"Everyone is a human, everyone is good and I like all humans, but I don't take anything personally," he said.