Sania Mirza bids adieu to tennis in an emotional message
Indian Tennis star Sania Mirza Friday uploaded a tear-jerking "life update" on Instagram. The star who frequently updates her social media account in a bid to stay in touch with her fans has uploaded a post that has many in tears.
Taking to the popular photograph and video sharing platform. the 36-year-old expressed her feelings regarding her retirement in a long heartfelt note.
Earlier this month, Sania announced her retirement plans.
She had announced that she would call time on her career after next month's Dubai Tennis Championships after her 2022.
In the note, she detailed her journey in tennis and thanked her family and fans for their support throughout her career, and said that she was set to start a new chapter of her life and devote more time to her son.
"Thirty years ago," the Indian tennis star begins in her message, "a six-year-old girl from Nasr School in Hyderabad, walked onto a tennis court at Nizam Club with her young mom and fought the coach to let her learn how to play tennis as he thought that she was too little [to play tennis]".
She then described how having started to practice at the tender age of six, she had "dared to dream" of representing her country in a Grand Slam someday.
The star wrote, "[looking back], not only did I get to play well over half a century of Grand Slam tournaments but I was fortunate enough to win a bunch of them, too, with God's grace".
Stating that she felt very emotional even as she wrote the message, Sania said winning medals for her country had been her "biggest honour" and was a humbling experience.
She then thanked her family and her fans, along with her entire team, for their constant and endless support, and wrote: "It's all of you, who have helped me through the toughest phases of my life and helped this little girl from Hyderabad to not only dare to dream but to achieve those dreams, as well. So thank you from the bottom of my heart."
"[Tennis] is all I've known throughout my life," the star wrote as she recounted the extent and expanse of her Tennis career.
"It's been 20 years of being a professional athlete and 30 years of being a tennis player," she stated.
Commenting on her decision to retire in 2023, Sania said: "My Grand Slam journey started with the Australian Open back in 2005. So, it goes without saying that this would be the most perfect Grand Slam to end my career with."
The Australian Open this year is set to start on January 16. Sania played her first Grand Slam in the Australian open 18 years ago. After playing in this Grand Slam, she plans to play in the Dubai Open in February.
However, moved as she may feel, Sania wrote that her two most prominent feelings at the time of her retirement were "gratitude and pride".
"I take pride in everything I have been able to achieve over the last 20 years of my professional career and I am so grateful for the memories that I have been able to create," she said.
After the moving and emotional trip down memory lane, Sania concluded her message on a hopeful note, saying that she did not see the retirement as an "end".
"In fact, [it is] a beginning of many different memories to be created, dreams to be achieved and new goals to be set. My son needs me more than ever now and I can't wait to live a slightly quieter and calmer life while giving him more of my time than I have been able to give so far".
With this heartfelt conclusion, the tennis star signed off, leaving her fans feeling very emotional, and comments flooded her post with fans wishing her well and sharing their thoughts on how she had been an inspiration in their lives.
It should be noted that Sania played her last match at Wimbledon in July 2022. At the time she had shared an emotional farewell to Wimbledon via Twitter. 
She was initially set to retire from professional Tennis last year after playing in the US Open. However, she had to pull back due to an injury and her plans were postponed to 2023.
Pakistan squad for World Cup 2023 announced
Chief selector Inzamam-ul-Haq unveiled squad.
Hasan Ali replaces injured Naseem Shah.
Pakistan enter mega-event as number one ranked side.
---
LAHORE: In a much-awaited announcement, the Pakistan Cricket Board (PCB) has finally revealed the 15-member squad for the upcoming ICC World Cup 2023.
The announcement of Pakistan's squad faced unexpected delays as the team management held consultations following a humiliating exit from the Asia Cup and the injuries faced by major bowlers during the tournament.
Chief selector Inzamam-ul-Haq unveiled the squad at Lahore's Gaddafi Stadium.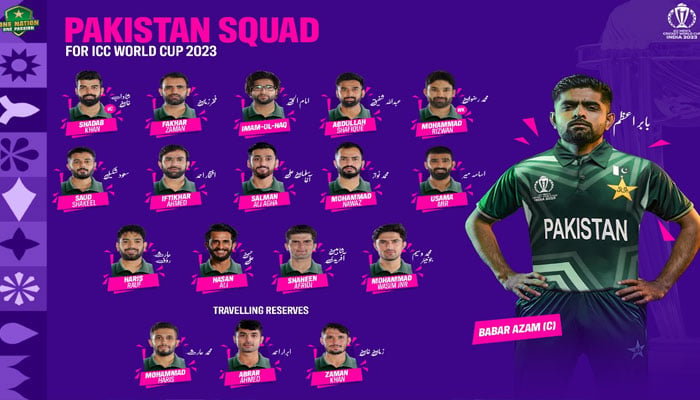 Babar Azam will captain the team, while Shadab Khan remains the team's vice-captain. Hasan Ali has been called in to replace pacer Naseem Shah — who has been ruled out from the tournament due to his shoulder injury.
Ali, however, will be returning to one-day international (ODI) cricket after a year-long hiatus following his last appearance against West Indies in Multan in 2022.
"We were forced to make one change because of an unfortunate injury to Naseem Shah. We had a few injury scares in the recent Asia Cup, but I am glad to share that all the players are fully fit and are eager to perform for their country in the all-important tournament. I have received encouraging reports from our medical panel about Haris Rauf. He has started to (shadow) bowl at the National Cricket Academy and will be available for selection," said Inzamam while speaking during a press conference today.
"I have a firm belief that this squad can bring the World Cup trophy to Pakistan and make the whole nation proud with their incredible performances. It is time to get behind our team and provide them with the backing and support that they need."
Babar Azam's side enters the mega-event as the number one ranked side and enjoys the best win/loss ratio of 2.4 in this World Cup cycle for any side that has played the ODI format.
The ICC World Cup 2023 will take place in India with 10 teams fighting for the elusive title across 10 venues from October 5 to November 19, with the Narendra Modi Stadium in Ahmedabad hosting the tournament opener and the final.
The Cricket World Cup will be played in a round-robin format, with all teams playing against each other for a total of 45 league matches.
The top four teams will qualify for the semifinals, which will be held in Mumbai on November 15 and in Kolkata on November 16. The semi-finals and the final will have reserve days.
Squad
Babar Azam (c), Shadab Khan, Abdullah Shafiq, Fakhar Zaman, Haris Rauf, Hasan Ali, Iftikhar Ahmed, Imam-ul-Haq, Mohammad Nawaz, Mohammad Rizwan (wk), M Wasim Jnr, Saud Shakeel, Salman Ali Agha, Shaheen Shah Afridi, Usama Mir.
Reserves
Mohammad Haris, Zaman Khan, Abrar Ahmed.
Shahid Afridi's heartfelt note for daughter Ansha on wedding with Shaheen
Veteran cricketer Shahid Afridi Wednesday shared a heartfelt note for his daughter, Ansha, expressing his feelings over her marriage with Pakistan pacer Shaheen Shah Afridi.
The wedding ceremony took place in Karachi a day earlier.
Following their engagement two years ago, the couple had tied the knot in an intimate nikah ceremony held in February this year.
In an emotional and moving post on X, formerly Twitter, the former cricketer wrote Urdu couplets for his daughter.
"Aya tha ghar main noor abhi kal ki baat hai
Rukhsat bhi ho raha hai wo ankhon kay saamney
Dooba hua bhi hai terey baba ka dil magar
Umeed subh-e-nau isey ayi hai thamney," Afridi wrote.
Along with the couplet, the former Pakistan captain shared two photos of himself with the newly wedded couple. In both images, taken from the back, Afridi is seen lovingly holding onto his daughter and son-in-law in a pleasant mood.
In one of the pictures, the former all-rounder is seen leaning towards Ansha, expressing his emotions of a father seeing his daughter off.
In the photo, Afridi's daughter is seen wearing an intricately-designed red dress, embellished with gold zardozi and sequin work.
Photos from the wedding, which took place at a private wedding venue in Karachi, have gone viral on social media with Shaheen seen mingling with guests and fellow cricketer and Pakistan captain Babar Azam amid the joyous occasion.
The 23-year-old fast bowler arrived at the venue to receive his bride with his family, while the rukhsati (seeing off) ceremony was decked with a diverse guest list which included former captain Misbah-ul-Haq, Saeed Anwar, Tanveer Ahmed, and Sohail Khan.
The couple got married seven months ago in Karachi. However, Ansha's rukhsati was put on hold until September. Their valima ceremony will, however, be held in Islamabad on September 21.
Pakistan's Arshad Nadeem off to finals in World Athletics Championship
Arshad Nadeem notched up a throw of 86.79 metres.
Benchmark for Olympics was 85.50m.
Final will be held on Sunday, August 27.
---
Pakistan's star javelin thrower Arshad Nadeem secured on Friday the final spot in the ongoing World Athletics Championship in Budapest, Hungary.
Meanwhile, Nadeem has also qualified for the Paris Olympics — which is set to take place in 2024.
The star javelin thrower saved his best for the last as he notched up a throw of 86.79 metres.
The benchmark for the Olympics was 85.50m, which Nadeem managed to cross successfully.
Nadeem had a rusty start as he could only reach 70.63m in his first attempt. However, he came back into the reckoning with an 81.53m throw in his second attempt.
The automatic qualifying mark for the final was 83m or at least the top 12.
The final of the javelin throw will be held on Sunday, August 27.
Nadeem shot to fame when he finished fifth in the Tokyo Olympics, a feat which changed the entire life of the athlete. It not only fetched him fame and wealth but also transformed his personality.
Nadeem then also finished fifth in the World Championship in the US last year. Soon afterwards he recorded his best throw of 90.18 metres in the Commonwealth Games in Birmingham which is also a record throw of the quadrennial event.
He then underwent elbow and left knee surgery in London, took time in his rehab and returned to the competitive field in May at the 34th National Games in Quetta.
Although he failed to show his fitness there he managed a gold for his department WAPDA. In this event, he received a heavy blow when he injured his right knee which later forced him to skip the Asian Championship held in Bangkok recently.
Earlier, India's Neeraj Chopra also qualified for the Paris Olympics 2024 with a 88.77m throw, which was his season's best, in his first attempt during the World Athletics Championship qualifying round on Friday.