PML-N's next strategy to focus on Bajwa, Faiz, Imran and former judges
PML-N inches closer to adopting aggressive narrative against five individuals.
Party's focus to be on Bajwa, Faiz, Imran, Saqib Nisar and Khosa for "conspiring"to dislodge Nawaz.
Sources say everyone in PML-N agrees that new narrative will explain how country's progress was halted in 2017.
---
Pakistan Muslim League-Nawaz (PML-N) is inching closer to adopting an aggressive narrative against five individuals for the economic and political chaos in the country and for bringing Pakistan to the current stage through a long-planned conspiracy.
The five individuals against whom the PML-N has started turning its guns with full ferocity are army chief General (retd) Qamar Javed Bajwa, Lt General (retd) Faiz Hameed, retired judges Saqib Nisar, Asif Saeed Khosa and former prime minister Imran Khan.
Sources have confirmed that several senior figures of the party have recommended to PML-N supremo Nawaz Sharif that the party's focus should be on Bajwa, Faiz, Imran , Saqib Nisar and Khosa, for being solely responsible for a conspiracy to dislodge Nawaz and his government in 2017, as well as rigging its mandate in 2018 to install Pakistan Tehreek-e-Insaf (PTI) government.
They said that almost everyone in PML-N agrees that attacks on these five individuals should be the new narrative of the party to explain to the people of Pakistan that the country's progress was halted in 2017, when the Saqib Nisar-led judiciary went out of its way to expel Nawaz from electoral politics by disqualifying him for life in the Iqama case; appointing a Supreme Court monitoring judge against him and pressuring the judges to give verdicts against him, his family and colleagues.
The PML-N, said the sources, will focus on General (retd) Bajwa and Lt General (retd) Hameed for implementing a plan to bring Khan to power at all costs and this has brought Pakistan to the current stage after nearly four years of PTI's government.
Since his ouster from power through a vote of no confidence in April 2022, former premier Khan has attacked General (retd) Bajwa – without naming him when he still held the army chief's post and later naming him after his retirement. Khan also targetted other generals, calling them traitors, American agents and evil for not stopping the no-confidence motion against him. However, he has not said a word against General (retd) Hameed, whom he wanted to continue as the powerful Inter-Services Intelligence chief, but it was Nawaz who unleashed a storm in October 2020 when he named both General (retd) Bajwa and General (retd) Hameed in a live address from London, accusing them of ousting him from power to install Khan's government through rigging in polls.
That narrative – of naming and shaming Bajwa and Faiz – was harshly criticised in media circles but it won support for Nawaz on the ground. However, the PML-N went quiet after coming to power in the Centre as Shehbaz Sharif became the prime minister. Now PML-N leaders are of the view that directly blaming the military establishment has won support for Khan as he had shifted all blames and wrongdoings towards his former backers while claiming innocence on his part for as long as he was in the government.
A senior leader confirmed that the new narrative was a work in progress and although the PML-N has wasted time in adopting this but now there is a feeling that this will be the permanent narrative of the party.
The senior leader confirmed: "Almost everyone is of the view that the rebranded narrative cannot succeed unless it takes the fight directly to the main characters of the political events of the last six years, who played a key role in bringing about the Tabdeeli project in the shape of Imran Khan. This is a project which could never have succeeded without full support from Saqib Nisar, General (retd) Bajwa, General (retd) Faiz Hameed and Asif Khosa. Everyone in Pakistan is aware of the role these characters played violating rules, Constitution, law and oath."
Stung by the recent setbacks in Punjab, PML-N stalwarts have advised Nawaz that the only way forward is a constructive, aggressive approach which should minus no words in explaining to the masses what actually happened to Pakistan.
On their part, Nisar and Khosa have denied delivering political executions through their decisions. Khan maintains that he came to power after a struggle of nearly 24 years but he has accepted that the former generals Bajwa and Hameed were like pillars of strength for his party, including managing media, politics, lawmakers and votes in the upper and lower houses of parliament.
General (retd) Bajwa, through media confidantes, has said he offered every kind of support to the PTI government and Khan's own ally Parvez Elahi has also publicly said that Bajwa and fellow generals "changed nappies" of Khan for nearly four years.
On its part, the PML-N is under criticism from its own supporters for adopting a laid back and passive approach since the ouster of Khan from power. The PML-N leadership is under attack from its supporters for not coming up with an aggressive position in response to its main rival PTI's juggernaut, blaming the Pakistan military, the US and a "foreign conspiracy" to oust its government.
Ex-Punjab CM Usman Buzdar becomes latest PTI leader to quit politics
Buzdar cites current circumstances reason behind quitting politics.
Former CM calls on all stakeholders to reach a consensus.
He condemns May 9 incidents, says "we should avoid such incidents".
---
Former Punjab chief minister Usman Buzdar Friday became the latest Pakistan Tehreek-e-Insaf (PTI) leader to quit politics in the aftermath of the May 9 violent riots.
"First of all, I condemn the May 9 incidents. The military installations which were targeted were properties of the state of Pakistan and I believe we should avoid such incidents," Buzdar told journalists during a press conference in Lahore.
Buzdar, whose term as Punjab's chief minister was cut short in March 2022, said he had always stood with the armed forces of Pakistan and will continue to do so.
"I have always committed to politics of nobility […] but due to the current circumstances, I have decided to quit politics," the former chief minister, once considered to be close to PTI Chairman Imran Khan, said.
The former chief minister called on all stakeholders to reach a consensus and asked the authorities to release all those who were innocent from jail.
The heat
Khan's party has been feeling the heat of the state's might after his party workers burnt and smashed military installations, including the General Headquarters in Rawalpindi, after his arrest on May 9 — a day the army dubbed as "Black Day".
Several party leaders and thousands of workers have been rounded up in connection with the violent protests and the army has insisted that the people involved in attacks on military installations be tried under the Pakistan Army Act and the Official Secrets Act.
A close aide of Khan, Asad Umar, has relinquished his posts of secretary general and core committee member, citing the ongoing situation.
Several party leaders and lawmakers — including Fawad Chaudhry, Shireen Mazari, Aamir Mehmood Kiani, Malik Amin Aslam, Mahmood Moulvi, Aftab Siddiqui, Fayyazul Hassan Chohan among others — have publicly denounced the attacks on the state installations and announced leaving the former ruling party since the May 9 vandalism.
Imran Khan's 'rights abuses allegations' ploy to distract from May 9 riots: PM Shehbaz
PM says PTI chief "capable of going to any extreme".
Says he is "not surprised" by Imran Khan's "antics".
"Everything about Imran Khan is hate, division and lie."
---
Prime Minister Shehbaz Sharif slammed his predecessor Imran Khan for "misleading and baseless allegations" of "rights abuses", saying that it was a ploy to distract attention from his involvement in May 9 events.
"Make no mistake about the evil intent behind Imran Niazi's latest ploy to defame our law enforcement agencies and police. Yet again he is making misleading and baseless allegations of the "rights abuses" just to distract attention for his culpability in the tragic events of May 9," the premier wrote on his official Twitter handle.
PM Shehbaz, who is also the president of the Pakistan Muslim League-Nawaz (PML-N), also said that he was "not surprised" by the former prime minister's "antics".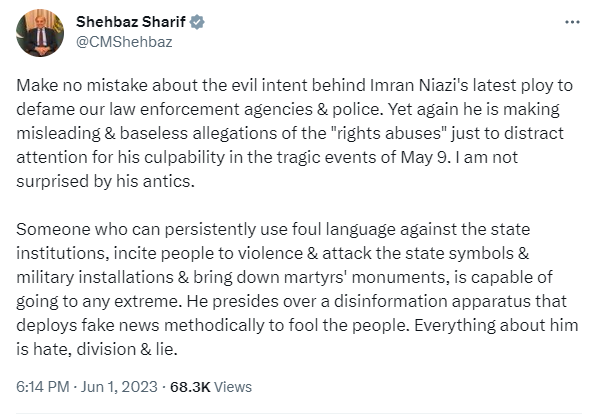 He added that the PTI chief was "capable of going to any extreme" as he "persistently" uses "foul language against the state institutions, incite[s] people to violence and attack[s] the state symbols and military installations & bring[s] down martyrs' monuments".
The prime minister went on to write on the tweet: "He [Khan] presides over a disinformation apparatus that deploys fake news methodically to fool the people. Everything about him is hate, division and lie."
A crackdown has been launched against PTI following the arrest of former prime minister Imran Khan from the Islamabad High Court's premises.
Khan's arrest last month sparked days of street protests after which the PTI leaders' exodus started, as security forces launched a crackdown against the party following the attacks on civil and military institutions, including the General Headquarters in Rawalpindi and the Lahore Corps Commander's House (Jinnah House). At least eight people were killed in the violent protests almost across the country.
Amid these arrests, an exchange of accusations began between the Imran Khan-led PTI and the federal government involving alleged "ill-treatment" of the party's women workers and supporters during the custody.
The government has maintained that the PTI's claims are unfounded.
Last week, in a late-night press conference, Interior Minister Rana Sanaullah said that the PTI planned to highlight human rights violations in Pakistan on a global scale after orchestrating a simulated raid at a certain known party worker, involving a rape and casualties caused by gunfire.
The security czar said that intelligence agencies intercepted an audio clip that sheds light on a conspiracy hatched by the PTI to malign the country's law-enforcement agencies.
Reacting to his presser, Imran Khan on Sunday said Sanaullah is "so obviously trying to cover up and preempt the horror stories about to break in the media."
"If there were any doubts about women being mistreated in jails, this press conference from this certified criminal should remove all such doubts," he wrote on Twitter.
PTI President Parvez Elahi arrested in Lahore
Former Punjab CM was arrested by anti-corruption personnel.
He was wanted in Rs70m corruption case related to uplift funds.
Elahi's son says his father was taken into custody in a fake case.
---
Pakistan Tehreek-e-Insaf (PTI) President Parvez Elahi was arrested by anti-corruption officials from Lahore outside his home, Geo News reportedon Thursday.
The former Punjab chief minister was taken into custody by the anti-corruption personnel after pulling over his car near Zahoor Elahi's residence in Lahore's Gulberg area.
Elahi's spokesperson has confirmed the development.
The development came after an anti-corruption court last week discarded his interim bail over his failure to appear before the court citing health issues.
His arrest was required in the Rs70 million corruption case related to the embezzlement of development funds allocated for the Gujrat district.
The anti-corruption court judge also declared Elahi's medical certificate bogus which claimed that he had been experiencing chest pain.
The anti-corruption spokesperson in a statement said Elahi was taken into custody while trying to flee and added that he was wanted in various corruption cases.
The spokesperson also said that Elahi was arrested as his bail was discarded by the court for submitting a fake medical certificate.
In a statement to the police, Elahi's driver said the PTI leader was fleeing to Gilgit Baltistan along with a convoy of four vehicles.
He said Elahi was not travelling in a bulletproof vehicle and added that police tried to break the car's window after the PTI president refused to open the gate.
Speaking to Geo News, Punjab caretaker Information Minister Amir Mir said Elahi was wanted by the anti-corruption police in a graft case.
He said the PTI president was fleeing from his residence when the police intercepted his vehicle and took him into custody.
The minister added that resistance was put up during the arrest but the police managed to arrest him.
The PTI leader's spokesperson said Elahi's son Rasikh and Pakistan Muslim League-Quaid (PML-Q) President Chaudhry Shujaat Hussain's sister were also present with him during the arrest.
Elahi's arrest came as hundreds of PTI leaders and workers have been arrested since May 9 violent protests erupted almost across the country.
The crackdown on PTI leadership in the wake of the May 9 riots triggered a wave of desertion in the former ruling party with many bigwigs including Shireen Mazari, Fawad Chaudhry, Aami Mehmood Kiani, Ali Zaidi and others have parted ways with the party in protest against the violent protests.
Elahi was appointed as the PTI president in March this year only a month after he along with 10 former MPAs left the PML-Q to join the PTI.
Moonis Elahi, the PTI president's son — who is active in politics and played a key role in convincing his father to join the PTI ranks — said his father was arrested in a fake case.
Moonis said his father and mother had already asked them to support the PTI even if they were arrested.