Pakistan listed among drought hit countries by UN
Pakistan is listed among 23 countries by UN that are facing drought emergencies.
UN report emphasises to provide immediate funding to developing countries.
Report says an additional 4mn square kilometres will need to be rehabilitated by 2050.
---
NEW YORK: Pakistan is listed among the 23 countries by the United Nations that are facing drought emergencies in the last two years, stated a report released by the United Nations Convention to Combat Desertification (UNCCD), The News reported Monday. 
Other than Pakistan, the list also includes Afghanistan, Angola, Brazil, Burkina Faso, Chile, Ethiopia, Iran, Iraq, Kazakhstan, Kenya, Lesotho, Mali, Mauritania, Madagascar, Malawi, Mozambique, Niger, Somalia, South Sudan, Syria, Pakistan, the United States and Zambia.
Emphasising the need to provide immediate funding to the developing countries, the report also stated that an additional four million square kilometres will need to be rehabilitated by 2050.
United Nations Global Land Outlook says that Desertification Control through Sustainable Land Management Productive land is scarce in Pakistan — with 80% of the country being arid or semi-arid.
The land degradation and desertification are caused by unsustainable land management practices, coupled with increased demand for natural resources, and driven by a rapidly growing and largely rural population dependent on dry lands for their livelihoods.
To address these problems, in 2007, the Pakistani government began implementing a Sustainable Land Management Project across nine dry land districts. Over eight years, 120 square kilometres of degraded rangeland were rehabilitated through reseeding and community-based grazing management, and a further 80 square kilometres under sustainable rainfed agriculture and water conservation measures.
In 2015, the project was extended and rolled out more widely, utilising water control and storage structures, creating shelterbelts and rangeland management plans, restoring degraded dry land forests (for eg: community tree nurseries and plantations for domestic fuel), and implementing sand dune stabilisation measures. As a result, some 13,000 households directly or indirectly benefited from nearly 200 square kilometres of improved land health, better access to water for livestock, and reduced wind erosion.
This success of the program inspired the Billion Trees Afforestation Project in Pakistan's mountainous Khyber Pakhtunkhwa, which saw 3,500 square kilometres of forests and degraded land restored in just two years.
In 2018, the popularity of this initiative gave impetus to the world's largest reforestation initiative — the Ten Billion Tree Tsunami Programme — as part of a suite of nature-based solutions to fight desertification and climate change in Pakistan.
In the province of Balochistan, Pakistan, indigenous management techniques, known as the karez system, utilise tunnels that follow a natural gradient to deliver groundwater without employing mechanical energy.
KU students end protest after 'picked up' student returns
KARACHI: Students of Karachi University called off their protest after a fellow student who was allegedly "picked up" from the varsity's premises returned.
A KU student confirmed to Geo News that Saqib, the student who was allegedly "whisked away", has returned.
The students of the varsity had launched a protest, earlier today, after Saqib was allegedly "taken away".
The protesters told Geo News that the student, studying at the Department of Urdu, was allegedly whisked away by some people in plain clothes. They said the men claimed they were from a law enforcement agency.
However, KU Security Adviser Dr Moiz Khan said Rangers have disassociated themselves from the incident.
The university's administration analysed the closed-circuit television (CCTV) footage to identify the students and the people who picked him up.
After the incident, the students staged a protest outside KU's Silver Jubilee Gate and blocked the University Road.
However, upon the police's request, they shifted their protest to the front of the varsity's administration block.
The Islami Jamiat-e-Talaba (IJT) claimed that the student was its worker.
Jibran Nasir's 'kidnapping' case registered hours after he was 'picked up' in Karachi's DHA
Cases registered under sections 365 and 34 of PPC.
Nasir's wife seeks immediate release of her husband.
Protest today at 4:00pm at KPC to demand Nasir's release.
---
KARACHI: The port city's police have registered a "kidnapping" case of prominent lawyer and human rights activist Jibran Nasir on the complaint of his wife, Mansha Pasha, hours after the advocate was "picked up" from Defence Housing Authority (DHA) area.
The case has been registered at the Clifton Police Station under two sections of the Pakistan Penal Code — 365 (kidnapping or abducting with intent secretly and wrongfully to confine a person) and 34 (Acts done by several persons in furtherance of common intention).
Pasha, a renowned actress, told police in an application earlier that her husband was "picked up" by men on Thursday night.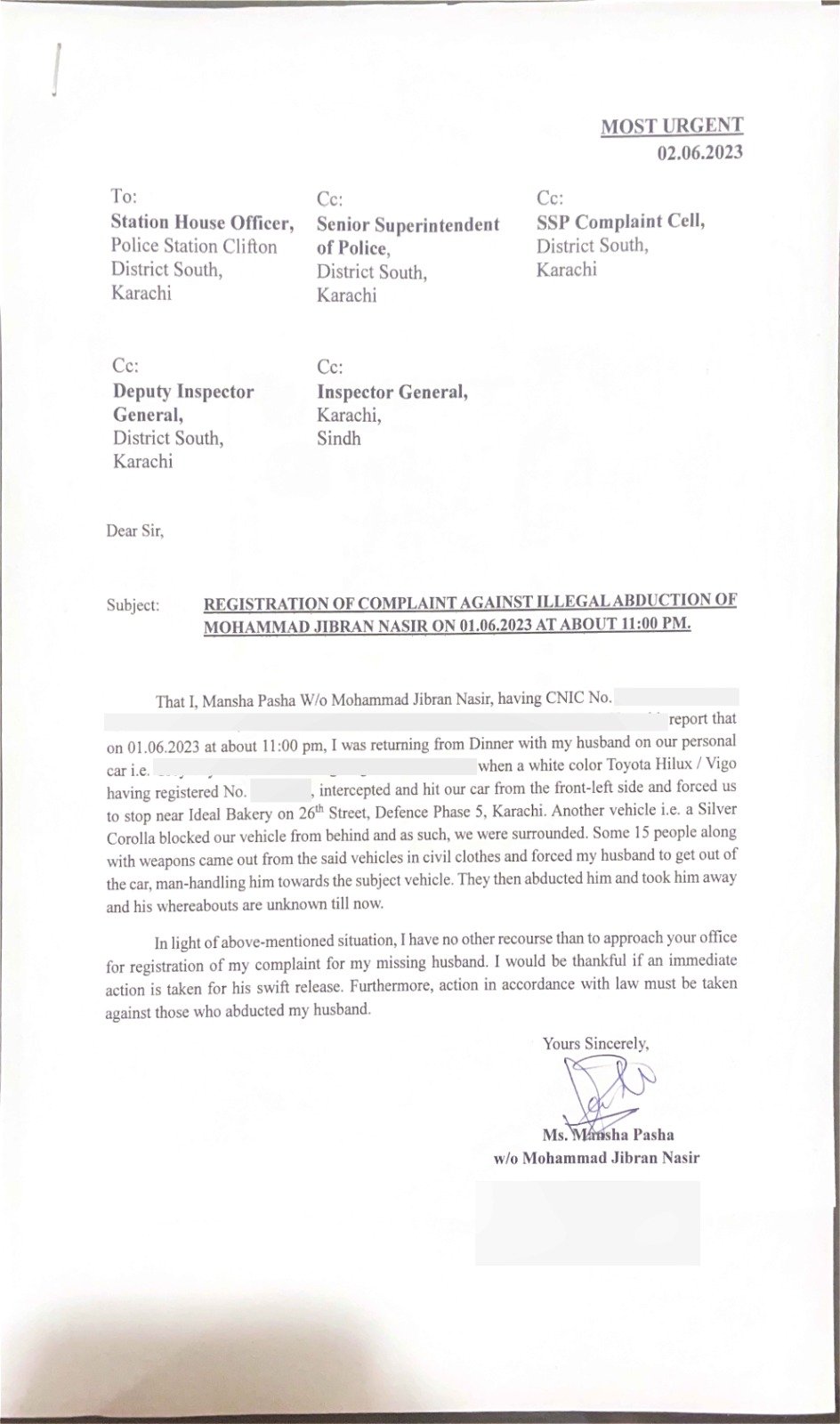 Police were at first, according to Pasha, not registering the FIR. She said she would move the court if the law enforcers did not register the case.
She stated: "On 01.06.2023 at about 11:00 pm, I was returning from dinner with my husband in our personal car … when a white color Toyota Hilux / Vigo … intercepted and hit our car from the front-left side and forced us to stop near Ideal Bakery on 26th Street, Defence Phase 5, Karachi."
She further added: "Another vehicle i.e. a Silver Corolla blocked our vehicle from behind and as such, we were surrounded. Some 15 people along with weapons came out from the said vehicles in civil clothes and forced my husband to get out of the car, man-handling him towards the subject vehicle. They then abducted him and took him away and his whereabouts are unknown till now."
In her application, she also requested immediate action be taken to ensure his swift release.
"In light of the above-mentioned situation, I have no other recourse than to approach your office for registration of my complaint for my missing husband. I would be thankful if an immediate action is taken for his swift release. Furthermore, action in accordance with law must be taken against those who abducted my husband," she wrote.
Furthermore, Pasha told Geo News that a protest was being held at 4:00pm at the Karachi Press Club to demand her husband's release.
Condemnations
As the news of Nasir's abduction went viral, several people and human rights organisations condemned the incident.
Concerned by the abduction, they demanded that Nasir be returned home safely and quickly.
The Human Rights Commission of Pakistan (HRCP) took to Twitter stating: "HRCP is deeply concerned by reports that lawyer and activist [Jibran Nasir] has been abducted by unknown armed persons in Karachi. We demand that he be safely recovered immediately and his abductors held accountable under the law."
Prime Minister's Strategic Reforms Salman Sufi also tweeted his support for the human rights activist.
"Very disturbing to hear about [Jibran Nasir] abduction. Hope Sindh police will assist his family and locate him immediately. Jibran has always spoken against violent extremism and rioting. Hoping for his safe and immediate return," he wrote.
Moreover, Imaan Mazari, the daughter of the former human rights minister Shireen Mazari expressed his dismay at the news.
"No words… complete madness," she tweeted.
8-year-old girl raped in Islamabad
Afghan girl was raped by a man in broad daylight.
Case lodged at Shahzad Town Police Station.
Medico-legal official confirms the girl's rape.
---
ISLAMABAD: An 8-year-old Afghan girl was raped by a man in broad daylight who managed to run away in the presence of residents of Mohallah Diptian falling in the jurisdiction of Shahzad Town Police Station, The News reported Friday.
The minor victim was shifted to a hospital where the medico-legal official confirmed the rape.
The Shahzad Town police have registered the case against the unidentified rapist under sections 376 and 377/B of the Pakistan Penal Code on the complaint of the father of the victim but couldn't hunt down the rapist till the filing of this report.
Hazar Gul, an Afghan national, hailing from Jalalabad, lodged a complaint with the Shahzad Town, saying that he was living in Mohallah Diptian, located near Mariam Masjid with his family for a couple of months.
"I was present at my house along with my elder brother when we heard some noises from the street, we rushed out of the house and witnessed a young man running towards us, consequently, without knowing the reason for his escape, we both tried to intercept him but he succeeded to let loose from our clutches and ran off from our custody," the complainant narrating his story, said.
However, he said, "We moved towards the place where people of the street were gathered and saw my minor daughter crying."
Upon query, the minor victim told him the tale of the brutal attack on her, saying she was playing near her house when she was dragged by the rapist into an under-construction house and raped forcibly.
The DPO (Rural) has taken up the case and asked the Shahzad Town police to take the case as a challenge and use all their efforts to make headway to arrest the rapist, the police sources said.
The SP has constituted teams and sent them to different locations to get a clue about the rapist.
The sources added that the police have rounded up a few suspects for investigation, claiming that the police teams would make headway to the criminal and hunt him down within the next 24 hours.