Netflix CEO says TV will die within 10 years, but is that true?
Netflix CEO says "end to traditional form of watching television" is close.
Experts say live channels would not lose their place that easily.
His prediction comes after Netflix loses 970,000 subscribers in second quarter of year alone.
---
Netflix CEO Reed Hastings claimed recently that television would die within 10 years.
He said that since everyone was investing in streaming platforms now, it will "put an end to the traditional form of watching television".
His prediction came after Netflix lost nearly 970,000 subscribers in the second quarter of the year alone. This is even more than it lost in the first three months of 2022.
MailOnline reached out to experts and asked them what they thought of Hasting's comments.
Experts said that even though streaming was pressuring TV, live channels would not lose their place that easily.
"The future of TV is streaming," Mike Proulx, VP and research director at Forrester told MailOnline.
He said that Hasting's claim was aggressive.
"… Traditional TV will have a niche future for stuff like local news and some shows that work better in a live format," remarked Ben Barringer, equity research analyst at Quilter Cheviot.
Daily Mail pointed out that a huge advantage of linear TV channels is that many are free to air as they are funded by advertisements.
Netflix, on the other hand, charges much more monthly. Other streamers like Amazon Prime and Disney+ charge even more.
Hastings also shared earlier that his platform would begin ads as early as 2023 to create cheaper ways for customers to access Netflix.
YouTube, for example, is free simply because it compels viewers to watch ads all the time.
Hearses queue at Beijing crematorium, even as China reports no new COVID deaths
Queue of hearses seen outside Beijing crematorium.
China reports no new deaths; some criticise its accounting.
Beijing faces surge in severe COVID in next 2 weeks: expert.
---
BEIJING: Dozens of hearses queued outside a Beijing crematorium on Wednesday, even as China reported no new COVID-19 deaths in its growing outbreak, sparking criticism of its virus accounting as the capital braces for a surge of severe cases.
Following widespread protests, the country of 1.4 billion people this month began dismantling its "zero-COVID" regime of lockdowns and testing that had largely kept the virus away for three years — at great economic and psychological costs.
The abrupt change of policy has caught the country's fragile health system unprepared, with hospitals scrambling for beds and blood, pharmacies for drugs, and authorities racing to build special clinics. Experts now predict China could face more than a million COVID deaths next year.
At a crematorium in Beijing's Tongzhou district on Wednesday, a Reuters witness saw a queue of around 40 hearses waiting to enter, while the parking lot was full.
Inside, family and friends, many wearing white clothing and headbands as is tradition, were gathered around roughly 20 coffins awaiting cremation. Staff wore hazmat suits. Smoke rose from five of the 15 furnaces.
There was a heavy police presence outside the crematorium.
Reuters could not verify whether the deaths were caused by COVID.
Narrow definition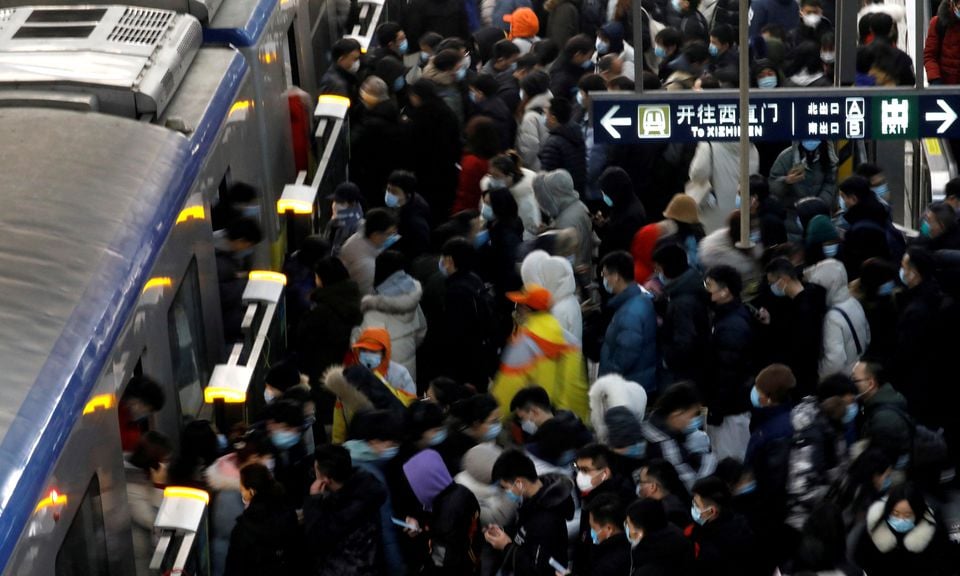 China uses a narrow definition of COVID deaths, reporting no new fatalities for Tuesday and even crossing one off its overall tally since the pandemic began, now amounting to 5,241 — a fraction of what much less populous countries faced.
The National Health Commission said on Tuesday only people whose death is caused by pneumonia and respiratory failure after contracting the virus are classified as COVID deaths.
Benjamin Mazer, an assistant professor of pathology at Johns Hopkins University, said that classification would miss "a lot of cases," especially as people who are vaccinated, including with the Chinese shots, are less likely to die of pneumonia.
Blood clots, heart problems and sepsis — an extreme body response to infection – have caused countless deaths among COVID patients around the world.
"It doesn't make sense to apply this sort of March 2020 mindset where it's only COVID pneumonia that can kill you, when we know that in the post-vaccine era, there's all sorts of medical complications," Mazer said.
Looming surge
The death toll might rise sharply in the near future, with state-run Global Times citing a leading Chinese respiratory expert predicting a spike in severe cases in Beijing over the coming weeks.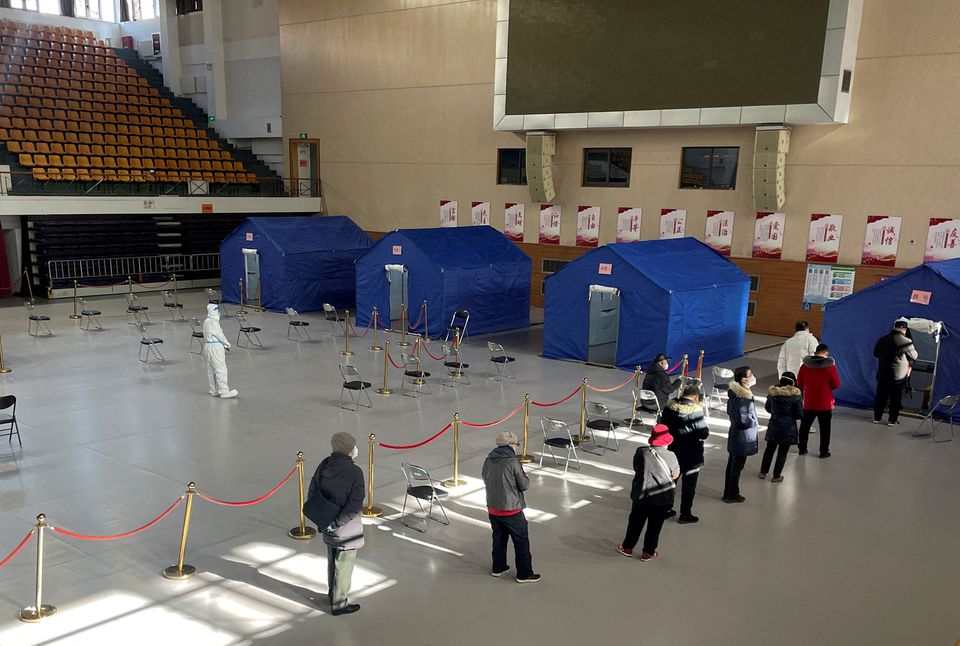 "We must act quickly and prepare fever clinics, emergency and severe treatment resources," Wang Guangfa, a respiratory expert from Peking University First Hospital, told the newspaper.
Severe cases rose by 53 across China on Tuesday, versus an increase of 23 the previous day. China does not provide absolute figures of severe cases.
Wang expects the COVID wave to peak in late January, with life likely to return to normal by end-February or early March.
The NHC also played down concerns raised by the United States and some epidemiologists over the potential for the virus to mutate, saying the possibility of new strains that are more pathogenic is low.
Paul Tambyah, President of the Asia Pacific Society of Clinical Microbiology and Infection, supported that view.
"I do not think that this is a threat to the world," he said. "The chances are that the virus will behave like every other human virus and adapt to the environment in which it circulates by becoming more transmissible and less virulent."
Several leading scientists and World Health Organisation advisors told Reuters a potentially devastating wave to come in China means it may be too early to declare the end of the global COVID pandemic emergency phase.
Economic impact
The United States on Tuesday indicated it stands ready to assist China with its outbreak, warning an uncontrolled spread in the world's second-largest economy may hurt global growth.
A major near-term concern for economists is the impact a surge in infections might have on factory output and logistics as workers and truck drivers fall ill.
The World Bank on Tuesday cut its China growth outlook for this year and next, citing the abrupt loosening of COVID measures among other factors.
Some local governments continue to relax rules.
Staff at the Communist Party and government institutions or enterprises in the southwestern city of Chongqing who have mild COVID symptoms can go to work if they wear a mask, state-run China Daily reported.
Other Chinese media reported similar moves in several cities.
Blast hits seminary in north Afghanistan, killing 15
Religious seminary attacked in Samangan province.
At least 20 people are also wounded.
Unclear who's behind attack.
---
KABUL: A blast tore through a religious seminary in the northern Afghan province of Samangan on Wednesday, killing 15 people, a provincial spokesperson said.
A spokesperson for Samangan's provincial government Emdadullah Muhajir, added that at least 20 people were also wounded in the explosion.
It was not immediately clear who was behind the blast.
The Taliban say they are focused on securing the war-torn nation since taking over the country last year, however, several attacks have taken place in recent months, some of which have been claimed by Daesh.
Indonesia quake kills more than 50, injures hundreds and destroys homes
Quake strikes Cianjur town.
Some residents trapped in rubble.
Twenty-five aftershocks recorded.
---
JAKARTA: A 5.6-magnitude earthquake killed more than 50 people and injured hundreds in Indonesia's West Java province on Monday, with rescuers trying to reach survivors trapped under the rubble amid a series of aftershocks as night fell.
West Java Governor Ridwan Kamil confirmed 56 deaths from the quake, whose epicentre was the town of Cianjur, about 75 km (45 miles) southeast of the capital, Jakarta, where some buildings shook and some offices were evacuated.
"So many buildings crumbled and shattered," Ridwan told reporters.
"There are residents trapped in isolated places … so we are under the assumption that the number of injured and deaths will rise with time."
Indonesia straddles the so-called "Pacific Ring of Fire", a highly seismically active zone, where different plates on the Earth's crust meet and create a large number of earthquakes and volcanoes.
The national disaster agency (BNPB) said 23 people were likely still trapped under the rubble of collapsed buildings. More than 1,770 houses were damaged and nearly 3,900 people had been displaced in Cianjur, spokesperson Abdul Muhari said.
Electricity was down and disrupting communications efforts, Herman Suherman, head of Cianjur's government, said, adding that people in the area of Cugenang were unable to be evacuated because of a landslide blocking access.
Footage from news channel Metro TV showed what appeared to be hundreds of victims being treated in a hospital parking lot and some buildings in Cianjur reduced almost entirely to rubble as worried residents huddled outside.
Other TV channels showed victims hooked up to intravenous drips and being treated on the sidewalk.
Officials were still working to determine the full extent of the damage caused by the quake, which struck at a relatively shallow depth of 10 km, according to the weather and geophysics agency (BMKG).
Muchlis, who was in Cianjur when the quake hit, said he felt "a huge tremor" and his office walls and ceiling were damaged.
"I was very shocked. I worried there would be another quake," Muchlis told Metro TV, adding that people ran out of their houses, some fainting and vomiting in response.
Less than two hours after the quake, 25 aftershocks had been recorded, BMKG said, adding there were concerns about the potential for more landslides in the event of heavy rain.
In Jakarta, some people evacuated offices in the central business district, while others reported buildings shaking and furniture moving, Reuters witnesses said.
In 2004, a 9.1 magnitude quake off Sumatra island in northern Indonesia triggered a tsunami that struck 14 countries, killing 226,000 people along the Indian Ocean coastline, more than half of them in Indonesia.