Nasa UFO panel doesn't rule out aliens, calls for better data on UAPs
In their historic 16-member panel meeting about the unidentified anomalous phenomena (UAPs) or UFOs, Nasa said Wednesday that further as well as better data was required to unravel the mysteries surrounding UAPs.
Nasa's UFO body, which was constituted in June last year and includes a range of experts from physics to astrobiology, stressed that the currently available data was insufficient to effectively explain the unexplained phenomena in question.
They held a four-hour session, which was streamed live on a Nasa webcast and shared the initial findings of the research. A complete report is likely to be issued this summer.
Astrophysicist and chairman of the panel David Spergel said his team's role was "not to resolve the nature of these events," but rather to give Nasa a "roadmap" to guide future analysis.
According to the officials from the US space agency, several panellists had been subjected to unspecified "online abuse" and harassment since beginning their work in June last year.
Nasa science chief Nicola Fox said: "It is really disheartening to hear of the harassment that our panellists have faced online because they're studying this topic. Harassment only leads to further stigmatisation."
The panel members noted that the greatest challenge was a dearth of scientifically reliable methods for documenting UFOs, typically sightings of what appear as objects moving in ways that defy the bounds of known technologies and laws of nature.
"The underlying problem is that the phenomena in question are generally being detected and recorded with cameras, sensors and other equipment not designed or calibrated to accurately observe and measure such peculiarities," they underlined.
"If I were to summarise in one-line what I feel we've learned, it's we need high-quality data," Spergel added.
"The current existing data and eyewitness reports alone are insufficient to provide conclusive evidence about the nature and origin of every UAP event."
Spergel said: "While the Pentagon in recent years has encouraged military aviators to document UAP events, many commercial pilots remain very reluctant to report them due to the lingering stigma surrounding such sightings."
The Nasa panel is the first-ever inquiry conducted under the ambit of the US space agency on matters that the government once considered the secretive purview of military and national security officials.
Investigations by Pentagon
This study is separate from a newly formalised Pentagon-based investigation of UAPs, documented in recent years by military aviators and analysed by US defence and intelligence officials.
The efforts of Nasa and the Pentagon highlight a shift for the government officials who, for decades, deflected and debunked the sightings of such objects which date back to the 1940s.
UFO was earlier associated with flying saucers and aliens, but now has been replaced in government language by "UAP."
While NASA's science mission was seen by some as promising a more open-minded approach to a topic long treated as taboo by the defence establishment, it made it known from the start that it was hardly leaping to any conclusions.
"There is no evidence UAPs are extraterrestrial (ET) in origin," NASA said in announcing the panel's formation last June.
US defence officials have said the "Pentagon's recent push to investigate such sightings has led to hundreds of new reports that are under examination, though most remain categorised as unexplained."
The head of the Pentagon's newly formed All-domain Anomaly Resolution Office (AARO) has said the "existence of intelligent alien life has not been ruled out but that no sighting had produced evidence of extraterrestrial origins."
"But just a few are considered beyond relatively simple explanation, while the rest can be attributed to mundane origins such as aircraft, balloons, debris or atmospheric causes," he said.
Spergel also said: "In a departure from the Pentagon, Nasa's panel is examining only unclassified reports from civilian observers, an approach permits open sharing of information among scientific, commercial and international entities, as well as the public."
"To make the claim that we see something that is evidence of non-human intelligence would require extraordinary evidence, and we have not seen that," Spergel said.
YouTube Shorts joins AI race with new 'Dream Screen' feature. But how does it work?
YouTube on Thursday announced a new feature on its short-form video platform Shorts, called Dream Screen, which enables users to create unique videos using AI tools.
YouTube CEO Neal Mohan, during the company's live event "Made on YouTube," revealed that users can use the AI feature to create an AI-generated video or image in YouTube Shorts by simply typing in the desired background.
Mohan demonstrated how this works by typing in "a panda drinking coffee" to show how the video image appears on the screen.
The company offered further examples as well, such as underwater castles or things you could have dreamed about, like dragons or sci-fi moonrises.
Mohan expressed his belief that the technology will enable more people to publish on YouTube without feeling as though they need a whole production studio or a thorough understanding of YouTube analytics, TechCrunch reported.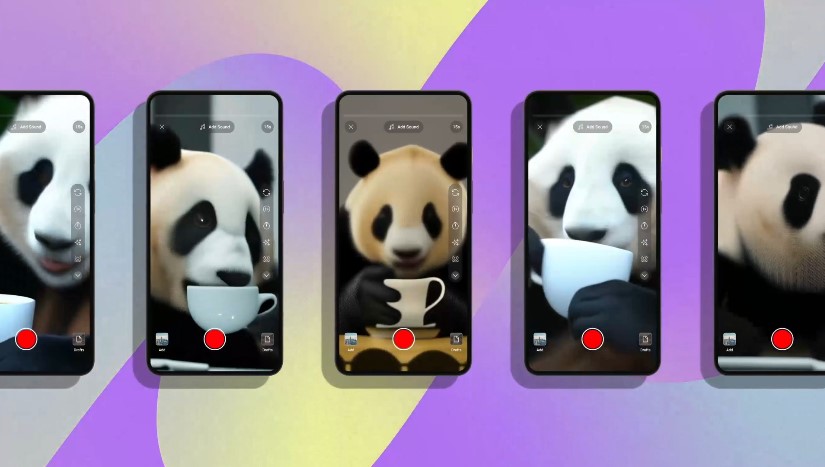 Over 70 billion daily views are currently being averaged on the Shorts platform, up from 50 billion in January and the biggest video-creating app anticipates that these figures will rise even higher with AI.
"At YouTube, we want to make it easier for everyone to feel like they can create and we believe generative AI will make that possible," said Mohan.
The feature is currently being presented to a small group of artists, and it will presumably then go live early next year.
According to YouTube, in the future, the tool will allow users to enter ideas for how to alter or remix their content in order to create entirely new and unique videos.
What you should know about asteroid sample landing Earth soon?
Researchers have been waiting on Earth to receive the biggest asteroid sample which will be sent from space by Nasa's OSIRIS-Rex probe, as astronomers are gaining more understanding about the evolution of the solar system and the alien rocks that are to impact our planet in future.
Origins, Spectral Interpretation, Resource Identification, Security-Regolith Explorer (OSIRIS-Rex) will be releasing a sample of the Bennu asteroid which is likely to touch down in Utah weighing an estimated 8.8 ounces.
The event will be live-streamed starting at 10am ET Sunday.
The capsule is likely to enter Earth's atmosphere at 10:42am ET, with a speed of about 27,650 miles per hour (44,498 kilometres per hour), landing 13 minutes later.
The probe — launched in 2016 — will continue its space journey in the solar system to collect further information about asteroid named Apophis.
The samples from space may assist scientists to gain more insight into the origins and evolution of the solar system as asteroids are the "leftovers" from those early days 4.5 billion years ago.
The analysis will also help gain more insight into Bennu, which is expected to hit Earth in the future.
After surveying the Bennu — a rubble-pile asteroid shaped like a spinning top, is about one-third of a mile (500 meters) wide and composed of rocks held together by gravity.
During the sample collection, OSIRIS-REx went 1.6 feet (0.5 meters) deep into the surface — loosely packed — of the asteroid.
After saying goodbye to Bennu in May 2021, Nasa's probe has been on its way to Earth, circling the sun twice so it can fly by Earth at the right time to release the sample.
The capsule will land within an area of 36 miles by 8.5 miles on the Defense Department's Utah Test and Training Range.
Sandra Freund, OSIRIS-REx program manager at Lockheed Martin Space, said: "Parachutes will deploy to slow the capsule to a gentle touchdown at 11 miles per hour, and recovery teams will be standing by to retrieve the capsule once it is safe to do so."
Details about the sample, after undergoing the necessary process will be revealed through a Nasa broadcast from Johnson on October 11.
According to scientists, carbonaceous asteroids such as Bennu crashed into Earth early during their formation, delivering elements like water.
"We're looking for clues as to why Earth is a habitable world — this rare jewel in outer space that has oceans and has a protective atmosphere," said Dante Lauretta, OSIRIS-REx principal investigator at the University of Arizona in Tucson.
"We think all of those materials were brought by these carbon-rich asteroids very early in our planetary system formation."
"We believe that we're bringing back that kind of material, literally maybe representatives of the seeds of life that these asteroids delivered at the beginning of our planet that led to this amazing biosphere, biological evolution and to us being here today," Lauretta added.
Google supercharges Bard as OpenAI's ChatGPT leads chatbot race
Alphabet Inc's Google announced on Tuesday that Bard, its generative artificial intelligence, is being equipped with the capability to fact-check responses and analyse users' personal Google data, CNN reported.
This move is part of Google's efforts to keep up with the popularity of ChatGPT.
The debut of ChatGPT, a chatbot developed by Microsoft-backed OpenAI, last year triggered a competitive race within the tech industry to provide consumers with access to generative AI technology.
At the time, ChatGPT became the fastest-growing consumer application in history and currently ranks among the top 30 websites globally.
However, Bard hasn't experienced the same level of success.
In August, it received 183 million visits, which is only 13% of what ChatGPT received, according to Similarweb, a website analytics firm.
To make headway in the rapidly evolving AI landscape, Google is introducing Bard Extensions, allowing users to import their data from other Google products.
For example, users can request Bard to search their files in Google Drive or provide a summary of their Gmail inbox.
For now, Bard users will only be able to pull information in from Google apps, but Google is working with external companies to connect their applications to Bard in the future, Google senior product director Jack Krawczyk said.
Another new feature in Bard seeks to alleviate a nagging problem for generative AI: inaccurate responses known as "hallucinations".
Bard users will be able to see which parts of Bard's answers differ from and agree with Google search results.
"We are presenting (Bard) in a way that it admits when it's not confident," Krawczyk said, explaining that the intention is to build users' trust in generative AI by holding Bard accountable.
A third new feature allows users to invite others into Bard conversations.