My days of watching cricket, for time being, are over: PM Imran Khan
PM Imran Khan says Pakistanis were excited for Australia's tour.
"I am unable to watch. I follow the matches in the papers," he says.
Australian team is being given Presidential-level security, he adds.
---
Prime Minister Imran Khan has rejected reports of watching a Pakistan-Australia Test match in-person as he said that his days of watching cricket were over for time being.
Federal Minister Fawad Chaudhary during his visit to Pindi Cricket Stadium a few days back during the historic Rawalpindi Test hinted that PM Imran Khan would witness Australia and Pakistan play a Test match.
However, in an interview with The Sydney Morning Herald, PM Imran Khan said: "Unfortunately, my days of watching cricket, for the time being, are over."
Australia have returned to Pakistan after almost 24-long-years and the tour witnessed the first Test at Pindi Cricket Stadium, which did attract a massive crowd on all five days, but ended up in a disappointment due to a dead-flat wicket.
International Cricket Council (ICC) also declared the Pindi Cricket Stadium "below average" for the first Test match between Pakistan and Australia and penalised it with one demerit point.
Terming Aussies tour a "much-awaited moment" for the cricket fans, PM Imran Khan said that Pakistanis are a cricket-loving nation; however, because of the war on terror, they have been deprived of cricket for many years.
The prime minister said Pakistanis were awaiting the Australian team's arrival with great anticipation and excitement as it is a team that is "admired."
PM's take on T20s and Test matches
The premier was of the view that between T20 and Test cricket, the former is "great entertainment" with innovative stroke play and brilliant fielding; however, the premier said that the "true test" of a cricketer will always be the five-day format.
Shedding light on the efforts of the Pakistan Cricket Board (PCB), he said the board was and Cricket Australia were in talks for a couple of years regarding the historic Australia tour to Pakistan.
The reservations were added when New Zealand pulled out of their Pakistan tour and England stepped back from touring the country recently.
Overall security has 'improved'
PM Imran Khan said: "The issue was about security and our government has improved the overall security within the country. The Australian team is being given Presidential-level security and our people have been waiting with excitement for this series.
"Apart from the dead pitches, nothing can dampen the cricket fans' excitement."
How does the PM follow cricket?
The prime minister, although does not watch matches at stadium, but he follows cricket through papers.
"I am unable to watch. I follow the matches in the papers. Unless the pitches are more responsive we won't see results," he added.
PM Imran Khan is looking forward to seeing a few names performing in the series.
"Looking forward to seeing Pat Cummins, Steve Smith, Babar Azam and Shaheen Afridi perform during the tour".
Reliving memories
PM Imran Khan also relived the memories of playing against Australia. "The 1976 tour of Australia when I was barely 23 years old. This was my favourite tour of Australia. In Pakistan, it was in 1982, the match in Lahore when I took 8 wickets on a dead pitch. Chappell brothers and Dennis Lillee were the toughest competitors."
Indo-Pak bilateral series
"India right now has a racist Hindutva regime preaching racial superiority and hatred for minorities, especially Muslims," the prime minister said.
"So, there is no forward movement in our relations and cricket is also affected — has become collateral damage," he said about a possible Indo-Pak bilateral series.
Are fast bowlers better captains?
Shaheen Shah Afridi recently being captain as a fast bowler lifted the maiden trophy for Lahore Qalandars. Pat Cummins is the Test captain of Australia on tour to Pakistan.
PM Imran Khan also opined that fast bowlers make better captains as they habve an edge over others.
"Theoretically, fast bowlers should make better captains. A good captain must have the ability to judge when to use a particular bowler when to change the bowler and assess the field placings accordingly. Fast bowlers have an edge in making these assessments."
Pakistan squad for World Cup 2023 announced
Chief selector Inzamam-ul-Haq unveiled squad.
Hasan Ali replaces injured Naseem Shah.
Pakistan enter mega-event as number one ranked side.
---
LAHORE: In a much-awaited announcement, the Pakistan Cricket Board (PCB) has finally revealed the 15-member squad for the upcoming ICC World Cup 2023.
The announcement of Pakistan's squad faced unexpected delays as the team management held consultations following a humiliating exit from the Asia Cup and the injuries faced by major bowlers during the tournament.
Chief selector Inzamam-ul-Haq unveiled the squad at Lahore's Gaddafi Stadium.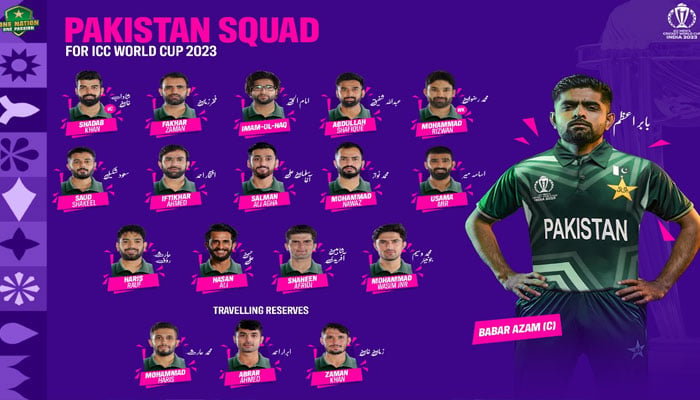 Babar Azam will captain the team, while Shadab Khan remains the team's vice-captain. Hasan Ali has been called in to replace pacer Naseem Shah — who has been ruled out from the tournament due to his shoulder injury.
Ali, however, will be returning to one-day international (ODI) cricket after a year-long hiatus following his last appearance against West Indies in Multan in 2022.
"We were forced to make one change because of an unfortunate injury to Naseem Shah. We had a few injury scares in the recent Asia Cup, but I am glad to share that all the players are fully fit and are eager to perform for their country in the all-important tournament. I have received encouraging reports from our medical panel about Haris Rauf. He has started to (shadow) bowl at the National Cricket Academy and will be available for selection," said Inzamam while speaking during a press conference today.
"I have a firm belief that this squad can bring the World Cup trophy to Pakistan and make the whole nation proud with their incredible performances. It is time to get behind our team and provide them with the backing and support that they need."
Babar Azam's side enters the mega-event as the number one ranked side and enjoys the best win/loss ratio of 2.4 in this World Cup cycle for any side that has played the ODI format.
The ICC World Cup 2023 will take place in India with 10 teams fighting for the elusive title across 10 venues from October 5 to November 19, with the Narendra Modi Stadium in Ahmedabad hosting the tournament opener and the final.
The Cricket World Cup will be played in a round-robin format, with all teams playing against each other for a total of 45 league matches.
The top four teams will qualify for the semifinals, which will be held in Mumbai on November 15 and in Kolkata on November 16. The semi-finals and the final will have reserve days.
Squad
Babar Azam (c), Shadab Khan, Abdullah Shafiq, Fakhar Zaman, Haris Rauf, Hasan Ali, Iftikhar Ahmed, Imam-ul-Haq, Mohammad Nawaz, Mohammad Rizwan (wk), M Wasim Jnr, Saud Shakeel, Salman Ali Agha, Shaheen Shah Afridi, Usama Mir.
Reserves
Mohammad Haris, Zaman Khan, Abrar Ahmed.
Shahid Afridi's heartfelt note for daughter Ansha on wedding with Shaheen
Veteran cricketer Shahid Afridi Wednesday shared a heartfelt note for his daughter, Ansha, expressing his feelings over her marriage with Pakistan pacer Shaheen Shah Afridi.
The wedding ceremony took place in Karachi a day earlier.
Following their engagement two years ago, the couple had tied the knot in an intimate nikah ceremony held in February this year.
In an emotional and moving post on X, formerly Twitter, the former cricketer wrote Urdu couplets for his daughter.
"Aya tha ghar main noor abhi kal ki baat hai
Rukhsat bhi ho raha hai wo ankhon kay saamney
Dooba hua bhi hai terey baba ka dil magar
Umeed subh-e-nau isey ayi hai thamney," Afridi wrote.
Along with the couplet, the former Pakistan captain shared two photos of himself with the newly wedded couple. In both images, taken from the back, Afridi is seen lovingly holding onto his daughter and son-in-law in a pleasant mood.
In one of the pictures, the former all-rounder is seen leaning towards Ansha, expressing his emotions of a father seeing his daughter off.
In the photo, Afridi's daughter is seen wearing an intricately-designed red dress, embellished with gold zardozi and sequin work.
Photos from the wedding, which took place at a private wedding venue in Karachi, have gone viral on social media with Shaheen seen mingling with guests and fellow cricketer and Pakistan captain Babar Azam amid the joyous occasion.
The 23-year-old fast bowler arrived at the venue to receive his bride with his family, while the rukhsati (seeing off) ceremony was decked with a diverse guest list which included former captain Misbah-ul-Haq, Saeed Anwar, Tanveer Ahmed, and Sohail Khan.
The couple got married seven months ago in Karachi. However, Ansha's rukhsati was put on hold until September. Their valima ceremony will, however, be held in Islamabad on September 21.
Pakistan's Arshad Nadeem off to finals in World Athletics Championship
Arshad Nadeem notched up a throw of 86.79 metres.
Benchmark for Olympics was 85.50m.
Final will be held on Sunday, August 27.
---
Pakistan's star javelin thrower Arshad Nadeem secured on Friday the final spot in the ongoing World Athletics Championship in Budapest, Hungary.
Meanwhile, Nadeem has also qualified for the Paris Olympics — which is set to take place in 2024.
The star javelin thrower saved his best for the last as he notched up a throw of 86.79 metres.
The benchmark for the Olympics was 85.50m, which Nadeem managed to cross successfully.
Nadeem had a rusty start as he could only reach 70.63m in his first attempt. However, he came back into the reckoning with an 81.53m throw in his second attempt.
The automatic qualifying mark for the final was 83m or at least the top 12.
The final of the javelin throw will be held on Sunday, August 27.
Nadeem shot to fame when he finished fifth in the Tokyo Olympics, a feat which changed the entire life of the athlete. It not only fetched him fame and wealth but also transformed his personality.
Nadeem then also finished fifth in the World Championship in the US last year. Soon afterwards he recorded his best throw of 90.18 metres in the Commonwealth Games in Birmingham which is also a record throw of the quadrennial event.
He then underwent elbow and left knee surgery in London, took time in his rehab and returned to the competitive field in May at the 34th National Games in Quetta.
Although he failed to show his fitness there he managed a gold for his department WAPDA. In this event, he received a heavy blow when he injured his right knee which later forced him to skip the Asian Championship held in Bangkok recently.
Earlier, India's Neeraj Chopra also qualified for the Paris Olympics 2024 with a 88.77m throw, which was his season's best, in his first attempt during the World Athletics Championship qualifying round on Friday.