Makeup artist Omayr Waqar issues legal notice of his own after Sana Javed's defamation notice
Makeup artist Omayr Waqar has issued a counter legal notice to actor Sana Javed after her issuance of a defamation notice to him. He posted pictures of the notice on his Instagram account on Monday evening.
The move comes shortly after Javed issued Waqar and two other people defamation notices. She claimed their social media posts were about her and were part of a "proper smear campaign" against her.
It all started when model Manal Saleem took to Instagram to share her experience working with an actor who belittled her. Saleem had originally written, "Requesting all the clients to not ask me to shoot with any actress/celebrity ever again. With their self entitled attitudes they think we are 'do takay ki [two bit] models'. The audacity to say that on my face! Hum bhi kam krne atay hain, muft main zaleel honay nahi atay [We come here to work, not to be insulted for free]." Her Instagram story has since expired but is available in highlights section of her Instagram account. She did not name the actor in question.
Her post was shared by Waqar, among a number of other people. On his story, Waqar wrote, "guess who is she [Manal] talking about? P.S it's just one person, not all actresses are the same," but did not name any actor. The story has since expired.
Saleem's post also spurred posts by makeup artists Ikram Gohar and Rhyan Thomas, who named her in their posts and spoke about their "horrible" experiences with her. Javed did not issue legal notices to them. More claims of her alleged bad behaviour have since surfaced. Makeup artist Wajid Khan wrote that Javed "should focus more on her acting rather than playing games with people". Syed Hussain, who happens to be the MUA who was hired to style Saleem and Javed for the shoot mentioned in Saleem's original post, has corroborated the model's story.
Javed posted pictures of notices she sent Waqar, Saleem and model Aneela Murtaza on Friday. In his counter notice, Waqar's legal team called the contents of Javed's notice "concocted".
"That the contents of paragraph 2 are denied as concocted. It is submitted that at no point did our client name your client and has no nexus whatsoever with Manal Salem whatsoever," read the notice. "Our client had nothing to do with what was said by Ms Saleem and the fact that an allegation of innuendo has been placed on our client suggests that your client has presumed the same without any evidence or proof of the same that our clients' social media post was targeted towards her. Moreover, our client is a well known and sought after makeup artist a fact which is well known to your client and as such there arises no need on the part of our client to seek publicity and accordingly, all such frivolous claims are denied as being incorrect and misconceived."
The makeup artist also denied defaming Javed. "It is a well known fact that the entire social media is brimming with stories about your client and her demeanour in general, which has nothing to do with our client and as such this notice is nothing but a feeble attempt to harass and coerce our client from exercising his freedom of expression guaranteed to him under the Constitution of the Islamic Republic of Pakistan," his notice read.
"It is submitted that our client never mentioned or stated your client's name on any social media outlet and mere presumption his posts on social media were targeted towards your client are nothing but an attempt to harass our client. Needless to add, the general outbreak in respect of your client's demeanour on social media suggests that this notice is a feeble attempt to salvage some pride," it added.
He has asked Javed to withdraw her notice and refrain from taking any further action against him. "Needless to add, our client shall also defend any frivolous claims brought against him by your client through witnesses and evidences well known to your client."
Pakistan squad for World Cup 2023 announced
Chief selector Inzamam-ul-Haq unveiled squad.
Hasan Ali replaces injured Naseem Shah.
Pakistan enter mega-event as number one ranked side.
---
LAHORE: In a much-awaited announcement, the Pakistan Cricket Board (PCB) has finally revealed the 15-member squad for the upcoming ICC World Cup 2023.
The announcement of Pakistan's squad faced unexpected delays as the team management held consultations following a humiliating exit from the Asia Cup and the injuries faced by major bowlers during the tournament.
Chief selector Inzamam-ul-Haq unveiled the squad at Lahore's Gaddafi Stadium.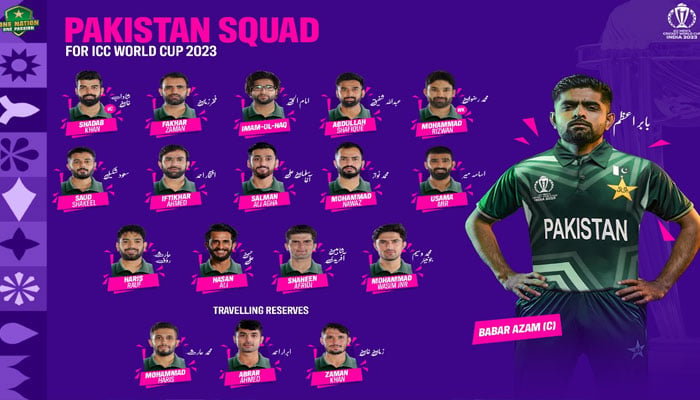 Babar Azam will captain the team, while Shadab Khan remains the team's vice-captain. Hasan Ali has been called in to replace pacer Naseem Shah — who has been ruled out from the tournament due to his shoulder injury.
Ali, however, will be returning to one-day international (ODI) cricket after a year-long hiatus following his last appearance against West Indies in Multan in 2022.
"We were forced to make one change because of an unfortunate injury to Naseem Shah. We had a few injury scares in the recent Asia Cup, but I am glad to share that all the players are fully fit and are eager to perform for their country in the all-important tournament. I have received encouraging reports from our medical panel about Haris Rauf. He has started to (shadow) bowl at the National Cricket Academy and will be available for selection," said Inzamam while speaking during a press conference today.
"I have a firm belief that this squad can bring the World Cup trophy to Pakistan and make the whole nation proud with their incredible performances. It is time to get behind our team and provide them with the backing and support that they need."
Babar Azam's side enters the mega-event as the number one ranked side and enjoys the best win/loss ratio of 2.4 in this World Cup cycle for any side that has played the ODI format.
The ICC World Cup 2023 will take place in India with 10 teams fighting for the elusive title across 10 venues from October 5 to November 19, with the Narendra Modi Stadium in Ahmedabad hosting the tournament opener and the final.
The Cricket World Cup will be played in a round-robin format, with all teams playing against each other for a total of 45 league matches.
The top four teams will qualify for the semifinals, which will be held in Mumbai on November 15 and in Kolkata on November 16. The semi-finals and the final will have reserve days.
Squad
Babar Azam (c), Shadab Khan, Abdullah Shafiq, Fakhar Zaman, Haris Rauf, Hasan Ali, Iftikhar Ahmed, Imam-ul-Haq, Mohammad Nawaz, Mohammad Rizwan (wk), M Wasim Jnr, Saud Shakeel, Salman Ali Agha, Shaheen Shah Afridi, Usama Mir.
Reserves
Mohammad Haris, Zaman Khan, Abrar Ahmed.
Shahid Afridi's heartfelt note for daughter Ansha on wedding with Shaheen
Veteran cricketer Shahid Afridi Wednesday shared a heartfelt note for his daughter, Ansha, expressing his feelings over her marriage with Pakistan pacer Shaheen Shah Afridi.
The wedding ceremony took place in Karachi a day earlier.
Following their engagement two years ago, the couple had tied the knot in an intimate nikah ceremony held in February this year.
In an emotional and moving post on X, formerly Twitter, the former cricketer wrote Urdu couplets for his daughter.
"Aya tha ghar main noor abhi kal ki baat hai
Rukhsat bhi ho raha hai wo ankhon kay saamney
Dooba hua bhi hai terey baba ka dil magar
Umeed subh-e-nau isey ayi hai thamney," Afridi wrote.
Along with the couplet, the former Pakistan captain shared two photos of himself with the newly wedded couple. In both images, taken from the back, Afridi is seen lovingly holding onto his daughter and son-in-law in a pleasant mood.
In one of the pictures, the former all-rounder is seen leaning towards Ansha, expressing his emotions of a father seeing his daughter off.
In the photo, Afridi's daughter is seen wearing an intricately-designed red dress, embellished with gold zardozi and sequin work.
Photos from the wedding, which took place at a private wedding venue in Karachi, have gone viral on social media with Shaheen seen mingling with guests and fellow cricketer and Pakistan captain Babar Azam amid the joyous occasion.
The 23-year-old fast bowler arrived at the venue to receive his bride with his family, while the rukhsati (seeing off) ceremony was decked with a diverse guest list which included former captain Misbah-ul-Haq, Saeed Anwar, Tanveer Ahmed, and Sohail Khan.
The couple got married seven months ago in Karachi. However, Ansha's rukhsati was put on hold until September. Their valima ceremony will, however, be held in Islamabad on September 21.
Pakistan's Arshad Nadeem off to finals in World Athletics Championship
Arshad Nadeem notched up a throw of 86.79 metres.
Benchmark for Olympics was 85.50m.
Final will be held on Sunday, August 27.
---
Pakistan's star javelin thrower Arshad Nadeem secured on Friday the final spot in the ongoing World Athletics Championship in Budapest, Hungary.
Meanwhile, Nadeem has also qualified for the Paris Olympics — which is set to take place in 2024.
The star javelin thrower saved his best for the last as he notched up a throw of 86.79 metres.
The benchmark for the Olympics was 85.50m, which Nadeem managed to cross successfully.
Nadeem had a rusty start as he could only reach 70.63m in his first attempt. However, he came back into the reckoning with an 81.53m throw in his second attempt.
The automatic qualifying mark for the final was 83m or at least the top 12.
The final of the javelin throw will be held on Sunday, August 27.
Nadeem shot to fame when he finished fifth in the Tokyo Olympics, a feat which changed the entire life of the athlete. It not only fetched him fame and wealth but also transformed his personality.
Nadeem then also finished fifth in the World Championship in the US last year. Soon afterwards he recorded his best throw of 90.18 metres in the Commonwealth Games in Birmingham which is also a record throw of the quadrennial event.
He then underwent elbow and left knee surgery in London, took time in his rehab and returned to the competitive field in May at the 34th National Games in Quetta.
Although he failed to show his fitness there he managed a gold for his department WAPDA. In this event, he received a heavy blow when he injured his right knee which later forced him to skip the Asian Championship held in Bangkok recently.
Earlier, India's Neeraj Chopra also qualified for the Paris Olympics 2024 with a 88.77m throw, which was his season's best, in his first attempt during the World Athletics Championship qualifying round on Friday.