Inflation in Pakistan could average 33% in first half of 2023, says Moody's economist
Economy needs persistent and sound economic management.
Consumer price index rose 27.5% year-on-year in January.
Current foreign exchange reserves barely cover 18 days worth of imports.
---
MUMBAI/ISLAMABAD: Inflation in Pakistan could average 33% in the first half of 2023 before trending lower, and a bailout from the International Monetary Fund (IMF) alone is unlikely to put the economy back on track, a senior economist with Moody's Analytics told Reuters.
"Our view is that an IMF bailout alone isn't going to be enough to get the economy back on track. What the economy really needs is persistent and sound economic management," senior economist Katrina Ell said in an interview on Wednesday.
"There's still an inevitably tough journey ahead. We're expecting fiscal and monetary austerity to continue well into 2024," she added.
Pakistan and the IMF could not reach a deal last week and a visiting IMF delegation departed Islamabad after 10 days of talks, but said negotiations would continue. Pakistan is in dire need of funds as it battles a wrenching economic crisis.
An agreement on the ninth review of the programme would release over $1.1 billion of the total $2.5 billion pending as part of the current package agreed in 2019 which ends on June 30. The funds are crucial for the economy whose current foreign exchange reserves barely cover 18 days worth of imports.
"Even though the economy is in a deep recession, inflation is incredibly high as (result of) part of the latest bailout conditions," Ell said.
"So what we're expecting is that through the first half of this year, inflation is going to average about 33% and then might trend a little bit lower after that," she added.
The consumer price index rose 27.5% year-on-year in January, its highest in nearly half a century.
Low-income households could remain under extreme pressure as a result of high inflation on account of being disproportionately exposed to non-discretionary items.
"Food prices are high and they can't avoid paying for that, so we're going to see higher poverty rates as well feed through," the economist said.
No overnight fix
Ell said Pakistan has not has a great track record when it comes to IMF bailouts, so infusing additional funds alone may prove to be of little use.
"If we're going to see any improvement, it's going to be very gradual. There's just no overnight fix," she said.
The weaker rupee, which is plumbing record lows, is adding to imported inflation while domestically high energy costs on the back of tariff increases and still elevated food prices is likely to keep inflation high.
Moody's expects economic growth for the 2023 calendar year of around 2.1%.
"It is likely that we will see further monetary tightening in Pakistan to try and stabilise inflation and also with the weakness in the FX they might kind of intervene there to try and force in stability, but again it's not going to be a silver bullet," Ell said.
Last month, the central bank raised its key interest rate by 100 basis points (bps) to 17% in a bid to rein in persistent price pressures. It has raised the key rate by a total of 725 bps since January 2022.
With significant recession-type conditions in Pakistan, skyrocketing borrowing costs could really exacerbate domestic demand struggles, she said.
"You really need to see sustained sound macroeconomic management, and just injecting further funds in there without decent backing is not going to deliver the results that you're looking for."
Pakistani surgeon sets world record in robotic surgery for women
LONDON: A Pakistani surgeon Dr Amer Raza is leading the innovative Da Vinci surgical robotic surgery for the treatment of endometriosis, which affects pregnancy for women of all ages.
Dr Raza has led a team of surgeons to perform the maximum number of complex gynaecology operations in two days at London's Chelsea and Westminster Hospital — setting a new record of not only using an innovative robotic technology but also doing 12 major operations in a day.
Amer Raza, a graduate of Nishtar Medical College, Multan, has not only performed the operations but also set a world record of doing 12 major operations in a day.
Robotic surgery is the most modern type of keyhole surgery in which a surgeon operates in the patient's abdomen through instruments controlled from a distance.
Dr Raza is a renowned expert in endometriosis, in which women suffer from pelvic pains and period pains which have a major adverse impact on conceiving. The condition not only affects the pelvic organs but also the bowel, bladder and nerves. The disease affects women from young age to old age and tens of millions of women across the world suffer from this condition.
He graduated from Nishtar Medical College, Multan, and has been trained as a laparoscopic surgeon. He is now one of the world's leading surgeons in endometriosis and complex pelvic disease.
He is also the director of the world-class International Centre of Endometriosis Cromwell Hospital, London, and is leading a big team of multi-speciality surgeons. Dr Raza is also the Founder and Director of CCMIG Chelsea Centre of minimal access surgery, which organises national and international laparoscopic courses across the world. He travels to the Middle East, Pakistan, Africa and Europe to teach laparoscopic gynaecology courses.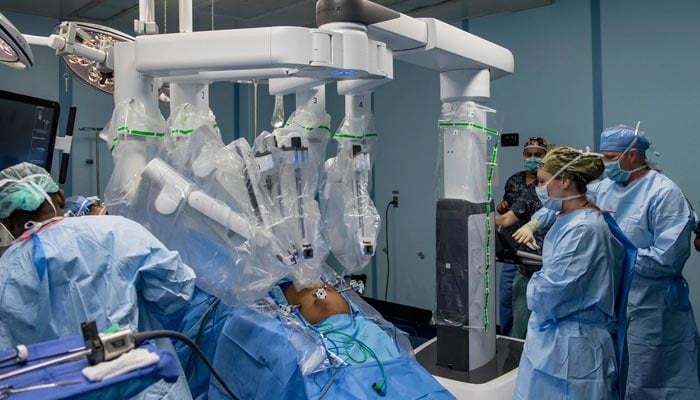 Speaking to Geo News, Dr Amer Raza said: "Since COVID, our National Health Service (NHS) has been under huge pressure of long waiting times. We have pioneered the most efficient strategic planning to do the most number of operations with the help of robotics in two days. Robotics technology allows a doctor to complete the operation in a shorter time with more safety and accuracy than a conventional approach. I am very excited that we have achieved this landmark and that our efforts will help women of all age groups.
"Robotic surgery is now attracting the attention of clinicians and patients alike due to its benefits. The technique will be adopted in hospitals across the world and many robotic systems are being introduced in the health sector. Endometriosis causes debilitating symptoms including chronic pelvic pain, fatigue and fertility problems. Surgery can help to provide pain relief."
Dr Raza said that he and his team crafted a care model in which preoperative work, surgical approach by robotics and after-operation discharge was planned. Robotic surgery allows the team to finish the operation in a relatively shorter time than a conventional laparoscopic approach, saving 30-50 minutes in each surgery to enable the team to do more operations.
"The new technique also causes less blood loss and the recovery period is significantly faster. We were assisted by a team of 20 staff members who worked very efficiently to enable us to do this," said the British Pakistani doctor.
Dr Raza said he owes a lot to Pakistan and will be working with doctors and hospitals in Pakistan to introduce robotic technology to help women. "I look forward to working with doctors in Pakistan. Britain has thousands of doctors from Pakistan who are doing great work in the NHS. I am glad that the British press has highlighted my contribution which is a credit to Pakistan," he said.
Dr Raza has recently been featured on Channel 4 and dozens of English papers covering his achievement and hailing it as a breakthrough for women.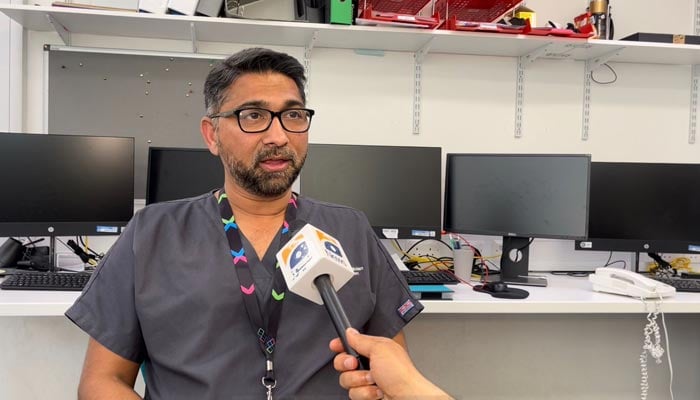 He said that one in 10 women in the UK are affected by endometriosis. There are many ways to explain the disease but primarily the inside lining of the uterus called endometrium comes outside the uterus and leads to adhesions and causing pelvic pains.
The diseases increase in over half of the cases and cause severe debilitating problems such as bowel and ureteric issues. Endometriosis involves the ovaries in almost half the cases and can cause damage to ovaries and fertility.
According to NHS statistics, half a million women are currently on a waiting list for gynaecology treatment in the UK and more than 5,000 have been waiting more than 18 months. The organisation and strategic planning along with innovative robotic surgery is the way forward to address the huge backlog in the NHS.
Dr Raza is originally from the village of Babi in Tehsil Taunsa. He started his career at Nishtar Medical College Multan and then moved to the UK in Birmingham. He has worked in many hospitals before being employed as endometriosis and laparoscopic surgeon in Chelsea and Westminster hospitals.
Weather to get pleasant as rain expected in Karachi, other cities
Weather in the country is expected to become pleasant as the Met Office has predicted more rains and relatively decreased temperatures from next week onwards.
According to the Pakistan Meteorological Department (PMD), the temperatures are likely to remain below normal across the country next week.
Areas, where wind, dust, thunderstorm and rain is expected, include Balochistan's Quetta, Zhob, Barkhan, Qilla Saifullah, Qillah Abdullah, Chaman, Pishin, Noshki, Naseerabad, Kalat, Lasbella, Khuzdar and Sibbi; Sindh's Sukkur, Dadu, Karachi, Hyderabad, Jacobabad, Shaheed Benazirabad, Mirpurkhas, Khairpur and Larkana; and Punjab's Layyah, Bhakkar, Dera Ghazi Khan, Rajanpur, Rahim Yar Khan, Bahawalnagar, Multan, Sahiwal, Khanewal, Okara and Pakpattan on May 28 (evening/night) and 30, the PMD stated.
Meanwhile, rain alongside wind, dust and thunderstorm with a few hailstorms and isolated heavy falls are expected in Kashmir's Neelum Valley, Muzaffarabad, Poonch, Hattian, Bagh, Haveli, Sudhanoti, Kotli, Bhimber, Mirpur; Gilgit-Baltistan's Diamir, Astore, Ghizer, Skardu, Hunza, Gilgit, Ghanche and Shigar.
Weather patterns will remain the same also in Chitral, Dir, Swat, Kohistan, Mansehra, Abbottabad, Haripur, Peshawar, Charsadda, Nowshera, Swabi, Mardan, Bajaur, Kurram, Waziristan, Kohat, Bannu, Tank, Karak, Dera Ismail Khan, Islamabad, Murree, Galliyat, Rawalpindi, Attock, Chakwal, Gujranwala, Sargodha, Sheikhupura, Faisalabad, Jhang, Toba Tek Singh, Nankana, Mandi Bahauddin, Khushab, Mianwali, Narowal, Sialkot, Kasur, Lahore and Jhelum with occasional gaps.
The meteorological authority added that downpour is expected in some places.
The Met Office has advised concerned authorities to remain alert to avoid any untoward situation during the forecast period owing to the expected dust and wind storm, as it may cause damage to lose structure and standing crops in Punjab, Khyber Pakhtunkhwa, Balochistan, Sindh and Kashmir from May 38 to 30.
It has asked farmers to remain cautious, while tourists have been advised to plan their activities accordingly. Meanwhile, the general public has been warned to remain at safer places during the dust storms/wind thunderstorm.
NDMA warns extreme climate events
Earlier this month, the National Disaster Management Authority (NDMA) warned provinces to gear up for extreme climate events including intensive heat waves, extraordinary snow melting, land sliding, flash floods, forest fires and cyclones, The News reported, citing an official letter from the disaster management authority.
The official letter informed all provincial governments of the extraordinary preparations needed to face probable extreme climate events between April and October.
Besides Provincial Disaster Management Authority (PDMA) Sindh, Balochistan and Gilgit-Baltistan (GB) were informed that PMD has forecast higher temperatures in northern regions and along the coastal belt during the period May-July.
Last Sunday, the NDMA also issued an advisory alert to all the federal and provincial departments concerned to ensure disaster preparedness measures after the PMD issued a rain-thunderstorm forecast from May 22-26.
'May 9 events are sad, condemnable': COAS Munir in address to families of martyrs
COAS Gen Asim Munir says such behaviour will not be tolerated.
Says nation will not forgive those who desecrated martyrs' memorials.
Gen Munir also invites Azra — daughter of martyr Sepoy Imran.
---
Chief of Army Staff (COAS) General Asim Munir on Thursday said that whatever happened May 9 — the day when violent protests gripped the country after Pakistan Tehreek-e-Insaf (PTI) Chairman Imran Khan — was very sad and condemnable.
His comments came during his visit to the Police Lines Headquarters in Islamabad on the occasion of Youm-e-Takreem Shuhada-e-Pakistan (Martyrs Reverence Day) to remember and pay rich tribute to the martyrs who laid their lives while defending the motherland and its people. 
The main event was held at the General Headquarters (GHQ), Rawalpindi with COAS Munir as the chief guest. During the ceremony, rich tributes were paid to the martyrs and prominent personalities laid flowers at the martyrs' monument.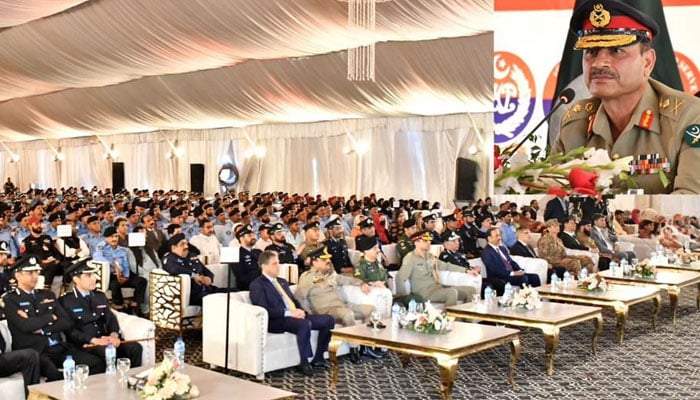 Those who attended the ceremony included former army chief Gen (retd) Qamar Javed Bajwa, former chairman joint chiefs of staff committee Gen (retd) Nadeem Raza, Pakistan cricket team captain Babar Azam, Mufti Muneeb ur Rehman and other members of the society.
The army chief was welcomed by the Inspector General of Police (IG) Islamabad Dr Akbar Nasir Khan where he addressed the police officials and families of the martyred policemen and personnel.
"Such behaviour will not be tolerated," said the army chief, adding that the nation will not forgive or forget those who desecrated the memorials of martyrs and undermined their dignity.
Gen Munir said that the Pakistan Army, police and law enforcement agencies are the symbols of the state and the first line of defence that would render sacrifices for the dignity of the country and the people.
"I want to convey this message to the heirs of those martyred that the people of Pakistan and the Pakistan Army are standing and will continue to do so with the relatives of the martyrs of all law enforcement agencies," he continued to say.
Gen Munir also invited the daughter of martyr Sepoy Imran, Azra, whose video condemning the May 9 events went viral. The army chief assured her that the sacrifices of the martyrs will never be forgotten.
"The Pakistan Army will always stand with you in every difficulty," he said, adding that all the martyrs of the country are a source of pride.
COAS promises to stand with children of martyrs
The army chief also met the school students and children of martyrs present on the occasion. He said that the Pakistan Army was the heir of all children of martyrs. Thanks to the eternal sacrifices of the martyrs, army's relationship with them was ideal and eternal, he added.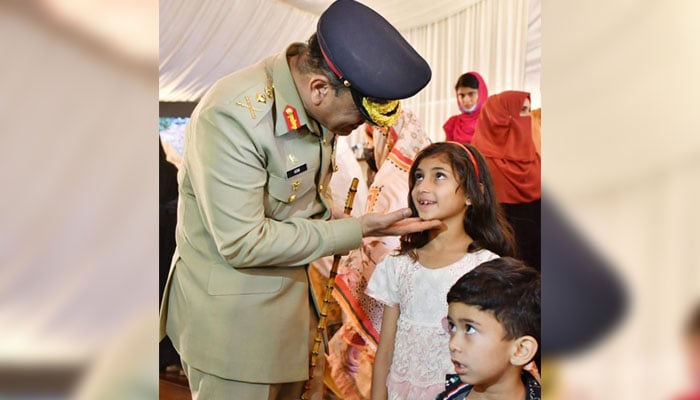 He pledged on behalf of the armed forces that the army would stand on their side always.
"A strong army is the guarantor of a country's security and unity," he maintained.
President Alvi, PM Shehbaz express pride over martyrs' valiance
In his message, President Arif Alvi said that the entire nation is proud of its valiant martyrs who displayed the spirit of patriotism and fearlessness in testing times throughout history.
"The nation owes to the heroism and sacrifices offered by the jawans (soldiers) and officers of our armed forces, including Pakistan Army, rangers, air force, navy, police, and other security institutions that made Pakistan's defence impregnable," a press release issued by President Secretariat Press Wing stated.
The president acknowledged the armed forces' services for crushing the menace of terrorism and assisting fellow countrymen during natural calamities and pandemics.
"Let us pledge on this day that we will never forget our valiant martyrs and reiterate our commitment to always honour them and express our undying love for these brave sons and daughters of the nation," the statement added.
Meanwhile, PM Shehbaz Sharif urged the people, especially the children, to visit monuments and graves of martyrs and shower flowers on them as a sign of affection and respect. He said Pakistan should show the world that it is a nation that holds its martyrs in veneration and affection.
He said that martyrs' reverence day is being observed to pay glowing tribute to the heroes and express unflinching solidarity with their families.
In a detailed tweet, the prime minister regretted and condemned the May 9 violence and desecration of martyrs' monuments, saying that the incidents gave the enemy a reason to celebrate.
"Our nation knows how to protect the honour of their martyrs. […] Today we revive and reiterate our pledge to uphold the honour and respect of our Shuhada. The essence of Pakistan's existence lies in the spiritual covenant between its people and the martyrs," PM wrote on Twitter.
Moreover, the chairman joint chiefs of staff committee, tri-services services chiefs, retired services officers and representatives of civil society also paid tributes to martyrs of Pakistan, a statement released by Inter-Services Public Relations said.
They said the sacrifices of the martyrs are eternal and will continue to inspire future generations of countrymen.
"These sacrifices will never be forgotten, irrespective of vicious propaganda by the enemies of Pakistan," it added.