India Partition: After 75 years, tech opens a window into the past
Tensions between India and Pakistan hamper visits.
Facebook, YouTube help people connect across border.
Online projects share Partition stories.
---
Growing up, Guneeta Singh Bhalla heard her grandmother describe how she crossed into newly-independent India from Pakistan in 1947 with her young children, witnessing horrific scenes of carnage and violence that haunted her for the rest of her life.
Those stories were not in Singh Bhalla's school text books, so she decided to create an online history – The 1947 Partition Archive, which contains about 10,500 oral histories, the biggest collection of Partition memories in South Asia.
"I didn't want my grandmother's story to be forgotten, nor the stories of others who experienced Partition," said Singh Bhalla, who moved to the United States from India at age 10.
"With all its faults, Facebook is an incredibly powerful tool: the archive was built off of people finding us on Facebook and sharing our posts, which brought much more awareness," she told the Thomson Reuters Foundation.
The partition of colonial India into two states, mainly Hindu India and mostly Muslim Pakistan, at the end of British rule triggered one of the biggest mass migrations in history.
About 15 million Muslims, Hindus and Sikhs swapped countries in the political upheaval, marred by violence and bloodshed that cost more than a million lives.
India and Pakistan have fought three wars since then, and relations remain tense. They rarely grant visas to each others' citizens, making visits nearly impossible – but social media has helped people on either side of the border connect.
There are dozens of groups on Facebook and Instagram, as well as YouTube channels that tell the stories of Partition survivors and their occasional visits to ancestral homes, that rack up millions of shares and views, and emotional comments.
"Such initiatives that help document the experiences of Partition serve as an antidote to the charged political narratives of the two states," said Ayesha Jalal, a South Asian history professor at Tufts University in the United States.
"They help to alleviate the tensions between the two sides, and open up channels for a much needed people-to-people dialogue."
Virtual reality takes survivors home
As the numbers of those displaced from their homes has swelled worldwide, technology helps monitor abandoned homes from afar and records human rights abuses, while digital archives preserve cultural heritage.
Project Dastaan – meaning story in Urdu – uses virtual reality (VR) to document accounts of Partition survivors and enable them to revisit their place of birth.
"VR isn't like film – there is a level of immersion and engagement that creates empathy and has a powerful impact," said founder Sparsh Ahuja, whose grandfather migrated to India as a seven-year-old during the Partition.
"People really feel like they are transported to the place."
Using volunteers in India and Pakistan to locate and film places – which have often changed dramatically over the decades – Project Dastaan had aimed to connect 75 Partition survivors with their ancestral homes by the 75th anniversary this year.
But pandemic restrictions meant that they only completed 30 interviews since they began filming in 2019, said Ahuja.
"When visa policies were more friendly, people could physically go and see places and people," he said. "Now, these connections wouldn't happen without technology, and VR has brought a whole new audience to the Partition experience."
Among the most popular YouTube channels on Partition is Punjabi Lehar – or Punjabi wave – with about 600,000 subscribers.
Founder Lovely Singh, 30, part of the minority Sikh community in Pakistan, estimates that the channel has helped 200 to 300 individuals reconnect with family and friends.
Earlier this year, Punjabi Lehar's video of an emotional reunion between two elderly brothers separated during Partition quickly went viral, drawing widespread praise.
"If we can help connect more people, maybe there will be less tension between the two countries," said Singh.
"This is how my children are learning about the Partition."
Tension in the digital world
India and Pakistan are among the biggest social media markets in the world, with more than 500 million YouTube and nearly 300 million Facebook users, according to research firms Global Media Insight and Statista.
History professor Jalal noted that these online spaces can also host misinformation, and added a note of caution about the limits of social media projects.
"While immensely useful, these initiatives surrounding the Partition should not be seen as a replacement to historical understandings of the causes of Partition," she said.
Political tensions between India and Pakistan frequently spill over on to social media.
Last year, one Indian state said people who celebrated Pakistan's win over India in a cricket match on social media could be charged with sedition, which carries a penalty of up to life in prison.
Indians – particularly Muslims – who criticise the government online are often told to "go to Pakistan".
But for 90-year-old Reena Varma, social media has done more than make a virtual connection – it has enabled her to visit her old home in Rawalpindi 75 years after she left it.
When her Pakistan visa application was rejected earlier this year, the news went viral on Facebook. Pakistani authorities intervened to give a visa to Varma, who migrated to India as a teenager weeks before the Partition.
When Varma visited Pakistan last month, Imran William, founder of the Facebook group the India Pakistan Heritage, was on hand to welcome her.
Residents beat drums and showered her with flowers as she danced on the street, then looked around her old home.
"It was very emotional, but I am so happy I could fulfil my dream of visiting my home," Varma said.
"People have very painful memories of the Partition, but thanks to Facebook and other social media, people are interacting and keen to meet each other. It brings people of both countries together."
Hearses queue at Beijing crematorium, even as China reports no new COVID deaths
Queue of hearses seen outside Beijing crematorium.
China reports no new deaths; some criticise its accounting.
Beijing faces surge in severe COVID in next 2 weeks: expert.
---
BEIJING: Dozens of hearses queued outside a Beijing crematorium on Wednesday, even as China reported no new COVID-19 deaths in its growing outbreak, sparking criticism of its virus accounting as the capital braces for a surge of severe cases.
Following widespread protests, the country of 1.4 billion people this month began dismantling its "zero-COVID" regime of lockdowns and testing that had largely kept the virus away for three years — at great economic and psychological costs.
The abrupt change of policy has caught the country's fragile health system unprepared, with hospitals scrambling for beds and blood, pharmacies for drugs, and authorities racing to build special clinics. Experts now predict China could face more than a million COVID deaths next year.
At a crematorium in Beijing's Tongzhou district on Wednesday, a Reuters witness saw a queue of around 40 hearses waiting to enter, while the parking lot was full.
Inside, family and friends, many wearing white clothing and headbands as is tradition, were gathered around roughly 20 coffins awaiting cremation. Staff wore hazmat suits. Smoke rose from five of the 15 furnaces.
There was a heavy police presence outside the crematorium.
Reuters could not verify whether the deaths were caused by COVID.
Narrow definition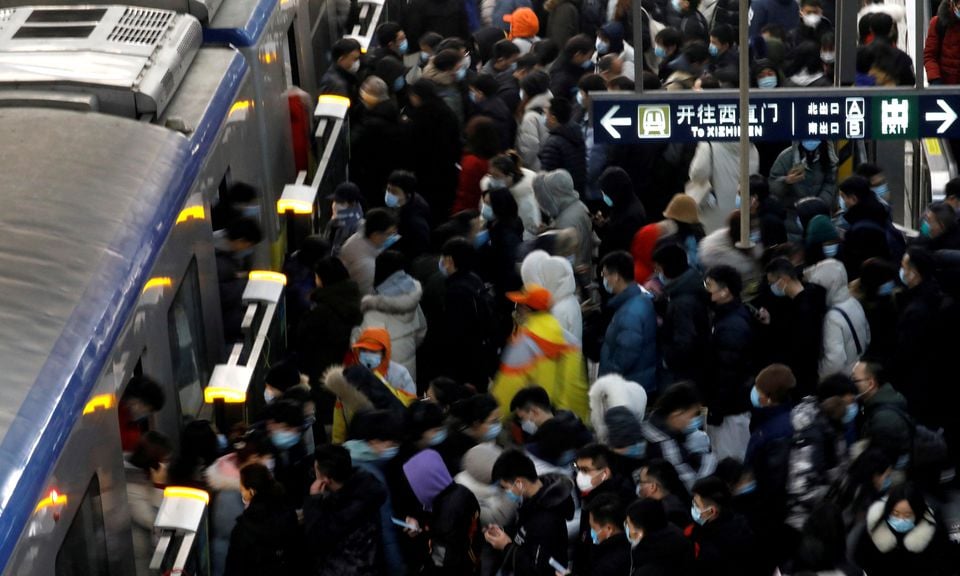 China uses a narrow definition of COVID deaths, reporting no new fatalities for Tuesday and even crossing one off its overall tally since the pandemic began, now amounting to 5,241 — a fraction of what much less populous countries faced.
The National Health Commission said on Tuesday only people whose death is caused by pneumonia and respiratory failure after contracting the virus are classified as COVID deaths.
Benjamin Mazer, an assistant professor of pathology at Johns Hopkins University, said that classification would miss "a lot of cases," especially as people who are vaccinated, including with the Chinese shots, are less likely to die of pneumonia.
Blood clots, heart problems and sepsis — an extreme body response to infection – have caused countless deaths among COVID patients around the world.
"It doesn't make sense to apply this sort of March 2020 mindset where it's only COVID pneumonia that can kill you, when we know that in the post-vaccine era, there's all sorts of medical complications," Mazer said.
Looming surge
The death toll might rise sharply in the near future, with state-run Global Times citing a leading Chinese respiratory expert predicting a spike in severe cases in Beijing over the coming weeks.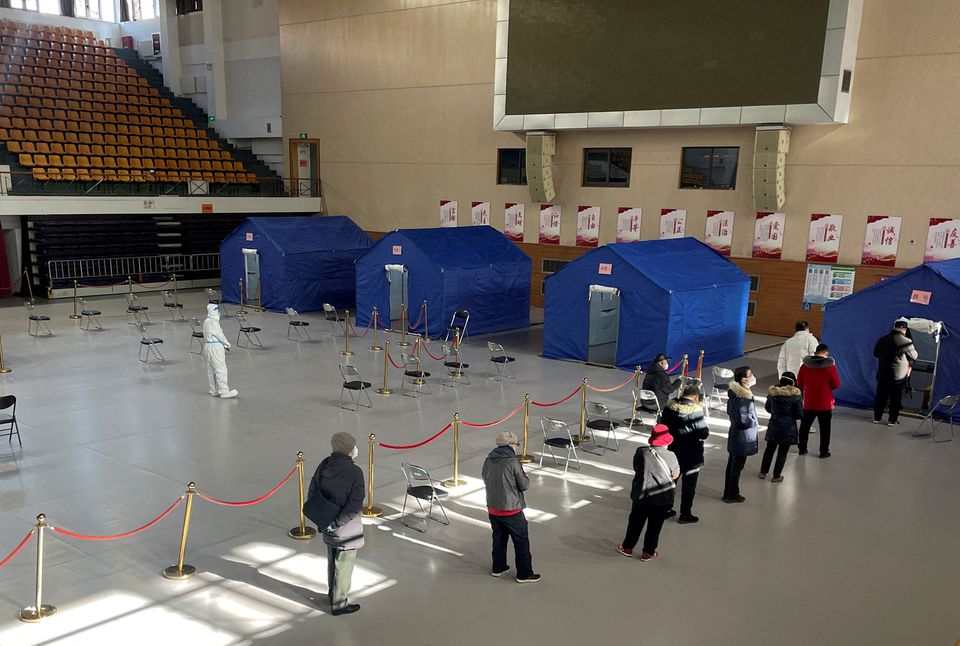 "We must act quickly and prepare fever clinics, emergency and severe treatment resources," Wang Guangfa, a respiratory expert from Peking University First Hospital, told the newspaper.
Severe cases rose by 53 across China on Tuesday, versus an increase of 23 the previous day. China does not provide absolute figures of severe cases.
Wang expects the COVID wave to peak in late January, with life likely to return to normal by end-February or early March.
The NHC also played down concerns raised by the United States and some epidemiologists over the potential for the virus to mutate, saying the possibility of new strains that are more pathogenic is low.
Paul Tambyah, President of the Asia Pacific Society of Clinical Microbiology and Infection, supported that view.
"I do not think that this is a threat to the world," he said. "The chances are that the virus will behave like every other human virus and adapt to the environment in which it circulates by becoming more transmissible and less virulent."
Several leading scientists and World Health Organisation advisors told Reuters a potentially devastating wave to come in China means it may be too early to declare the end of the global COVID pandemic emergency phase.
Economic impact
The United States on Tuesday indicated it stands ready to assist China with its outbreak, warning an uncontrolled spread in the world's second-largest economy may hurt global growth.
A major near-term concern for economists is the impact a surge in infections might have on factory output and logistics as workers and truck drivers fall ill.
The World Bank on Tuesday cut its China growth outlook for this year and next, citing the abrupt loosening of COVID measures among other factors.
Some local governments continue to relax rules.
Staff at the Communist Party and government institutions or enterprises in the southwestern city of Chongqing who have mild COVID symptoms can go to work if they wear a mask, state-run China Daily reported.
Other Chinese media reported similar moves in several cities.
Blast hits seminary in north Afghanistan, killing 15
Religious seminary attacked in Samangan province.
At least 20 people are also wounded.
Unclear who's behind attack.
---
KABUL: A blast tore through a religious seminary in the northern Afghan province of Samangan on Wednesday, killing 15 people, a provincial spokesperson said.
A spokesperson for Samangan's provincial government Emdadullah Muhajir, added that at least 20 people were also wounded in the explosion.
It was not immediately clear who was behind the blast.
The Taliban say they are focused on securing the war-torn nation since taking over the country last year, however, several attacks have taken place in recent months, some of which have been claimed by Daesh.
Indonesia quake kills more than 50, injures hundreds and destroys homes
Quake strikes Cianjur town.
Some residents trapped in rubble.
Twenty-five aftershocks recorded.
---
JAKARTA: A 5.6-magnitude earthquake killed more than 50 people and injured hundreds in Indonesia's West Java province on Monday, with rescuers trying to reach survivors trapped under the rubble amid a series of aftershocks as night fell.
West Java Governor Ridwan Kamil confirmed 56 deaths from the quake, whose epicentre was the town of Cianjur, about 75 km (45 miles) southeast of the capital, Jakarta, where some buildings shook and some offices were evacuated.
"So many buildings crumbled and shattered," Ridwan told reporters.
"There are residents trapped in isolated places … so we are under the assumption that the number of injured and deaths will rise with time."
Indonesia straddles the so-called "Pacific Ring of Fire", a highly seismically active zone, where different plates on the Earth's crust meet and create a large number of earthquakes and volcanoes.
The national disaster agency (BNPB) said 23 people were likely still trapped under the rubble of collapsed buildings. More than 1,770 houses were damaged and nearly 3,900 people had been displaced in Cianjur, spokesperson Abdul Muhari said.
Electricity was down and disrupting communications efforts, Herman Suherman, head of Cianjur's government, said, adding that people in the area of Cugenang were unable to be evacuated because of a landslide blocking access.
Footage from news channel Metro TV showed what appeared to be hundreds of victims being treated in a hospital parking lot and some buildings in Cianjur reduced almost entirely to rubble as worried residents huddled outside.
Other TV channels showed victims hooked up to intravenous drips and being treated on the sidewalk.
Officials were still working to determine the full extent of the damage caused by the quake, which struck at a relatively shallow depth of 10 km, according to the weather and geophysics agency (BMKG).
Muchlis, who was in Cianjur when the quake hit, said he felt "a huge tremor" and his office walls and ceiling were damaged.
"I was very shocked. I worried there would be another quake," Muchlis told Metro TV, adding that people ran out of their houses, some fainting and vomiting in response.
Less than two hours after the quake, 25 aftershocks had been recorded, BMKG said, adding there were concerns about the potential for more landslides in the event of heavy rain.
In Jakarta, some people evacuated offices in the central business district, while others reported buildings shaking and furniture moving, Reuters witnesses said.
In 2004, a 9.1 magnitude quake off Sumatra island in northern Indonesia triggered a tsunami that struck 14 countries, killing 226,000 people along the Indian Ocean coastline, more than half of them in Indonesia.