Imran Khan announces nationwide rallies after claiming Shahbaz Gill faced 'sexual abuse'
Imran Khan vows to bring those who "tortured" Shahbaz Gill to justice.
"All the pictures and videos show clearly Gill was tortured," he says.
PTI chairman says he will lead rally in Islamabad tomorrow.
---
ISLAMABAD: PTI Chairman Imran Khan Friday announced nationwide rallies to show solidarity with his chief of staff, Shahbaz Gill, after the former premier claimed his party leader faced "sexual abuse" in police custody.
"I will lead a rally in Islamabad tomorrow […] and rallies will be held in all divisional headquarters across the country," the PTI chairman told journalists.
Khan's brief presser came after he was barred from meeting Gill at the Pakistan Institute of Medical Sciences (PIMS) hospital in the federal capital.
Despite the police's demand to extend Gill's remand in a sedition case, a district and sessions court in Islamabad earlier today ordered to send him to the Pakistan Institute of Medical Sciences (PIMS) for a reassessment of his health.
"Shahbaz Gill's condition is not fine," the court remarked while announcing the verdict reserved by duty judge Judicial Magistrate Raja Farrukh Ali Khan.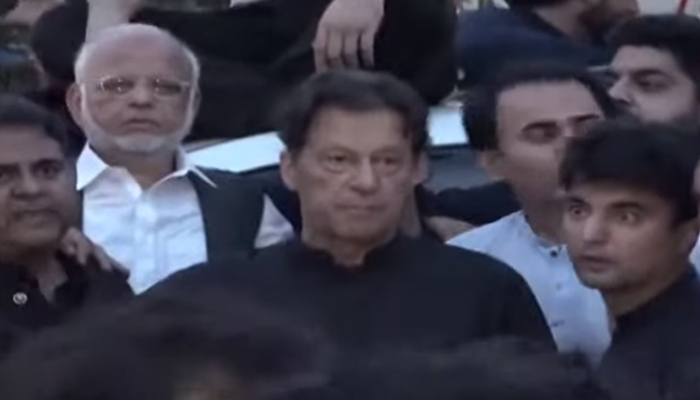 PTI leaders have demanded the release of Gill from police custody and repeatedly claimed that he was tortured in police custody. Amnesty International has also raised concerns over reports regarding the PTI leader.
Gill is currently under treatment at the PIMS hospital after his health reportedly deteriorated at the Adiala Jail. Subsequently, a medical board was formed to determine the condition of Gill.
The board recommended several tests and X-rays for the PTI leader. The results showed that there were no abnormalities and his health was fine.
Meanwhile, in his press conference, Khan reiterated that he would prefer death and will not accept the current government.
Gill 'humiliated'
In a series of tweets earlier, the PTI chairman demanded justice for his chief of staff and claimed that he was sexually abused while in police custody.
"All the pictures and videos show clearly Gill was tortured both mentally and physically, including sexual abuse — most too gruesome to relate," the PTI chairman said in a series of tweets.
the PTI chairman said the police humiliated Gill for breaking him down and that he now has full detailed information about the events regarding Gill's episode.
"ICT police says it did not inflict any torture. So my question is: Who tortured Gill?" Khan asked.
The PTI chairman added that there is a general perception in the public at large and in "our minds too as to who could have carried out the gruesome torture".
"Remember the public will react. We will leave no stone unturned to find out those responsible and bring them to justice," he added.
Imran Khan surpasses political rivals in popularity survey: Miftah
Miftah, Abbasi, Khokhar testing waters for launch of a political party.
Khokar is more keen to launch the party than the other two.
There is space for launching a new political party, they believe.
---
ISLAMABAD: Pakistan Muslim League-Nawaz (PML-N) leader Miftah Ismail has said that Pakistan Tehreek-e-Insaf (PTI) chief Imran Khan had surpassed all political leaders in popularity in a recent opinion poll, The News reported on Wednesday.
Miftah along with Shahid Khaqan Abbasi, and Mustafa Khokhar, who had earlier come up with the idea of seminars on "Reimagining Pakistan", is also presently testing waters for the launch of a political party.
Miftah told The News no decision has been taken as yet, but presently they are seriously thinking on the issue.
He disclosed that they had also done a public opinion survey in July this year, which showed Imran way ahead of all in popularity.
What Abbasi said about his political future in Pakistan Muslim League-Nawaz (PML-N) and about the need for a new political party is part of the trio's strategy to test the waters before reaching a final decision.
Abbasi, Miftah, and Mustafa are presently discussing the launch of a political party with different people besides encouraging discussion on the issue in the media and social media to assess whether it is a doable option.
Among the three, Khokar is more keen to launch the party than the other two who are not fully clear as yet whether they should do it or not.
All three, according to Miftah, agree there is space for launching a new political party in the present political situation. The question, he said, remains whether they have the capacity to attract people to join a new political party.
Through a leading entity, conducting public opinion polls, Miftah said they have also got a survey done to assess the popularity of different political parties and leaders. Their reading of the survey report made them reach the conclusion of a need for a new political party.
The three believe a significant number of voters, who are presently inclined towards Imran Khan and PTI for their rejection of PML-N, can be attracted by a new political party because neither the staunch supporters of Imran Khan nor of Nawaz would vote for any other political party.
In view of the post-May 9 difficult situations faced by Imran Khan and his party, the PTI, it is believed the new political party may attract significant voters (not the staunch supporters) of the PTI, who would never vote for PMLN or other political party in Punjab.
Among the three, Khokhar, left the PPP after the party's leadership objected to his certain statements criticising powerful quarters. Miftah got the cold shoulder from the PML-N top leadership for publicly defending his economic solutions, which are different from that of Ishaq Dar's.
Miftah also criticised Dar's policies as finance minister and argued that he too was criticised as finance minister by Dar. However, his criticism of Dar's policies has made him an alien to Sharifs.
Abbasi has started distancing himself from the PML-N top leadership for the last several months. The PML-N top leadership was keen not to let Abbasi drift from them, but the latter sounded dissatisfied with the politics of all the three leading political parties including PML-N.
Abbasi also did not show his keenness in the PML-N ticket for the next elections, while he had already declined to continue as senior vice-president of the party after Maryam Nawaz was announced as senior vice-president and chief organiser of PML-N.
On the direction of Nawaz Sharif, Maryam had visited Abbasi at the latter's residence in Islamabad to convince him not to leave the office of senior vice-president of PMLN. Shahid had politely declined. Now, he appears to be quitting the PML-N anytime.
What will happen when Nawaz Sharif lands in Pakistan?
Nawaz Sharif to attend rally on Oct 21, appear before court the next day.
"Consultations being held on seeking protective bail from another court."
Dastagir adds that Nawaz can get nation out of difficulties even today.
---
LAHORE: The legal minds of Pakistan Muslim League-Nawaz (PML-N) are holding consultations on challenges party's supremo Nawaz Sharif faces upon his return to the country, it emerged on Tuesday.
Speaking to Geo News, former federal minister Khurram Dastagir said that Nawaz will go to attend a rally at Minar-e-Pakistan after landing at the Lahore airport on October 21 and will appear before a court the next day.
However, he added, the party is holding discussions on legal matters for the intervening period between his arrival and appearance before the respective court and consultations are being held on seeking protective bail from another court [to avoid arrest].
The former prime minister has been in London since November 2019 after he left the country for medical treatment. He was serving a jail term in corruption cases when the Lahore High Court (LHC) allowed him to seek treatment from abroad.
On Monday, Interior Minister Sarfraz Bugti created a stir when he said that the PML-N supremo would be arrested upon return but backtracked his remarks following a strong response from the party.
The PML-N is preparing for a grand reception for Nawaz and plans to hold a massive rally of 1 million people in their stronghold — Lahore.
Dastagir, while responding to a question, said that the former premier had gone abroad on the permission granted to him by two courts and would enter with their approval.
"An appeal is pending before a court and Nawaz Sharif will pursue it upon return," he said.
The former minister added that people should understand that those responsible for the corruption are those who have been doing political engineering since 2014.
"The situation was bad in 2013 but Nawaz Sharif brought the country out of the worst situation and even today, he can get the nation out of these difficulties."
To a question, Dastagir said the 15-party coalition is responsible for the successes and failures of the 16-month government.
"PML-N's 16-month performance is a story of pulling the country out of crises," he added.
When asked about the reports of the formation of a new political party, he responded, "Shahid Khaqan Abbasi should have told that there is peace in Karachi today and credit goes to the PML-N."
Referring to the spike in militancy in the country, the PML-N leader said the terrorism that is increasing today is because of Imran Khan and Arif Alvi who offered amnesty to the Taliban in 2021.
About a rumoured "secret" meeting of Shehbaz Sharif earlier this month, he said, "I do not know about the meeting in Gujranwala, I cannot deny or confirm it."
Senate committee recommends ECP hold polls within 90 days
Committee recommends ECP announce polls schedule at earliest.
ECP official says preliminary delimitations will be published on Sep 27.
About 60 days are required for filing and disposal of representations, ECP.
---
ISLAMABAD: The Senate Standing Committee on Parliamentary Affairs has asked the Election Commission of Pakistan (ECP) to conduct elections within 90 days by reducing the time for filing representations for delimitation from 30 to seven days, The News reported.
In a meeting presided over by Pakistan Peoples Party (PPP) Senator Taj Haider, the committee also drew the electoral body's attention towards its constitutional obligation of holding polls in the context of the National Assembly's dissolution.
The Senate panel recommended that the commission announce the schedule of the election at the earliest to ensure clarity on the uncertainty around conducting elections.
Briefing the committee on the polls-related matters, ECP Secretary Omar Hamid Khan said the preliminary delimitations will be published on September 27.
However, he explained a period of approximately 60 days will be required for filing and disposal of representations.
He told the committee that some 91,809 polling stations were to be established out of which 49,919 had been designated as sensitive or highly sensitive.
He pointed out that out of the 49,919 polling stations, 17,411 had been categorised as highly sensitive and another 32,508 as sensitive while 41,809 (around 45%) were designated as normal.
He contended that the general election will encompass 266 National Assembly constituencies and 593 provincial assemblies' constituencies. Moreover, he noted around 1 million polling staff will be required for the upcoming general election.
The committee inquired about the methods for the consolidation of results. The secretary of ECP said electronic devices having ECP-developed software will be used to send snapshots of Form-45 to returning officers and software was also equipped to keep track of time and place of snapshots in order to ensure the legitimacy of elections.
Regarding the use of funds for development schemes, Senator Haider emphasised that funds should be allocated to the approved schemes. The secretary ECP explained that there was no ban on development schemes approved prior to August 15.