IHC 'emboldened devil' Imran Khan after forgiving him in contempt case: Maryam Nawaz
PML-N Vice President Maryam Nawaz addresses detailed presser.
Maryam says IHC's decision to let Imran go "emboldened" him.
PML-N leader says Nawaz to himself decide about return to Pakistan.
---
LAHORE: PML-N Vice President Maryam Nawaz said Tuesday that the Islamabad High Court's decision to dismiss the contempt case against the "devil" PTI Chairman Imran Khan has "emboldened" him.
In a press conference after receiving her passport following the passage of three years in line with the Lahore High Court's orders, the PML-N vice president spoke at length about her legal battles, Khan's vendetta against her family, the court's decision to let him go, and other pressing political matters.
Maryam told the judiciary that it should not be lenient with a person like Khan who thinks like "satan" and his only job is to blame people and launch smear campaigns.
"For years, he has been doing this. And when he does [something illegal] and sees that action will be taken against him, he apologises," Maryam said about Khan who recently escaped being charged for contempt of court.
The PML-N leader said Khan went to the chambers of Additional District and Sessions Judge Zeba Chaudhry to apologise as he was aware that if he does not do it, then he can be disqualified.
"Was Zeba asked whether she wants to forgive him or not? Do you (courts) know what kind of precedent are you setting? Now, anyone can abuse and threaten any woman in jalsas," she said.
Maryam added that since Khan has been forgiven, the contempt cases against PML-N leaders Talal Chaudhry, Daniyal Aziz, and Nehal Hashmi should also be disposed of.
"This devil (Khan) whom you have forgiven will do this again. He has been emboldened as he knows that now no matter what he does, he can seek forgiveness," she said.
The 'forged' minutes
Referring to Khan's recent statement where he mentioned "misplacing" the US cypher allegedly linked to his ouster, Maryam said that she is "at a loss of words" at the PTI chairman's carelessness.
"This wasn't a record of a diamond ring that you misplaced or the record of the dollars that you took in the foreign funding case. It was Pakistan's property," she said.
Maryam said that since Pakistan's inception, no cypher had been misplaced. The PML-N leader added that a more serious crime than misplacing the cypher was changing the minutes of the meeting.
"There was no mention of a conspiracy, and then, you built a conspiracy [by manipulating the minutes of the meeting]," the PML-N vice president said.
Maryam said that after Khan's stunt, the Ministry of Foreign Affairs has told officials that the international world has refused to send cyphers to Pakistan, fearing that it might be turned into a conspiracy.
The PML-N leader castigated Khan for dissolving the parliament on the basis of "forged" minutes of the meeting.
Nawaz Sharif's return
In response to a question, Maryam said that Nawaz will himself decide about his return to Pakistan. "The way for his return is clear. All we have to do is submit an application in the court."
The PML-N leader also said that had received her passport and would soon visit her father in London — whom she hasn't seen in person for the last three years.
Talking about Finance Minister Ishaq Dar's return to Pakistan, the PML-N leader said that the PTI is not happy with him coming back as he will now "improve" the economy.
"Dar's return was a slap on their face. Dar has led the country out of many economic crises," she said.
'Why was a false case built against me?'
At the outset of the press conference, the PML-N leader thanked everyone — including the media and her legal team — for helping her in the cases lodged against her.
"I am happy today that I have received my passport, but I would like to ask as to why I was deprived of my fundamental right for three years," the PML-N leader said.
Maryam said that her passport was confiscated when the "foreign-funded fitna (anarchist)" Imran Khan was in power and he was afraid that her jalsas would lead to his ouster.
"My jalsas were going on till 3am at night in support of Mian Nawaz Sharif," she said.
Maryam said the National Accountability Bureau (NAB) arrested her — while she was visiting her father in jail — under the pretext of investigation.
"They kept me in the NABpremises unlawfully as there was no space to detain women at NAB; they evacuated their daycare centre and held me there," she said.
"They held me there for 57 days," Maryam noted, adding that during the probe, the investigators would ask her questions totally unrelated to the case — including which Paulo Coelho book was she reading and who sets the menu for her family.
"They did not have any case against me; they confiscated my passport and did not return it for three years," she said.
Maryam reminded the nation that she wasn't sentenced to jail in the Calibri font (Panama Papers) case — which stirred up controversies and legal battles eventually leading to her father's ouster as prime minister.
"The question is: why was a false case built against me?"
£190m settlement case: Imran Khan 'placed on ECL'
Sources say Imran Khan put on ECL on NAB's suggestion.
Say federal cabinet approved circular summary for move.
Say decision to add Bushra Bibi's name to ECL also made.
---
ISLAMABAD: Pakistan Tehreek-e-Insaf (PTI) Chairman Imran Khan's name has been placed on the Exit Control List (ECL) in the light of the £190 million settlement case, sources told Geo News Monday.
The former prime minister — who had been ousted via a vote of no-confidence last year — has been facing a slew of cases including the infamous £190 million settlement case related to the transfer of multi-million pounds from the UK's National Crime Agency (NCA), in which his wife Bushra Bibi is also an accused.
Khan had been arrested by the Rangers from Islamabad High Court (IHC) premises earlier this month in the same case, which triggered countrywide violent protests. 
The sources said that Khan's name has been put on the no-fly list as per the recommendation of the National Accountability Bureau (NAB) Rawalpindi, after the federal cabinet's approval for the circular summary.
They said that the decision to place the former first lady's name on the ECL has been taken and the anti-graft watchdog will write to the Interior Ministry in this regard.
'No plans to travel abroad': Imran Khan
It may be noted that the names of Khan and Bushra Bibi, along with over 600 PTI leaders and former assembly members had been added to the no-fly list as per the Federal Investigation Authority's (FIA) orders for alleged involvement in the May 9 violence.
However, the former premier, after being restricted from leaving the country thanked the government for doing so and said that he had no plans to travel abroad.
Citing reasons behind his plans, Khan said he neither has "any properties or businesses abroad nor even a bank account outside the country."
However, if he does get an opportunity to go for a holiday, Khan said he will choose the country's northern mountains terming the sites as his "favourite place on earth."
Thousands of party workers and leaders were arrested during the crackdown on the PTI on May 9 for allegedly inciting the riots that claimed at least 8 lives and injured dozens of others.
The £190 million settlement case
The PTI chairman is facing charges of corruption of billions of rupees in a case involving a property tycoon.
Khan — along with his wife Bushra Bibi and other PTI leaders — is facing a NAB inquiry related to a settlement between the PTI government and the property tycoon, which reportedly caused a loss of £190 million to the national exchequer.
As per the charges, Khan and other accused allegedly adjusted Rs50 billion — £190 million at the time — sent by Britain's National Crime Agency (NCA) to the Pakistani government as part of the agreement with the property tycoon.
They are also accused of getting undue benefit in the form of over 458 kanals of land at Mouza Bakrala, Sohawa, to establish Al Qadir University.
During the PTI government, United Kingdom's National Crime Agency (NCA) seized assets worth 190 million pounds from the property tycoon in Britain.
The agency said the assets would be passed to the government of Pakistan and the settlement with the Pakistani property tycoon was "a civil matter, and does not represent a finding of guilt".
Subsequently, then-prime minister Khan got approval of the settlement with the UK crime agency from his cabinet on December 3, 2019, without disclosing the details of the confidential agreement.
It was decided that the money would be submitted to the Supreme Court on behalf of the tycoon.
Subsequently, the Al-Qadir Trust was established in Islamabad a few weeks after the PTI-led government approved the agreement with the property tycoon.
PTI leaders Zulfi Bukhari, Babar Awan, Bushra Bibi, and her close friend Farah Khan were appointed as members of the trust.
Two to three months after the cabinet's approval, the property tycoon transferred 458 canals of land to Bukhari, a close aide of the PTI chief, which he later transferred to the trust.
Later, Bukhari and Awan opted out as the trustees. That trust is now registered in the name of Khan, Bushra Bibi and Farah.
NAB officials were earlier probing the alleged misuse of powers in the process of recovery of "dirty money" received from the UK crime agency.
Following the emergence of "irrefutable evidence" in the case, the inquiry was converted into an investigation.
According to the NAB officials, Khan and his wife obtained land worth billions of rupees from the property tycoon, to build an educational institute, in return for striking a deal to give legal cover to the property tycoon's black money received from the UK crime agency.
Social media users have schooled Pakistan Tehreek-e-Insaf (PTI) Chairman Imran Khan for spreading misinformation after he tweeted an old video of a burning truck citing it belonged to his party's lawmaker, Malik Shahzad Awan, from Karachi.
Both Khan and his party's social media team, took to Twitter to share videos of burning trucks claiming that they belonged to the lawmaker. They also alleged that Awan was being pressured to quit the party and following his refusal to do so, his vehicles were burned.
However, the claims were soon refuted by social media users who called out the PTI chief for propagating lies and misinforming his followers.
They verified that the videos were, in fact, of trucks which were burned during a fire incident in Nowshera's oil depot a year ago.
The cricketer-turned-politician and PTI eventually had to delete the tweets, which they earlier posted in haste without verifying the origins of the video.
In the now-deleted tweets, Khan wrote: "Our MPA from Sindh (Karachi) Malik Shahzad Awan was pressured to leave PTI. When refused, his fleet was put on fire and destroyed. All PTI ticket holders and aspirants today are facing this fascism, our fundamental rights are being openly violated while our judiciary helplessly watches on."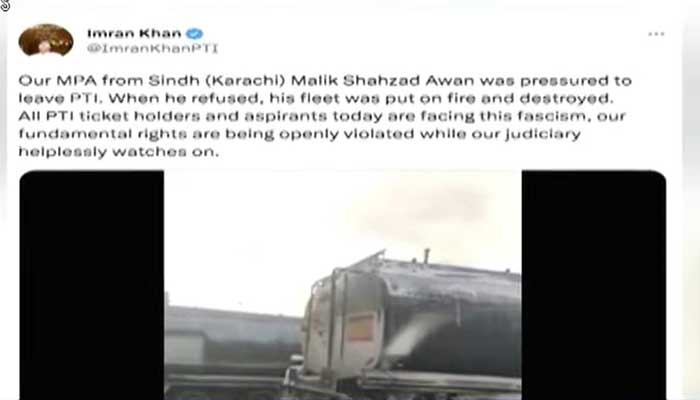 The PTI, meanwhile, tweeted: "Our MPA from Sindh Malik Shahzad Awan's trucks have been put on fire when he refused to leave PTI. His business has been completely destroyed."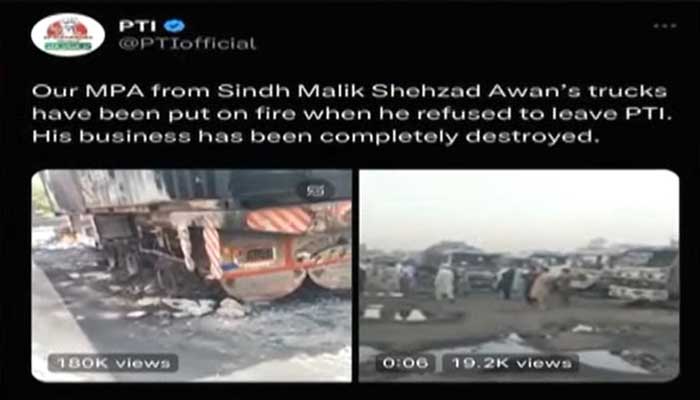 After the civil and military leadership resolved to punish the rioters and instigators of the May 9 violent protests which erupted after the arrest of Khan — who faces a slew of cases ranging from corruption to terrorism — droves of PTI leaders have quit the party with some either shifting their allegiance to other parties and others bidding adieu to politics altogether.
The exodus confronting his party has been termed by Khan as 'forced divorce', particularly after prominent names including Shireen Mazari, Fawad Chaudhry, Imran Ismail and Ali Zaidi, among others, parted ways with PTI and Khan.
"We had all heard about forced marriages in Pakistan but for PTI a new phenomenon has emerged, forced divorces," Khan — a former prime minister — said in a tweet.
The party's leaders have been announcing their departure as not only public and private buildings but also military installations — including the General Headquarters in Rawalpindi — were attacked on May 9.
Abrarul Haq, Saifullah Nyazee quit PTI as wickets continue to fall
Expressing their regret over the May 9 mayhem, two more Pakistan Tehreek-e-Insaf (PTI) leaders — singer-turned-politician Abrarul Haq and Senator Saifullah Niazi — on Friday announced quitting the party.
The PTI leaders' mass exodus started when the security forces launched a crackdown against the party following the attacks on the civil and military institutions, including the General Headquarters in Rawalpindi and the Lahore Corps Commander's House (Jinnah House).
The riots were triggered by PTI Chairman Imran Khan's arrest from Islamabad High Court in the Al-Qadir Trust graft case on May 9 — a day the army dubbed as "Black Day".
Addressing a presser in Lahore, Haq said: "I regret standing with Imran Khan."