How to save yourself from a heatwave?
Heatwaves — among the most dangerous of natural hazards — have a significant impact on a nation as not only does the temperature rise, but heat-related deaths also move up. However, they rarely receive adequate attention as the death toll is not always immediately obvious.
In a country that was hit by deadly floods last year and is already vulnerable to climate change, heatwave-like conditions have now begun to grip several parts of the nation and the temperature in some districts is set to rise to 47°C.
The weather authorities have also warned that areas such as Dadu, Jacobabad, Larkana, Sukkur, Nawabshah, Khairpur, and suburbs are expected to witness a maximum temperature ranging between 45°C-47°C under the prevailing climatic conditions.
"May is one of the hottest months in the country and we are expecting very warm conditions in southern parts of the country during the current heat spell," weatherman Sardar Sarfaraz told The News.
Federal Minister for Climate Change and Environmental Coordination Senator Sherry Rehman had earlier this month advised provincial and local institutions to take necessary precautions to safeguard public health and minimise the impact of extreme weather on vulnerable communities amid the predicted heatwave.
The South Asian Climate Outlook Forum (SASCOF) has also forecast that minimum and maximum temperatures in South Asia, including Pakistan, are expected to remain "above normal", except in parts of the foothills of the Himalayas.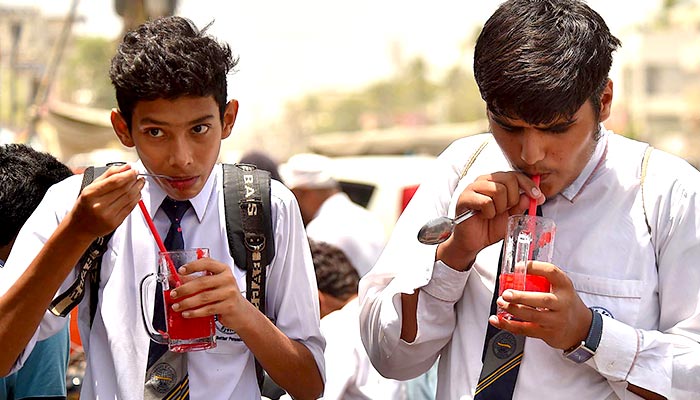 Deadly heatwaves killed more than 1,000 in Sindh alone in 2015, with successive weather conditions taking the lives of a number of others.
In light of the warnings, it is crucial for people to know how they can save themselves from this climate catastrophe and if they get caught, what they can do for recovery.
Who is mainly in danger?
Heat-related illness mainly affects infants, children, and older individuals (age 65 and above). Obese and overweight individuals and people with lower immunity — such as those with chronic illnesses and those on medications — are also more prone to getting affected by the heatwave.
Symptoms to look out for?
1. Raised body temperature
2. Muscle cramps
3. Dry, flaky, and hot reddish skin (absence of sweat)
4. Severe headache
5. Dizziness
6. Nausea
7. Confusion
8. Palpitations
9. Rapid breathing
10. Fainting
What should be done if this happens?
1. Call for immediate medical assistance as this is a life-threatening emergency.
2. Spray water on a person or immerse them in cool water.
3. Fan air on the person.
4. Put wet sheets or towels on the person.
Dos of a heatwave
1. Stay hydrated. Even if you don't feel thirsty, drink plenty of fluids (water, ORS, lemonade, and fresh juices).
2. Wear loose-fitting, lightweight, and light-coloured clothing to reflect the sun's rays and keep you cool.
3. Try to remain indoors during the peak temperature part of the day (9am to 4pm).
4. Limit outdoor activity to early morning and later at night when the temperature is cooler.
5. In case outdoor work is unavoidable during hotter parts of the day, try taking a rest between tasks to cool off.
6. Avoid direct sun exposure. The use of umbrellas, hats, and sunglasses could be beneficial.
7. Apply sunscreen (at least SPF 30) to avoid sun damage to the skin as sunburn reduces the body's ability to maintain its temperature.
8. Gradually acclimatise your body to heat.
Don'ts of a heatwave
1. Don't leave anyone in an enclosed space (such as parked cars) on warmer days.
2. Don't drink caffeinated beverages as they increase dehydration.
3. Don't exercise outdoors during peak sun hours.
US Fulbright scholarship prgramme opens for Pakistani students
ISLAMABAD: The United States Educational Foundation in Pakistan (USEFP) has invited students to apply for the prestigious Fulbright Student Programme 2024.
The Fulbright Program in Pakistan is funded by the United States Government and is the world's largest in terms of financial contribution, said a press release on Thursday.
Applications are welcome from all disciplines, including energy, water, agriculture, health, education, environmental science, and climate change. While clinical medicine is not included in the Fulbright Program, non-clinical public health applications are encouraged.
Interested applicants can apply at www.usefp.org before the deadline on February 28, 2024. The premier academic exchange program covers graduate studies, tuition, maintenance, insurance, and air travel.
All applicants are required to take the Graduate Record Examination (GRE) and must have a minimum score of 145 in both the verbal and quantitative sections of the exam. Shortlisted candidates will be required to take the Duolingo English Test.
On the impact of the Fulbright Program in Pakistan, US Ambassador Donald Blome said: "Pakistani Fulbrighters have solved social problems, written new laws, advanced policies to ensure equal access and voices to all, and so much more. They do this all for one purpose: to create a better, safer, and more prosperous Pakistan. In this goal, the United States and Pakistan are united."
Under the Fulbright Programme, nearly 3,000 Pakistani students have received fully funded scholarships to study for graduate study since 2005. These awardees have completed their studies and research and are now making significant contributions to the public and private sectors with their knowledge and expertise.
In a message to potential applicants, USEFP Executive Director Rita Akhtar encourages talented students and working professionals to consider applying.
"We especially want to encourage applicants from public universities and under-served areas. Fulbright is a merit-based program, but in defining merit, the program considers the obstacles and challenges applicants have faced as well as their achievements.
"One of the goals of the program is to build human capacity in Pakistan, so successful applicants will plan to return to Pakistan on completion of their degrees and use their new skills and knowledge for the benefit of the country."
FDE announces winter vacations for schools
ISLAMABAD: The government has announced the winter vacations for educational institutes functioning under the federal administration.
The winter break in the federal educational institutes will officially start from December 25 to December 29, a notification issued by the Federal Directorate of Education read.
However, Federal Directorate of Education officials said that the institutes will close on December 22, which falls on Friday, and reopen on January 1, 2024, (Monday).
Earlier in the month, Punjab and Sindh governments also announced the winter vacation schedule for the year.
In Punjab, the winter break for school children will commence from December 18, 2023, and continue till January 1, 2024.
"Winter vacations for children will commence from Dec 18 , 2023 to Jan 1, 2024," Punjab caretaker Chief Minister Mohsin Naqvi had announced.
Meanwhile, the Sindh schools will have the vacations from December 22 to 31.
After the winter break, the educational institutions will reopen on Monday (January 1, 2024).
"In pursuance of decisions taken in the steering committee meeting, all public and private educational institutions under the administrative control of School Education and Literacy Department Government of Sindh shall remain closed w.e.f 22-12,023 to 31-12,023 for Winter Vacation," a statement by the provincial government read.
Meanwhile, the new academic year in the public and private schools across Sindh will commence on April 15, 2024, and August 1, 2024, in the colleges.
The matriculation and intermediate exams will be started in the last week of May 2024, while the results will be announced on July 31 and the second week of August, respectively.
Pakistan to 'ascertain facts' on Afghan minister using its passport
Haqqani possessed a Pakistani passport until recently: report.
FO says the answer will come only after facts are ascertained.
US officials are set to visit Pakistan to discuss several matters.
---
ISLAMABAD: Pakistan said Thursday it will first ascertain facts before issuing a comment on a report that claims that Afghanistan's acting Interior Minister Sirajuddin Haqqani possessed a Pakistani passport until recently.
In her weekly press briefing, Foreign Office (FO) spokesperson Mumtaz Zahra Baloch said: "I have seen the report on the use of a Pakistani passport by the Afghan minister. The matter will be answered after [ascertaining] the facts."
A report published in The News today revealed that Haqqani was issued a Pakistani passport for five years which he used to travel abroad, particularly to Qatar for negotiations with the United States for the signing of the Doha Agreement that resulted in the latter's exit from Afghanistan.
The publication, via the interior ministry officials, learnt that these passports were issued from different cities of Khyber Pakhtunkhwa, Balochistan, and Sindh.
Meanwhile, two passport officials involved in issuing Haqqani's passport have been arrested, one of whom had retired from service by the time the action was initiated against him.
The issue around the minister using the Pakistani passport comes at a time when Pakistan continues to repatriate illegal foreigners, most of whom are undocumented Afghan migrants.
Baloch also briefed the presser about top officials from the United States visiting Pakistan this week.
"The focus of these visits is not only Afghanistan. These visits are related to the multifaceted aspects of Pakistan-US relations," she said, adding that Pakistan has decided to talk to America.
Pakistan and the US will conduct consultations over several issues including the situation in Afghanistan, the FO said last week.
In the meetings between Pakistan and US officials, reservations of both sides will be discussed. "We will also discuss the issues on which we have objections."
Updated list of Afghans from US
The spokesperson further shared that Pakistan has received an updated list from the American authorities regarding the transfer of Afghan nationals to the US.
Last month, a coalition comprising former high-ranking United States (US) officials and resettlement organisations issued an urgent appeal to Pakistan, urging it to not deport Afghan individuals applying to seek refuge in and visas for the US.
The appeal came weeks after Pakistan announced November 1 as the deadline for all undocumented migrants — a substantial number of whom are Afghans — residing in the country to either leave on their own or face expulsion once the ultimatum ends.
The population of the aforementioned migrants includes roughly 20,000 or potentially more Afghans, who escaped their homeland following the Taliban's return to power in 2021. Many of these migrants in Pakistan are awaiting their applications for the US Special Immigration Visas (SIVs) or refugee resettlement in the United States to be processed.
Commenting on regular skirmishes at the Pakistan-Afghanistan border, the spokesperson said: "There are often misunderstandings between the border authorities. These misunderstandings are cleared through communication channels."
She added that the Torkham border was opened for all kinds of traffic yesterday.
Israels' 'barbaric attacks'
The FO yet again condemned the continuous Israeli aggression in the Gaza Strip, stating that the situation in the Strip is rapidly deteriorating.
"No place in Gaza is safe for the public," Baloch said.
The UN Security Council must perform its primary responsibility under the Charter, impose an immediate and unconditional ceasefire and protect the people of Gaza from an impending genocide, the FO spokesperson said.
"We call on Israel's backers to urge Israel to end its barbaric attacks and inhumane siege against Gaza," she added.
The spokesperson further stated that Pakistan calls for an international conference for long-term peace on the Palestinian question.
"Durable peace in the region will emerge from the internationally agreed two-state solution and from the creation of a secure, viable, contiguous, and sovereign state of Palestine on the basis of the pre-June 1967 borders, with Al-Quds Al-Sharif as its capital," she said.
Baloch also spoke about the United Nations Secretary-General Antonio Guterres's efforts for Palestinians.
The head of the UN warned that he expects "public order to completely break down soon due to the desperate conditions" in Gaza, currently under relentless Israeli bombardment and invoked Article 99 of the UN Charter for the first time in his tenure owing to the gravity of the humanitarian crisis in the Strip.
'Pakistani citizens welfare top priority'
During the presser, Baloch commented on the recent revelations regarding Dr Aafia Siddiqui, a Pakistani neuroscientist jailed in the United States for over a decade.
According to her lawyer, the Pakistani doctor has been sexually assaulted at least two times during her incarceration.
"The statements related to Aafia Siddiqui are serious," the spokesperson said.
She further added that Caretaker Prime Minister Anwaar-ul-Haq Kakar has instructed that the matter should be taken up with the US Department of State and investigations should be conducted.
"The welfare of Pakistani citizens is among our priorities," Baloch reiterated.
She also spoke about the acid attack on former special assistant to the prime minister Shahzad Akbar last week.
"Shahzad Akbar did not seek help from the Pakistani High Commission in this regard," she said.
The FO strongly rejected the allegations of involvement of Pakistani agencies in the incident. "Pakistan has faith in the British authorities' investigation."