Google registered as company in Pakistan
US tech giant's registration comes following Pakistan's social media rules.
IT minister says TikTok, too, will set up office soon.
Haque offers ministry support to foreign companies.
---
ISLAMABAD: American tech giant Google has registered itself as a company with the Securities and Exchange Commission of Pakistan (SECP), official documents stated.
The tech giant has registered itself with the SECP as in line with the "Removal and Blocking of Unlawful Online Content (Procedure, Oversight and Safeguards) Rules, 2021", social media companies had to open offices in the country.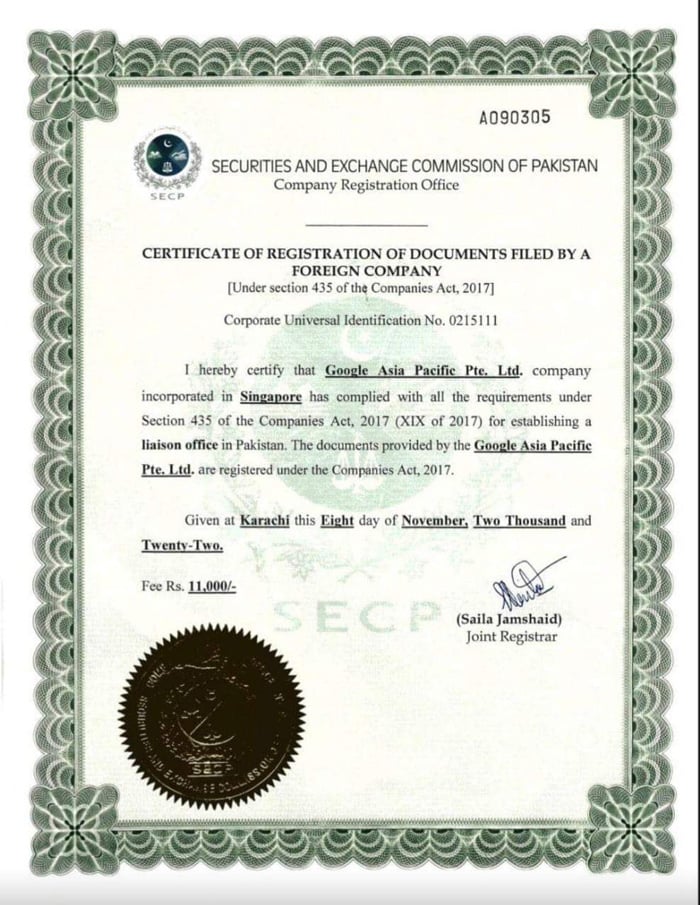 Minister for Information Technology and Telecommunication Syed Aminul Haque told Geo News following the registration of the American multinational technology company, other social media platforms will also establish offices in Pakistan.
"TikTok will soon set up its office in Pakistan. Companies remain reluctant due to the lack of trust and inconsistent policies," he said while maintaining that his ministry will offer complete support to foreign companies.
Pakistan's government, as per social media rules, has made registration mandatory for companies and Google registered itself as a company in this context.
Data will be safe if Google's server is built in Pakistan. Even now, data of all companies including social media gets stored outside Pakistan.
Earlier today, Foreign Minister Bilawal Bhutto-Zardari visited Meta's — Facebook's parent company — Asia-Pacific headquarters in Singapore.
Bilawal, during his visit, highlighted the achievements and huge potential of Pakistan's IT sector. He expressed a keen desire for enhanced cooperation between the social media giant and Pakistan.
WATCH: Meta's AI-fuelled chatbots bring celebrities to your private conversations
Mark Zuckerberg, the CEO of Meta Platforms, has just dropped a bombshell of tech innovations set to change the way we interact with AI.
Among the highlights are smart glasses that redefine connectivity, AI-powered chatbots with celebrity personas, and an updated virtual reality headset.
Personality-infused chatbots
Meta is at the forefront of the chatbot revolution, introducing a series of intelligent virtual assistants.
These chatbots are not your ordinary digital helpers. They come with distinct personalities and specialisations, offering more personalised and engaging interactions.
From settling arguments to providing holiday tips and cooking advice, Meta's chatbots are designed to connect with users on a deeper level.
Meta's Ray-Ban smart glasses
Shipping from October 17th at £299, the new generation of Meta's Ray-Ban smart glasses is set to redefine how we experience reality.
These cutting-edge glasses incorporate a Meta AI assistant, enabling users to seamlessly stream their real-world experiences directly to Facebook and Instagram.
Gone are the days of mere photo capturing. These glasses deliver real-time immersion.
Quest 3: The ultimate mixed-reality experience
Meta's Quest 3 headset, slated to be available from October 10th, takes mixed reality to new heights.
With a starting price of £500, it's positioned as the best value in the VR industry, challenging Apple's higher-priced Vision Pro headset.
Wearers can enjoy virtual experiences while maintaining a connection to the real world, thanks to a live video feed.
Generative AI
Meta also introduced generative AI into its arsenal. This AI innovation can generate both text responses and lifelike images, adding an exciting element of creativity to user interactions.
Zuckerberg's presentation at the Meta Connect conference, the company's first in-person event since the pandemic, showcased Meta's commitment to making cutting-edge technology accessible and affordable to everyone.
By combining celebrity personas with AI chatbots and delivering immersive tech experiences, Meta is forging a path towards a more interactive and entertaining digital future.
WATCH: Google search engine shows off creative doodle to celebrate 25th anniversary
Over 25 years ago, a unique concept for an internet search engine that would classify and rank web pages was developed by two Stanford University students during a brainstorming session in their dorm.
BackRub, initially a startup, transformed into Google, a globally influential company with products like Gmail and Search used by billions, while its co-founders Larry Page and Sergey Brin ranked among the world's richest people.
While Google Inc was incorporated on September 4, for more than a decade the company has celebrated its birthday on September 27 with unique doodles displayed on its search engine.
However, this year, Google Inc decided to take a "walk down memory lane" and showcased a series of creative different doodles, including doodles of previous logos, to mark this special occasion.
This year's Google Doodle comes with a GIF that shows the term 'Google' going through a series of transformations before finally transforming to 'G25gle'.
The tech giant said that it was using this day as a "time to reflect" while being oriented towards the future.
"Today's Doodle celebrates Google's 25th year. And while here at Google we're oriented towards the future, birthdays can also be a time to reflect. Let's take a walk down memory lane to learn how we were born 25 years ago," Google wrote in its blog.
Google was founded by Sergey Brin and Larry Page in the late 90s, who met in Stanford University's computer science program.
They shared a vision to make the World Wide Web more accessible, working tirelessly from their dorm rooms to develop a better search engine prototype.
"As they made meaningful progress on the project, they moved the operation to Google's first office — a rented garage. On September 27, 1998, Google Inc was officially born," according to the blog.
Furthermore, the company emphasised that much has changed since 1998, but also said that its mission has remained the same which is "to organise the world's information and make it universally accessible and useful".
Thanking users for "evolving with us over the past 25 years," Google added, "We can't wait to see where the future takes us, together".
Google's CEO, Sundar Pichai, celebrated the company's birthday by reflecting on its journey in a note last month.
He looked back on the company's role in technology transformation, and its future path while thanking users, employees, and partners for their contributions to Google's success.
He also praised the constant innovation challenge and commended the dedication of past and present Googlers.
In his note, Pichai also noted the importance of innovation and adaptation, acknowledging that the once extraordinary technology quickly became ordinary as the boundaries continued to be pushed, NDTV reported.
Apple sends iPhone 12 update to French authorities to address radiation concerns
French authorities have received a software update from Apple for its iPhone 12 in response to concerns about radiation levels, according to a source at the French digital ministry.
The update is currently under review as a potential solution to the radiation issue. France had recently suspended the sale of iPhone 12 devices after tests revealed breaches of radiation exposure limits.
Apple had initially contested these findings, asserting that the iPhone 12 complied with global standards as certified by multiple international bodies. However, the company later decided to issue a software update to align with the testing methods used in France.
Apple's decision to provide the software update came after France threatened to seek a product recall if the company did not take action. The update aims to address the specific concerns raised by French authorities regarding radiation levels.
While the World Health Organization has not established adverse health effects caused by mobile phones, the radiation warning in France was based on test results that differed from those conducted in other countries. Industry experts have emphasised that there are no safety risks, as regulatory limits are set well below levels associated with harm.
The software update for the iPhone 12 is a routine measure taken by Apple to address specific issues or improve device performance. It is part of the company's ongoing commitment to providing software updates for its products. Apple users typically receive notifications for eligible software updates, which they can then install.
French authorities and regulators in other countries are closely monitoring the situation, and Italian authorities are awaiting the outcome of France's deliberations before making a decision.
The software update is expected to bring the iPhone 12 into compliance with the radiation exposure limits specified by French testing methods. Apple has not issued an official statement regarding the update at the time of this report.