Ex-president Asif Ali Zardari tests positive for COVID, confirms Bilawal Bhutto
Former president Asif Ali Zardari is isolating.
Bilawal Bhutto says he has received booster dose.
Zardari has mild COVID symptoms, Bilawal says.
---
Former president Asif Ali Zardari has tested positive for coronavirus, his son Bilawal Bhutto confirmed Wednesday, as the infection continues to spread again globally.
Foreign Minister and PPP Chairman Bilawal said that the party's co-chairman was not only vaccinated but had also received booster shots of the COVID-19 vaccine — which enhances immunity against the virus.
"He is fully vaccinated, boosted, isolating with mild symptoms and undergoing treatment. We are praying for his swift recovery," the foreign minister said in a tweet.
The news of Zardari becoming the infection's latest victim comes as Pakistan posted the highest number of COVID-19 deaths in the last 20 days, with eight people succumbing to the virus in a single day, National Institute of Health, Islamabad's (NIH) data showed Thursday morning.
As per the latest stats, the COVID-19 positivity rate in Pakistan stands at 3.65%. As many as 761 new COVID-19 infections were detected after testing on 20,843 samples, taking the country's total coronavirus case count to 1,552,632.
Zardari's daughter, Bakhtawar Bhutto, said that when he landed in Dubai a four days back, his PCR was positive, but now his symptoms were mild — and he is resting.
"Thank u 4 your prayers & remind everyone to remain precautions," she said.
Zardari was among the top-tier politicians who urged people to wear masks and got himself vaccinated against the virus. Several politicians, including Prime Minister Nawaz Sharif, PTI Chairman Imran Khan, PML-N Vice President Maryam Nawaz, and others have also contracted COVID.
Ex-Punjab CM Usman Buzdar becomes latest PTI leader to quit politics
Buzdar cites current circumstances reason behind quitting politics.
Former CM calls on all stakeholders to reach a consensus.
He condemns May 9 incidents, says "we should avoid such incidents".
---
Former Punjab chief minister Usman Buzdar Friday became the latest Pakistan Tehreek-e-Insaf (PTI) leader to quit politics in the aftermath of the May 9 violent riots.
"First of all, I condemn the May 9 incidents. The military installations which were targeted were properties of the state of Pakistan and I believe we should avoid such incidents," Buzdar told journalists during a press conference in Lahore.
Buzdar, whose term as Punjab's chief minister was cut short in March 2022, said he had always stood with the armed forces of Pakistan and will continue to do so.
"I have always committed to politics of nobility […] but due to the current circumstances, I have decided to quit politics," the former chief minister, once considered to be close to PTI Chairman Imran Khan, said.
The former chief minister called on all stakeholders to reach a consensus and asked the authorities to release all those who were innocent from jail.
The heat
Khan's party has been feeling the heat of the state's might after his party workers burnt and smashed military installations, including the General Headquarters in Rawalpindi, after his arrest on May 9 — a day the army dubbed as "Black Day".
Several party leaders and thousands of workers have been rounded up in connection with the violent protests and the army has insisted that the people involved in attacks on military installations be tried under the Pakistan Army Act and the Official Secrets Act.
A close aide of Khan, Asad Umar, has relinquished his posts of secretary general and core committee member, citing the ongoing situation.
Several party leaders and lawmakers — including Fawad Chaudhry, Shireen Mazari, Aamir Mehmood Kiani, Malik Amin Aslam, Mahmood Moulvi, Aftab Siddiqui, Fayyazul Hassan Chohan among others — have publicly denounced the attacks on the state installations and announced leaving the former ruling party since the May 9 vandalism.
Imran Khan's 'rights abuses allegations' ploy to distract from May 9 riots: PM Shehbaz
PM says PTI chief "capable of going to any extreme".
Says he is "not surprised" by Imran Khan's "antics".
"Everything about Imran Khan is hate, division and lie."
---
Prime Minister Shehbaz Sharif slammed his predecessor Imran Khan for "misleading and baseless allegations" of "rights abuses", saying that it was a ploy to distract attention from his involvement in May 9 events.
"Make no mistake about the evil intent behind Imran Niazi's latest ploy to defame our law enforcement agencies and police. Yet again he is making misleading and baseless allegations of the "rights abuses" just to distract attention for his culpability in the tragic events of May 9," the premier wrote on his official Twitter handle.
PM Shehbaz, who is also the president of the Pakistan Muslim League-Nawaz (PML-N), also said that he was "not surprised" by the former prime minister's "antics".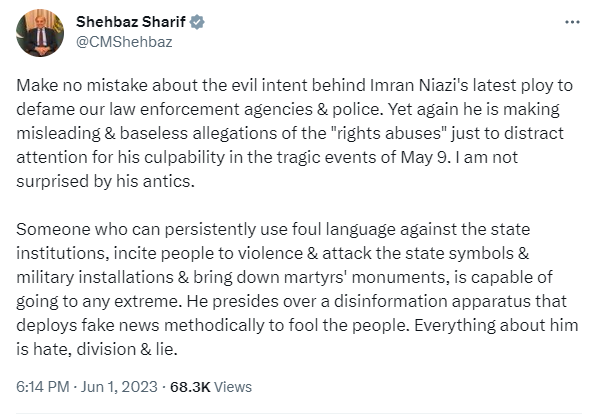 He added that the PTI chief was "capable of going to any extreme" as he "persistently" uses "foul language against the state institutions, incite[s] people to violence and attack[s] the state symbols and military installations & bring[s] down martyrs' monuments".
The prime minister went on to write on the tweet: "He [Khan] presides over a disinformation apparatus that deploys fake news methodically to fool the people. Everything about him is hate, division and lie."
A crackdown has been launched against PTI following the arrest of former prime minister Imran Khan from the Islamabad High Court's premises.
Khan's arrest last month sparked days of street protests after which the PTI leaders' exodus started, as security forces launched a crackdown against the party following the attacks on civil and military institutions, including the General Headquarters in Rawalpindi and the Lahore Corps Commander's House (Jinnah House). At least eight people were killed in the violent protests almost across the country.
Amid these arrests, an exchange of accusations began between the Imran Khan-led PTI and the federal government involving alleged "ill-treatment" of the party's women workers and supporters during the custody.
The government has maintained that the PTI's claims are unfounded.
Last week, in a late-night press conference, Interior Minister Rana Sanaullah said that the PTI planned to highlight human rights violations in Pakistan on a global scale after orchestrating a simulated raid at a certain known party worker, involving a rape and casualties caused by gunfire.
The security czar said that intelligence agencies intercepted an audio clip that sheds light on a conspiracy hatched by the PTI to malign the country's law-enforcement agencies.
Reacting to his presser, Imran Khan on Sunday said Sanaullah is "so obviously trying to cover up and preempt the horror stories about to break in the media."
"If there were any doubts about women being mistreated in jails, this press conference from this certified criminal should remove all such doubts," he wrote on Twitter.
PTI President Parvez Elahi arrested in Lahore
Former Punjab CM was arrested by anti-corruption personnel.
He was wanted in Rs70m corruption case related to uplift funds.
Elahi's son says his father was taken into custody in a fake case.
---
Pakistan Tehreek-e-Insaf (PTI) President Parvez Elahi was arrested by anti-corruption officials from Lahore outside his home, Geo News reportedon Thursday.
The former Punjab chief minister was taken into custody by the anti-corruption personnel after pulling over his car near Zahoor Elahi's residence in Lahore's Gulberg area.
Elahi's spokesperson has confirmed the development.
The development came after an anti-corruption court last week discarded his interim bail over his failure to appear before the court citing health issues.
His arrest was required in the Rs70 million corruption case related to the embezzlement of development funds allocated for the Gujrat district.
The anti-corruption court judge also declared Elahi's medical certificate bogus which claimed that he had been experiencing chest pain.
The anti-corruption spokesperson in a statement said Elahi was taken into custody while trying to flee and added that he was wanted in various corruption cases.
The spokesperson also said that Elahi was arrested as his bail was discarded by the court for submitting a fake medical certificate.
In a statement to the police, Elahi's driver said the PTI leader was fleeing to Gilgit Baltistan along with a convoy of four vehicles.
He said Elahi was not travelling in a bulletproof vehicle and added that police tried to break the car's window after the PTI president refused to open the gate.
Speaking to Geo News, Punjab caretaker Information Minister Amir Mir said Elahi was wanted by the anti-corruption police in a graft case.
He said the PTI president was fleeing from his residence when the police intercepted his vehicle and took him into custody.
The minister added that resistance was put up during the arrest but the police managed to arrest him.
The PTI leader's spokesperson said Elahi's son Rasikh and Pakistan Muslim League-Quaid (PML-Q) President Chaudhry Shujaat Hussain's sister were also present with him during the arrest.
Elahi's arrest came as hundreds of PTI leaders and workers have been arrested since May 9 violent protests erupted almost across the country.
The crackdown on PTI leadership in the wake of the May 9 riots triggered a wave of desertion in the former ruling party with many bigwigs including Shireen Mazari, Fawad Chaudhry, Aami Mehmood Kiani, Ali Zaidi and others have parted ways with the party in protest against the violent protests.
Elahi was appointed as the PTI president in March this year only a month after he along with 10 former MPAs left the PML-Q to join the PTI.
Moonis Elahi, the PTI president's son — who is active in politics and played a key role in convincing his father to join the PTI ranks — said his father was arrested in a fake case.
Moonis said his father and mother had already asked them to support the PTI even if they were arrested.