Elephant in distress: Cries of crippled 'Noor Jehan' echo around the world
Four Paws team arrives to help Noor Jehan spins into action.
Cranes, heavy machinery used for examining Noor Jehan's feet
International vets to perform x-rays, endoscopies of afflicted limbs.
---
KARACHI: A team of veterinarians and wildlife experts from the global animal welfare organisation Four Paws visited Karachi Zoo to help with the health assessment and treatment of the deteriorating condition of ailing Noor Jehan, the elephant.
The team of a dozen international experts, led by Egyptian veterinarian Dr Amir Khalil arrived in Pakistan on Tuesday in response to a request made by Karachi Metropolitan Corporation (KMC), which runs the zoo.
The team also met with Karachi Administrator Dr Syed Saifur Rahman and the zoo management, according to a KMC press statement, to discuss certain arrangements required to run physical and radiological scans on the crippled elephant.
The team on Wednesday examined the pachyderm's feet for which she needed to be put into an upright position, said Dr Rehman adding, cranes and other heavy machinery were brought in for the purpose.
The teams asked for treatment-related facilities and they were provided The Karachi administrator said the international team of experts had been provided everything to assist them in thoroughly looking into the elephant's conditions
Talking to the media, Marina Ivanova, a member of the international team, said the elephant was supported by a crane to stand on her feet to examine her painful ankle, which would take at least two hours.
"A report will be prepared after checking the infection in the elephant's toe," Ivanova said adding, "X-ray and endoscopy of elephant's foot will also be done."
Four Paws' team leader, Dr Amir Khalil said in his team was doing everything possible to bring the elephant back on her feet.
"The elephant has been made to get up with the help of a crane and if it is allowed to lie down again on the ground, it will be impossible for us to stand her up again," Dr Khalil said.
According to a press statement issued by Four Paws, recent reports and images show Noor Jehan in serious physical distress.
The 17-year-old African elephant will receive a thorough veterinary examination to determine her future care, it said.
"Since 2021, Four Paws has strongly recommended to relocate Noor Jehan and her companion Madhubala from Karachi Zoo to a species-appropriate place that offers better living conditions for the elephants," the statement said.
However, no measures to relocate them have been taken, it added.
"Pakistan has taken great steps for animal welfare in the last three years by protecting the natural rights of animals under the Constitution and banning elephant imports, as recommended by Four Paws," the animal welfare organisation said.
Josef Pfabigan, the global CEO of Four Paws, said the lack of action to improve the lives of the elephants at Karachi Zoo was a setback.
"We have already seen what strategic policy work and good relations between animal welfare experts and local officials can achieve, and we hope that we can achieve even more together."
By building a strong foundation for animal welfare, "we can make a change for suffering animals, in Pakistan and worldwide," Pfabigan said.
Sindh schools winter vacations from Dec 22
KARACHI: The Sindh government on Thursday announced the winter vacation schedule for public and private educational institutions across the province.
According to a notification issued by the Sindh School, Education, and Literacy Department, the educational institutions in the province will observe winter vacation from December 22 to 31.
"In pursuance of decisions taken in the steering committee meeting, all public and private educational institutions under the administrative control of School Education and Literacy Department Government of Sindh shall remain closed w.e.f 22-12,023 to 31-12,023 for Winter Vacation."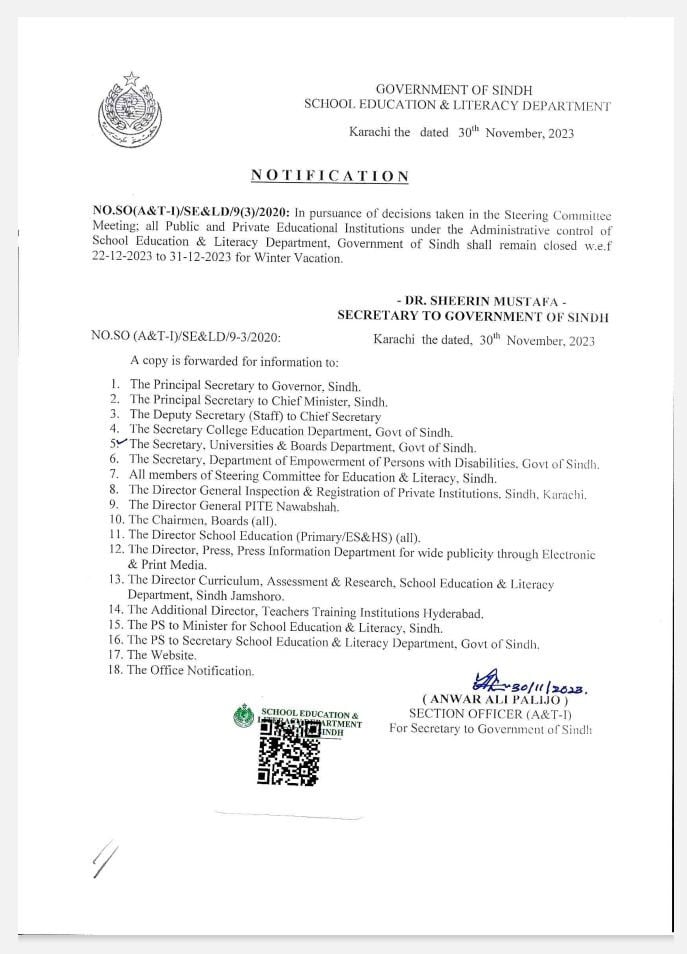 After the winter break, the educational institutions will reopen on Friday (January 1, 2024).  
Meanwhile, the new academic year in the public and private schools across Sindh will commence on April 15, 2024, and August 1, 2024, in the colleges.
The matriculation and intermediate exams will be started from the last week of May 2024, while the results will be announced on July 31 and the second week of August, respectively.
COAS Gen Asim Munir meets Kuwaiti crown prince
PM Anwaar-ul-Haq Kakar to meet Kuwaiti crown prince today.
Both army chief and PM are in Kuwait on official visit.
PM Office says multiple MoUs expected to be signed during visit.
---
Army chief General Asim Munir on Tuesday met Kuwait's Crown Prince Sheikh Mishal Al-Ahmed Al-Jaber Al-Sabah as part of his official visit to the gulf country, reported Kuwait News Agency (KUNA).
The meeting was also attended by Caretaker Law Minister Ahmed Irfan Aslam, Pakistan Ambassador to Kuwait Malik Mohammad Farooq and other members of the delegation.
Meanwhile, PM Kakar has also arrived in Kuwait City after concluding the UAE visit and is expected to meet the crown prince today, the PM Office said on Wednesday.
The premier will also meet his Kuwaiti counterpart Sheikh Ahmed Al-Nawaf Al-Ahmad Al-Sabah.
The PM office said that a number of memorandum of understanding (MoUs) will be signed for mutual cooperation in various sectors including manpower, information technology, minerals and mining, food security, energy and defence.
In UAE, Pakistan signed several MoUs worth multi-billion dollars in a range of areas on Monday to boost economic and strategic cooperation between the two countries, PM Kakar said.
The prime minister said with the signing of the MoUs, the bilateral economic and strategic relations had entered into a new era of bilateral cooperation.
Congratulating the people of Pakistan and the UAE, he said the foundation of friendship with Pakistan which was laid by Sheikh Zayed bin Sultan Al Nahyan in the 1970s, had been taken forward by his son Sheikh Mohamed bin Zayed Al Nahyan to a new era.
PM Kakar expressed the hope that the MoUs that were signed by the two countries would turn into tangible projects very soon.
Haj 2024: Pakistanis to get 'free SIMs with internet'
Caretaker Minister for Religious Affairs and Inter-faith Harmony Aneeq Ahmed said Tuesday that the government would provide free-of-cost mobile SIMs with roaming internet packages to Pakistanis performing Haj in 2024.
In conversation with a private news channel, the caretaker minister said abayas would also be given to female pilgrims, having a Pakistani flag on the backside, and 13kg suitcases would be given to all.
The minister called the reduction of around Rs100,000 in the Haj cost a "historic step" taken by the caretaker government, noting that a further Rs50,000 would be slashed and the amount would be refunded to the people in their accounts.
He said a new mobile application has been designed to assist pilgrims, which will provide navigation support and enable constant communication between pilgrims and relevant officials.
Initially available in English and Urdu, the application will later incorporate various regional languages, he said, adding, that the app would also provide digital training programmes to every pilgrim.
The minister also disclosed a project that Haj ministry, with the collaboration of the education ministry, has planned to convert city mosques into schools to enroll out-of-school children where the mosques' imams would play a leading role.
The minister said that mosques will play their role as community centers in every city areas, adding that imams will resolve community issues as well after offering prayers.
He said that haj ministry is taking all four provinces on board and enhancing the connectivity of mosques.
While describing another project, the minister said that his ministry with the collaboration of the health ministry has another project in the works, in which medical clinics will also be part of mosques.