Dense fog causes disruption of road and air traffic
Dense fog has caused disruption to air and road traffic in many areas of Punjab.
Multiple sections of Motorway have to be closed on Wednesday.
Motorway spokesman advised motorists to avoid unnecessary travel.
---
LAHORE: Several highways and motorways in many areas of Punjab remained closed on Wednesday due to thick fog. Intense fog conditions caused many trains to be delayed for hours.
Cold weather conditions also caused significant disruptions to flight schedules due to thick fog.
The Lahore-Multan Motorway from Faizpur to Nankana Sahib, the M-2 Motorway from Lahore to Kot Momin and the Lahore-Sialkot Motorway from Lahore to Sambrial remained closed for traffic, while traffic flow was badly affected on other highways in central Punjab especially GT Road due to poor visibility. A Motorways spokesperson advised drivers to avoid unnecessary travel, use fog lights on their vehicles, and call helpline 130 for assistance if needed.
Traffic remained congested on various roads entering and exiting Lahore, requiring high-ranking officials such as CTO Lahore Dr. Asad Malhi to visit problem areas such as Thokar Niaz Baig, Canal Road, Raiwind Road, Johar Town, Khayaban-e-Amin Township, and Multan Road to monitor traffic management. All vehicles entering from the Eastern Bypass, Thokar Niaz and Babu Sabu were prohibited due to the closure of the motorway. He stated that the number of wardens at the entry and exit routes had been increased to assist motorists. He said that the traffic wardens were working to keep traffic flowing in heavy fog, adding that citizens are being kept informed through the Raasta App and FM 88.6 about the fog situation.
Heavy fog at Allama Iqbal Airport reduced visibility to 50 meters, forcing the cancellation or delay of many domestic and foreign flights. Turkish Airlines flight TK 715 from Lahore to Istanbul, TK 714 from Istanbul to Lahore, Oman Airline flight WY 342 to Muscat were cancelled, while flight PK 740 from Jeddah to Lahore will be operated today (Thursday) at 4:30 am, says a CAA spokesperson.
Meanwhile, flight PK 203 from Dubai to Lahore was delayed for 10 hours, while flight PK 204 to Dubai will fly today (Thursday) at 4am; PK 840 from Jeddah to Lahore, PK 739 from Lahore to Jeddah, PA 413 from Sharjah to Lahore and PK 230 from Muscat to Lahore were also delayed.
A flight PF-146 from Lahore to Karachi and PF-145 from Karachi to Lahore were also canceled. CAA spokesperson said the visibility limit at Multan Airport was reduced to 600 meters, diverting flights to Islamabad including Dubai to Sialkot flight PK 180, Jeddah to Lahore PK 768, Madina to Lahore PK 848 and Madina to Lahore PK 748, and the passengers were dispatched to their cities in the buses provided by the airlines. The spokesperson advised the passengers to confirm flights schedule before leaving for airports, or visit www.caapakistan.com.pk or contact helpline numbers 080000114114 and 111222114.
The train schedule was also delayed by 7 to 8 hours due to heavy fog forcing passengers to suffer for hours under severe cold weather. Pak Business Express from Karachi to Lahore was delayed 7 hours, Pakistan Express was delayed 8 hours, Tezgam was delayed 6 hours, Rehman Baba Express was delayed 6 hours, Millat Express was delayed 5 hours, Allam Iqbal Express was delayed 5 hours, Khyber Mail was delayed 5 hours, Karachi Express was delayed 4 hours, Karakoram Express was delayed 3 hours, Jafar Express was delayed 4 hours, Baba Farid Express was delayed 3 hours.
Sindh schools winter vacations from Dec 22
KARACHI: The Sindh government on Thursday announced the winter vacation schedule for public and private educational institutions across the province.
According to a notification issued by the Sindh School, Education, and Literacy Department, the educational institutions in the province will observe winter vacation from December 22 to 31.
"In pursuance of decisions taken in the steering committee meeting, all public and private educational institutions under the administrative control of School Education and Literacy Department Government of Sindh shall remain closed w.e.f 22-12,023 to 31-12,023 for Winter Vacation."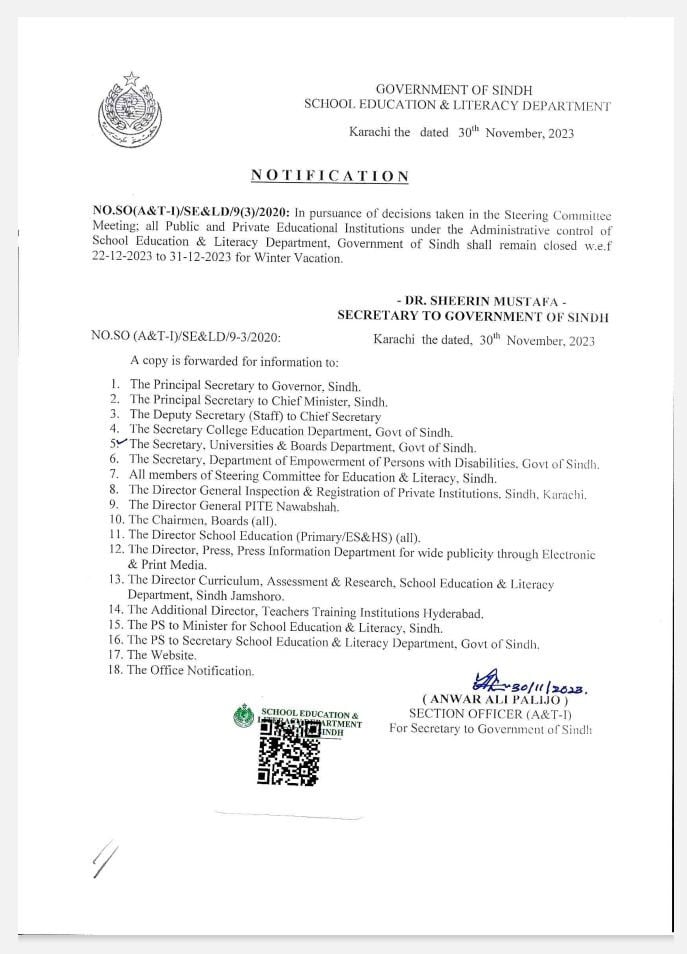 After the winter break, the educational institutions will reopen on Friday (January 1, 2024).  
Meanwhile, the new academic year in the public and private schools across Sindh will commence on April 15, 2024, and August 1, 2024, in the colleges.
The matriculation and intermediate exams will be started from the last week of May 2024, while the results will be announced on July 31 and the second week of August, respectively.
COAS Gen Asim Munir meets Kuwaiti crown prince
PM Anwaar-ul-Haq Kakar to meet Kuwaiti crown prince today.
Both army chief and PM are in Kuwait on official visit.
PM Office says multiple MoUs expected to be signed during visit.
---
Army chief General Asim Munir on Tuesday met Kuwait's Crown Prince Sheikh Mishal Al-Ahmed Al-Jaber Al-Sabah as part of his official visit to the gulf country, reported Kuwait News Agency (KUNA).
The meeting was also attended by Caretaker Law Minister Ahmed Irfan Aslam, Pakistan Ambassador to Kuwait Malik Mohammad Farooq and other members of the delegation.
Meanwhile, PM Kakar has also arrived in Kuwait City after concluding the UAE visit and is expected to meet the crown prince today, the PM Office said on Wednesday.
The premier will also meet his Kuwaiti counterpart Sheikh Ahmed Al-Nawaf Al-Ahmad Al-Sabah.
The PM office said that a number of memorandum of understanding (MoUs) will be signed for mutual cooperation in various sectors including manpower, information technology, minerals and mining, food security, energy and defence.
In UAE, Pakistan signed several MoUs worth multi-billion dollars in a range of areas on Monday to boost economic and strategic cooperation between the two countries, PM Kakar said.
The prime minister said with the signing of the MoUs, the bilateral economic and strategic relations had entered into a new era of bilateral cooperation.
Congratulating the people of Pakistan and the UAE, he said the foundation of friendship with Pakistan which was laid by Sheikh Zayed bin Sultan Al Nahyan in the 1970s, had been taken forward by his son Sheikh Mohamed bin Zayed Al Nahyan to a new era.
PM Kakar expressed the hope that the MoUs that were signed by the two countries would turn into tangible projects very soon.
Haj 2024: Pakistanis to get 'free SIMs with internet'
Caretaker Minister for Religious Affairs and Inter-faith Harmony Aneeq Ahmed said Tuesday that the government would provide free-of-cost mobile SIMs with roaming internet packages to Pakistanis performing Haj in 2024.
In conversation with a private news channel, the caretaker minister said abayas would also be given to female pilgrims, having a Pakistani flag on the backside, and 13kg suitcases would be given to all.
The minister called the reduction of around Rs100,000 in the Haj cost a "historic step" taken by the caretaker government, noting that a further Rs50,000 would be slashed and the amount would be refunded to the people in their accounts.
He said a new mobile application has been designed to assist pilgrims, which will provide navigation support and enable constant communication between pilgrims and relevant officials.
Initially available in English and Urdu, the application will later incorporate various regional languages, he said, adding, that the app would also provide digital training programmes to every pilgrim.
The minister also disclosed a project that Haj ministry, with the collaboration of the education ministry, has planned to convert city mosques into schools to enroll out-of-school children where the mosques' imams would play a leading role.
The minister said that mosques will play their role as community centers in every city areas, adding that imams will resolve community issues as well after offering prayers.
He said that haj ministry is taking all four provinces on board and enhancing the connectivity of mosques.
While describing another project, the minister said that his ministry with the collaboration of the health ministry has another project in the works, in which medical clinics will also be part of mosques.