'Cowardly': World reacts to attack on Imran Khan
Chaotic scenes broke out near PTI's reception camp at Allahwala Chowk in Gujranwala after gunshots were fired at PTI Chairman Imran Khan. He sustained a bullet injury to his leg and has now been shifted to Shaukat Khanum Hospital in Lahore, Geo News reported.
The police said that the suspect who opened fire on Khan's container has been arrested. Several other people, including PTI leader Faisal Javed, also sustained injuries.
Prime Minister Shahbaz Sharif, the Pakistan Army, and other politicians and government leaders have condemned the attack and called for an immediate investigation into the matter.
The attack has not only been condemned by Pakistani political leaders, activists, and social media users but people from around the world have also expressed shock and concern.
The prime minister of Canada, Justin Trudeau "strongly condemned this violence", adding that the attack was "completely unacceptable".
Khan's ex-wife Jemima Goldsmith called the man who foiled the assassination attempt on Khan a "hero" and posted his image on her Twitter.
Praying for the chairman's "swift recovery", Mehbooba Mufti, the president of the Jammu and Kashmir Peoples Democratic Party condemned the "cowardly attack".
The Indian Ministry of External Affairs spokesperson, Arindam Baghchi said that they were "closely following the situation."
Simranjit Singh Mann, who is a Member Of Parliament (Lok Sabha), striving for a separate state for Sikhs, thanked God that Khan had survived the attack. "Political differences should be sorted out on the table, not at shootouts," he said.
Ramazan Izoi, President of the Turkic World Youth Council, called the attack "vile" saying that Khan "sacrificed his life for the people of Pakistan and risked it".
"There is no room for violence in politics," said Elizabeth Threlkeld, a senior fellow at Stimson Centre, wishing a "speedy recover to Imran Khan".
Malala Yousufzai said that "attacks on leaders of any political belief or party are always wrong", wishing the chairman "full recovery".
Indian journalist Pramod Kumar Singh retweeted an old tweet by an "astrologer friend" who had asked Khan to be careful on road, saying that there was danger ahead.
Michael Kugelman, South Asia Institute Director at The Wilson Center said that the matter could have been "much worse" if a brave man had not intervened.
"Pakistan cannot handle more blood, and certainly not another assassinated former prime minister," said Indian journalist Muhammad Taqi.
The attacker, who has been arrested, confessed on camera alleging that "Imran Khan was misguiding people".
Weather to get pleasant as rain expected in Karachi, other cities
Weather in the country is expected to become pleasant as the Met Office has predicted more rains and relatively decreased temperatures from next week onwards.
According to the Pakistan Meteorological Department (PMD), the temperatures are likely to remain below normal across the country next week.
Areas, where wind, dust, thunderstorm and rain is expected, include Balochistan's Quetta, Zhob, Barkhan, Qilla Saifullah, Qillah Abdullah, Chaman, Pishin, Noshki, Naseerabad, Kalat, Lasbella, Khuzdar and Sibbi; Sindh's Sukkur, Dadu, Karachi, Hyderabad, Jacobabad, Shaheed Benazirabad, Mirpurkhas, Khairpur and Larkana; and Punjab's Layyah, Bhakkar, Dera Ghazi Khan, Rajanpur, Rahim Yar Khan, Bahawalnagar, Multan, Sahiwal, Khanewal, Okara and Pakpattan on May 28 (evening/night) and 30, the PMD stated.
Meanwhile, rain alongside wind, dust and thunderstorm with a few hailstorms and isolated heavy falls are expected in Kashmir's Neelum Valley, Muzaffarabad, Poonch, Hattian, Bagh, Haveli, Sudhanoti, Kotli, Bhimber, Mirpur; Gilgit-Baltistan's Diamir, Astore, Ghizer, Skardu, Hunza, Gilgit, Ghanche and Shigar.
Weather patterns will remain the same also in Chitral, Dir, Swat, Kohistan, Mansehra, Abbottabad, Haripur, Peshawar, Charsadda, Nowshera, Swabi, Mardan, Bajaur, Kurram, Waziristan, Kohat, Bannu, Tank, Karak, Dera Ismail Khan, Islamabad, Murree, Galliyat, Rawalpindi, Attock, Chakwal, Gujranwala, Sargodha, Sheikhupura, Faisalabad, Jhang, Toba Tek Singh, Nankana, Mandi Bahauddin, Khushab, Mianwali, Narowal, Sialkot, Kasur, Lahore and Jhelum with occasional gaps.
The meteorological authority added that downpour is expected in some places.
The Met Office has advised concerned authorities to remain alert to avoid any untoward situation during the forecast period owing to the expected dust and wind storm, as it may cause damage to lose structure and standing crops in Punjab, Khyber Pakhtunkhwa, Balochistan, Sindh and Kashmir from May 38 to 30.
It has asked farmers to remain cautious, while tourists have been advised to plan their activities accordingly. Meanwhile, the general public has been warned to remain at safer places during the dust storms/wind thunderstorm.
NDMA warns extreme climate events
Earlier this month, the National Disaster Management Authority (NDMA) warned provinces to gear up for extreme climate events including intensive heat waves, extraordinary snow melting, land sliding, flash floods, forest fires and cyclones, The News reported, citing an official letter from the disaster management authority.
The official letter informed all provincial governments of the extraordinary preparations needed to face probable extreme climate events between April and October.
Besides Provincial Disaster Management Authority (PDMA) Sindh, Balochistan and Gilgit-Baltistan (GB) were informed that PMD has forecast higher temperatures in northern regions and along the coastal belt during the period May-July.
Last Sunday, the NDMA also issued an advisory alert to all the federal and provincial departments concerned to ensure disaster preparedness measures after the PMD issued a rain-thunderstorm forecast from May 22-26.
'May 9 events are sad, condemnable': COAS Munir in address to families of martyrs
COAS Gen Asim Munir says such behaviour will not be tolerated.
Says nation will not forgive those who desecrated martyrs' memorials.
Gen Munir also invites Azra — daughter of martyr Sepoy Imran.
---
Chief of Army Staff (COAS) General Asim Munir on Thursday said that whatever happened May 9 — the day when violent protests gripped the country after Pakistan Tehreek-e-Insaf (PTI) Chairman Imran Khan — was very sad and condemnable.
His comments came during his visit to the Police Lines Headquarters in Islamabad on the occasion of Youm-e-Takreem Shuhada-e-Pakistan (Martyrs Reverence Day) to remember and pay rich tribute to the martyrs who laid their lives while defending the motherland and its people. 
The main event was held at the General Headquarters (GHQ), Rawalpindi with COAS Munir as the chief guest. During the ceremony, rich tributes were paid to the martyrs and prominent personalities laid flowers at the martyrs' monument.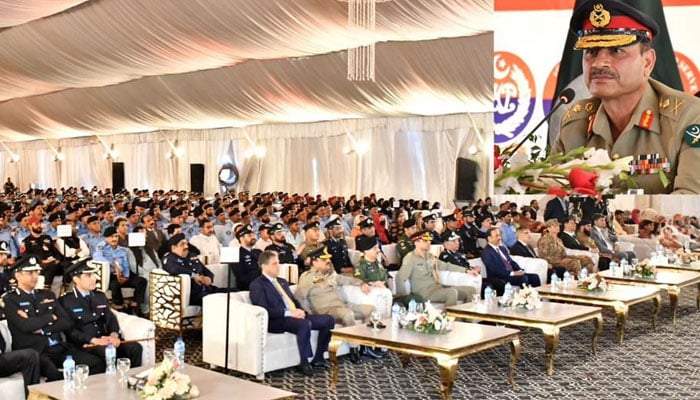 Those who attended the ceremony included former army chief Gen (retd) Qamar Javed Bajwa, former chairman joint chiefs of staff committee Gen (retd) Nadeem Raza, Pakistan cricket team captain Babar Azam, Mufti Muneeb ur Rehman and other members of the society.
The army chief was welcomed by the Inspector General of Police (IG) Islamabad Dr Akbar Nasir Khan where he addressed the police officials and families of the martyred policemen and personnel.
"Such behaviour will not be tolerated," said the army chief, adding that the nation will not forgive or forget those who desecrated the memorials of martyrs and undermined their dignity.
Gen Munir said that the Pakistan Army, police and law enforcement agencies are the symbols of the state and the first line of defence that would render sacrifices for the dignity of the country and the people.
"I want to convey this message to the heirs of those martyred that the people of Pakistan and the Pakistan Army are standing and will continue to do so with the relatives of the martyrs of all law enforcement agencies," he continued to say.
Gen Munir also invited the daughter of martyr Sepoy Imran, Azra, whose video condemning the May 9 events went viral. The army chief assured her that the sacrifices of the martyrs will never be forgotten.
"The Pakistan Army will always stand with you in every difficulty," he said, adding that all the martyrs of the country are a source of pride.
COAS promises to stand with children of martyrs
The army chief also met the school students and children of martyrs present on the occasion. He said that the Pakistan Army was the heir of all children of martyrs. Thanks to the eternal sacrifices of the martyrs, army's relationship with them was ideal and eternal, he added.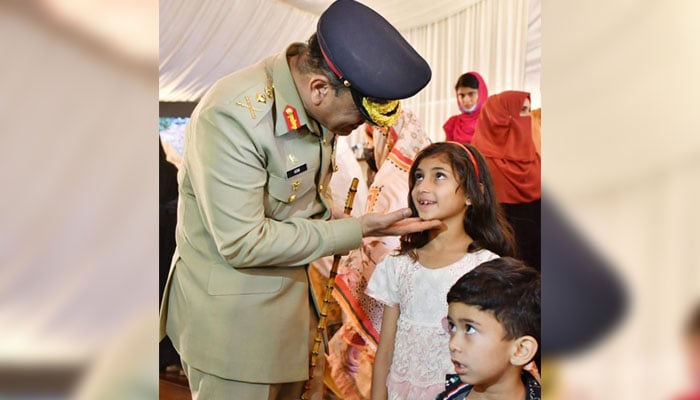 He pledged on behalf of the armed forces that the army would stand on their side always.
"A strong army is the guarantor of a country's security and unity," he maintained.
President Alvi, PM Shehbaz express pride over martyrs' valiance
In his message, President Arif Alvi said that the entire nation is proud of its valiant martyrs who displayed the spirit of patriotism and fearlessness in testing times throughout history.
"The nation owes to the heroism and sacrifices offered by the jawans (soldiers) and officers of our armed forces, including Pakistan Army, rangers, air force, navy, police, and other security institutions that made Pakistan's defence impregnable," a press release issued by President Secretariat Press Wing stated.
The president acknowledged the armed forces' services for crushing the menace of terrorism and assisting fellow countrymen during natural calamities and pandemics.
"Let us pledge on this day that we will never forget our valiant martyrs and reiterate our commitment to always honour them and express our undying love for these brave sons and daughters of the nation," the statement added.
Meanwhile, PM Shehbaz Sharif urged the people, especially the children, to visit monuments and graves of martyrs and shower flowers on them as a sign of affection and respect. He said Pakistan should show the world that it is a nation that holds its martyrs in veneration and affection.
He said that martyrs' reverence day is being observed to pay glowing tribute to the heroes and express unflinching solidarity with their families.
In a detailed tweet, the prime minister regretted and condemned the May 9 violence and desecration of martyrs' monuments, saying that the incidents gave the enemy a reason to celebrate.
"Our nation knows how to protect the honour of their martyrs. […] Today we revive and reiterate our pledge to uphold the honour and respect of our Shuhada. The essence of Pakistan's existence lies in the spiritual covenant between its people and the martyrs," PM wrote on Twitter.
Moreover, the chairman joint chiefs of staff committee, tri-services services chiefs, retired services officers and representatives of civil society also paid tributes to martyrs of Pakistan, a statement released by Inter-Services Public Relations said.
They said the sacrifices of the martyrs are eternal and will continue to inspire future generations of countrymen.
"These sacrifices will never be forgotten, irrespective of vicious propaganda by the enemies of Pakistan," it added.
Two soldiers among four martyred in N Waziristan suicide blast
Suicide bomber intended to target a public gathering, says ISPR.
"Soldiers sacrifice their lives to save numerous innocent lives."
Forces determined to eliminate the menace of terrorism, it adds.
RAWALPINDI: Two soldiers were among four people who embraced martyrdom in a suicide explosion in North Waziristan, confirmed the military's media wing on Wednesday.
A vehicle-borne suicide bomber exploded himself in the general area of Datta Khel and resultantly two soldiers, Naik Said Ullah Shah, 33, and Sepoy Jawad Khan, 31, a policeman and an innocent civilian were martyred, a statement from Inter-Services Public Relations (ISPR) said.
The military's media wing said: "The suicide bomber intended to target a public gathering but swift response by the security forces personnel prevented a major catastrophe as the soldiers immediately intercepted the suicide bomber vehicle on suspicion, sacrificing their lives to save numerous innocent lives."
Security forces and law enforcement agencies are determined to eliminate the menace of terrorism and such sacrifices of our brave soldiers and innocent citizens further strengthen our resolve, read the statement.
Six terrorists killed in S Waziristan
Earlier today, the security forces killed six terrorists during an intelligence-based operation (IBO) in South Waziristan.
A statement from the ISPR said the operation was conducted on the basis of the "reported presence of terrorists" in the general area of Kot Azam.
"During the conduct of operation, intense fire exchange occurred between security forces and terrorists, resulting in killing of 6 terrorists," read the statement.
The military's media wing said that weapons and ammunition were also recovered from the killed terrorists. The ISPR said that the militants were involved in terrorist activities against security forces, extortion and targeted killing of innocent citizens.