Coding competition Women Tech Quest hopes to reopen doors to IT industry for female coders
The IT industry does not have a lot of women working in it and that's a problem 10Pearls, a company that hosts workshops, webinars and training sessions, hopes to solve with its Women Tech Quest. The sixth edition of the competition was held on March 12 and allowed women to display their coding skills, gain recognition and win cash prizes. Motivational speakers were also brought in for sessions to inspire participants to make their way into the IT industry. The event was held simultaneously in three cities — Karachi, Islamabad and Lahore — where women took part in a coding competition.
What is the competition about?
There are three parts of the WTQ competition — coding, testing and design. During the coding session, women are given problems to solve via programming language. For the testing phase, participants are presented with a set of objectives to test database and automation concepts and for the third and final phase, the design competition, the competitors are required to solve a User Interface (UI) or User Experience (UX) challenge.
There are two categories in the competition for each stream (coding, testing and design) — professional and student. After entries are submitted by the participants, motivational speakers from the industry are invited to answer queries of the women taking part in the quest. Each city announces six winners from the competition, two per stream. In total, 18 winners receive grand prizes while rest of the participants are given gift bags and certificates for their participation.
Why WTQ?
10Pearls Human Capital Director Syeda Sana Hussain told Images, "Back in 2016 we started [noticing] that [while] there are women coders, we saw women in a lot of, what we call in the movies, 'side roles' as testers or designers. But coding is the meat of the entire development sector and women were not here. We sort of investigated in firms if it is a systemic problem that stems from universities."
Hussain gave an example of a university experience and said, "when you're giving your final year project, groups are made and men immediately take [coding] and women are given the documenting bit and management." She believes that this translates into the workforce and therefore, women are unsure about their coding skills, which is why they don't explore this sector. She said that this was the first problem they figured out.
The second problem, according to Hussain, was that women after a certain age started to disappear because there was no daycare support in a lot of companies. "These women unfortunately quit their profession after they conceive or get married. We felt that now these women might want to come back as their kids grow up but they don't necessarily have the right networks men do by staying in touch and and hanging out to maintain these relations," she said.
Hussain also said that women are generally "hesitant to ask for help," which is why they thought of creating an event that specifically targets women in the IT industry and coding in order for them to come together and for those women who stay at home.
"We received a phenomenal response at the first-ever WTQ and the first-ever winner of this competition was a stay at home mom who had not been working for five years and had three kids at home. So when she came to this event, she won and it boosted her self-confidence," she said. "We gave her a flexible job offer to work at her own hours and [she] slowly had the avenue to get back into the industry and that's the first achievement of this event," said Hussain.
The director also mentioned that women who previously participated in the WTQ competition are now working in international tech firms and always credit the platform for promoting their talent. However, what surprises them is how coders from all over Pakistan participate in the competition. "We get a lot of attendance from areas that you'd never think of, like Sargodha, Gujranwala and Chitral. Because it was virtual during Covid, we had a lot of interest from these areas, which made us realise that there is talent in these cities as well," she said.
Hussain's advice to participants is to always make a friend who can help them personally and professionally as the competition allows women to speak to one another and understand where they stand in a work environment. She also said that feedback about the competition being tough creates this need to learn more about coding as it makes them realise how much information women need to succeed in IT in general.
"The field obviously does not have a [good] gender balance. I feel it has a lot of potential because this is one of the only sectors that allows you to work from home completely and remotely and that's ideal for the socio-economic situation women live in. Unfortunately the gap is still there, which can only be resolved at a teaching level for which we have started a university, an online portal that's free of cost for women to get the required training," she explained.
'Have audacious dreams'
Founder of Oraan Tech, Halima Iqbal, told Images that it is important for the IT community to have events like WTQ so that women get to showcase their skill-sets and to meet other similar minded people. "Tech space is not as inclusive as we want it to be. The narrative is changing, there is a lot of work that is happening and I'm glad to see platforms like 10Pearls taking that step forward to include women," Iqbal said.
She also said that there is a lot of work that needs to be done but it has to be done on a regular basis to really make an impact. Giving advice to women wanting to do something career wise, Iqbal said, "Have audacious dreams, nobody can stop you if you have those dreams, whether it is in the tech space or any other space that you choose. Dream big, work hard and things will fall into place."
Sham Idrees announces break in his marriage with Froggy
YouTube's famous couple Sham Idrees and Froggy aka Sehar are taking sometime away from each other in their relationship.
Sham, taking it to his Instagram, left his fans in a shock after announcing his separation with Froggy. He wrote: "I would like to announce that me and froggy are taking sometime away from each other in our relationship. Please don't involve me in issues concerning froggy, rabil or any of the other family members. I appreciate some privacy during this difficult time."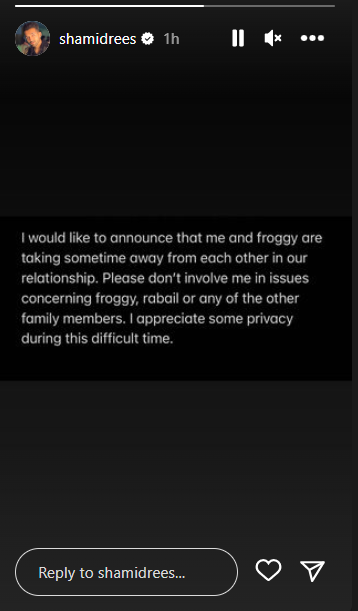 Sham is a Canadian based YouTuber, who has a following of 1.4 million people on Instagram, is widely-known for his entertaining content. His videos often feature his wife Sehar along with him.
The couple tied the knot a few years ago and is parents to baby Sierra who is two-years old. The duo welcomed another daughter on September 28, 2022. They named her Shanaya Idrees.
After the birth of his first daughter, Sham Idrees also introduced his fans to his daughter Dua from his previous marriage.
Massive power breakdown hits Pakistan
Minister says power generation units are temporarily shut in winter at night.
Says frequency variation in national grid triggered outage.
Says ministry trying to restore power in next 12 hours.
---
LAHORE/KARACHI/QUETTA/ISLAMABAD: A countrywide power breakdown, triggered by a "frequency variation" in the national grid early Monday morning, has left large parts of the country including Karachi, Lahore, Islamabad, Peshawar and Quetta without electricity.
Power Minister Khurrum Dastagir, while talking to Geo News, said that the power generation units are temporarily shut down in winter at night as an economic measure to save fuel costs.
"When the systems were turned on at 7:30am this morning one by one, frequency variation was reported in the southern part of the country between Jamshoro and Dadu. There was a fluctuation in voltage and power generating units were shut down one by one due to cascading impact. This is not a major crisis," said the federal minister as the country plunged into darkness for the second time in four months.
The minister said that his ministry has started restoring some grid stations in Tarbela and Warsak.
"Peshawar Electric Supply Company (PESCO) and some grids of Islamabad Electric Supply Company (IESCO) have already been restored," claimed the minister.
Talking about the breakdown in Karachi, the minister said that the matter in the port city is complicated as it has a complete electric supply system.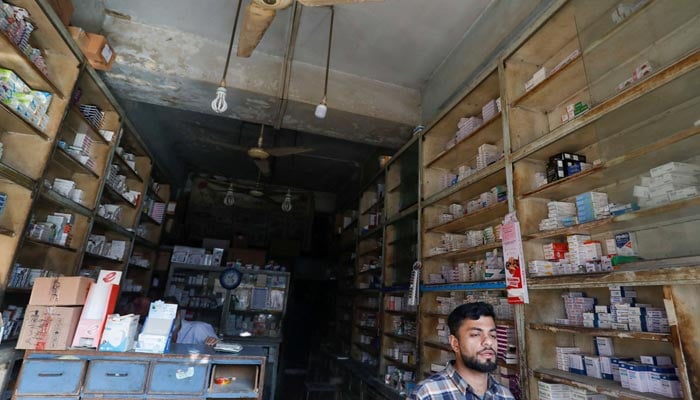 "We provide K-Electric about 1,000-1,100 megawatts routinely, however, it will be restored within a few hours. It is not certain how long will it take to sort this issue. However, my target is to restore electricity in the country in the next 12 hours," said the minister.
Before the energy ministry's announcement, different power distribution companies had confirmed the breakdown.
According to Quetta Electric Supply Company (QESCO), the two transmission lines have tripped leaving 22 districts of Balochistan, including Quetta without power.
Karachi power update
Meanwhile, K-Electric spokesperson Imran Rana said that at approximately 7:34am today, the national grid experienced a loss of frequency, affecting the power supply to multiple cities across Pakistan
"This has also cascaded to KE's network affecting power supply to Karachi," Rana said, adding the KE's network is safe and protected.
"Our teams are actively monitoring the situation and enabling restoration efforts."
An IESCO spokesperson said that its 117 grid stations were without electricity.
Meanwhile, PESCO also confirmed the outage in areas where it supplies electricity.
This is the second time within four months that a country was hit by a major power breakdown.
NEPRA takes notice
The National Electric Power Regulatory Authority (NEPRA), in a statement, said that it has taken "serious notice" of the power outage and directed the National Transmission & Despatch Company (NTDC) to submit a "detailed report".
The statement also said that the regulator has previously imposed fines on similar outages in the 2021 and 2022. It also shared that NEPRA has consistently issued directives and recommendations on tackling such events in future.
Previous breakdown
In October of last year, Karachi, Hyderabad, Sukkur, Quetta, Multan, and Faisalabad were hit by a power outage.
At that time, the power minister said that nearly 8,000 megawatts of power went offline.
Back then, Dastagir had said that the simultaneous faults in two power lines, which had triggered the breakdown, at the same time was concerning for the government. He had also announced that an in-depth inquiry was ordered and promised action.
A timeline of power breakdowns in Pakistan
The country's generation and distribution network has suffered eight major power breakdowns during the last nine years.
In 2014 and 2017, nationwide blackouts were caused by a fault in Tarbela Power Station while fog, frequency variation and the Guddu Power Plant fault were blamed for breakdowns in 2015, 2018, 2019, 2021, 2022 and 2023.
Every time the party in power announced to conduct a comprehensive probe and vowed to rectify the issues but nothing has happened despite multiple inquiries.
Punjab ordered to issue divorce certificates to non-Muslims
Lahore High Court directs provincial authority to frame rules within 90 days.
Petitioner says issue is faced by many members of Christian community.
NADRA's Registration Policy allows change of marital status on basis of affidavit.
---
The Lahore High Court (LHC) Wednesday directed the Punjab government to frame, within 90 days, rules under which union councils would issue divorce certificates to members of Christian and other non-Muslim communities in Pakistan.
In many parts of the country, the divorce certificates are not issued to non-Muslims by union councils that instead claimed such certificates were "not issued to the Christian community." This is an issue for members of the said community because, without a divorce certificate, they cannot request the National Database and Registration Authority (NADRA) to update their marital status while applying for the renewal of their identity cards.
The matter was brought to the attention of the LHC during the case Shumaila Sharif vs the secretary union council etc.
The petitioner in her appeal requested that the court is a writ of Mandamus — an order from a court to an inferior government official ordering the government official to properly — against the relevant union council and direct it to issue her the divorce certificate.
The case proceedings
The petition was heard on December 16 last year and the presiding judge was Judge Tariq Saleem Sheikh.
During the proceedings, the counsel of the petitioner, Advocate Umar Saeed, said that the issue was faced by several people in the Christian community and was not a one-off incident.
Citing Section 33 (1)(j) of the Punjab Local Government Act 2022 (PLGA 2022) — which mandates that union councils ensure registration of births, deaths, marriages and divorces for all the communities without discrimination — and Article 36 of the Constitution, which expressly requires the state to protect the minorities' legitimate rights and interests, the counsel argued that by refusing to issue the requisite certificate, the council was failing to fulfil its legal duty.
Additionally, Advocate Kashif Alexander, the court's amicus curiae on the matter, contended that obtaining a divorce certificate is a legal right that cannot be denied.
Together the two emphasise that while the Constitution of Pakistan (1973) does not explicitly guarantee the right to identity, Article 9 (right to life) and Article 14 (dignity of man) safeguard that right. Therefore, any citizen whose marital status changes due to the dissolution of marriage by divorce has a fundamental right to obtain a divorce certificate from the competent authority and then have their CNIC updated/revised.
The Additional Advocate General has little to defend the respondents and said that the provincial government was taking steps to address the complaints of the Christian community regarding the non-issuance of divorce certificates.
The verdict
During the proceedings, it was brought to the court's attention that NADRA's Registration Policy dated 06.04.2021 (Version 5.0.2) allowed a change of marital status of a divorcee on the basis of an affidavit in the prescribed form.
In light of this, the court directed that until the provincial government framed the requisite rules needed for the issuance of the divorce certificate by the union council, NADRA shall accommodate the Christian community in accordance with the Registration Policy 19.