Bilquis Edhi laid to rest in Karachi
Bilquis' funeral prayers offered at New Memon Masjid Kharadar.
She passed away in Karachi a day earlier at the age of 74.
CM Sindh, JI's Rehman, other leaders present at funeral prayer.
---
KARACHI: Bilquis Bano Edhi, the wife of renowned humanitarian and philanthropist Abdul Sattar Edhi, was laid to rest at the Mewa Shah graveyard on Saturday — after Zuhr prayers.
Bilquis' funeral prayers were offered at the New Memon Masjid Kharadar shortly before her burial.
Expressing his grief over the sad demise of his mother, Faisal Edhi said he was left alone, adding that her mother gave him courage after the death of his father.
He paid tribute to Bilquis Edhi and said that she had been managing all the operations of the Edhi Foundation.
A day earlier, Bilquis Bano Edhi passed away at the age of 74 after a brief hospitalisation. She was admitted to a hospital in Karachi for three days and was rushed there after her blood pressure had suddenly dropped. According to an Edhi Foundation spokesperson, Bilquis was ill for the last one month.
Chief Minister Sindh Murad Ali Shah, Amir Jamaat-e-Islami Karachi Haiz Naeemur Rehman, and other political leaders were present at the funeral of the philanthropist.
'Day of mourning'
Meanwhile, the Sindh government has announced to observe a 'day of mourning' today on her sad demise.
"#SindhGovt has declared tomorrow as a day of mourning to pay its respect to the contributions made by Bilqees Edhi Sahiba in the field of social service," Sindh government spokesperson Murtaza Wahab said on Friday.
Profile
Born in Indian Gujrat on August 14, 1947, Bilquis was a professional nurse and headed the Bilquis Edhi Foundation. She married Abdul Sattar Edhi in April 1966.
She spent more than six decades of her life serving humanity in need.
Her charity has saved over 42,000 unwanted babies so far by placing "jhoolas" [cradles] at the Edhi Homes and centres across the country.
She leaves behind four children, Faisal, Kubra, Zeenat and Almas from her marriage with Abdul Sattar Edhi.
In recognition of her services to humanity, she was awarded the Hilal-e-Imtiaz by Pakistan, the Lenin Peace Prize by Russia, as well as the Mother Teresa Memorial International Award for Social Justice in 2015.
Punjab polls case hearing adjourned indefinitely after suo motu review law 'comes into effect'
Larger bench to hear review plea under new law.
CJP Bandial says the situation is "interesting".
Court indefinitely adjourns hearing on ECP plea.
---
ISLAMABAD: The Supreme Court Monday indefinitely adjourned the hearing on the Election Commission of Pakistan's (ECP) petition against the top court's order of holding Punjab's general elections on May 14 after the court was apprised that a law for the review of suo motu judgements had come into effect.
The Supreme Court Review of Judgements and Orders Bill, 2023, came into force Friday after President Arif Alvi's assent. The law states that for reviewing a suo motu judgement, a bigger bench — than the one that issued the order — will hear the case.
"In case of judgements and orders of the SC in exercise of its original jurisdiction under Article 184 of the Constitution, the scope of review on both facts and law, shall be the same as an appeal under Article 185 of the Constitution," the law reads.
A three-member bench — headed by Chief Justice of Pakistan Umar Ata Bandial and comprising Justice Ijaz Ul Ahsan and Justice Munib Akhtar — heard the plea.
This is the same bench that issued the April 4 verdict — under Article 184 (3) or the suo motu law. It had directed the commission to hold elections in Punjab in the mid of May and ordered the federal and Punjab governments to provide assistance to the ECP.
Despite the top court's order, the federal government expressed its inability to provide funds to the election commission and the armed forces had said they could not provide security due to the ongoing law and order situation.
So even with the presence of the order, the polls did not take place on May 14.
'Happy' CJP
At the outset of today's hearing, Attorney General for Pakistan Mansoor Usman Awan told the court that a law for challenging suo motu orders has come into effect.
He added that under the new law's section 2, the orders issued under Article 184 (3) could be appealed against.
"This law will have retrospective effect," he noted, at which Justice Akhtar said this is why ECP lawyer Sajeel Swati is smiling.
Responding to the AGP, CJP Bandial said the situation is interesting. He added that the court understands the need for reviewing suo motu orders.
Through the Supreme Court (Practice and Procedure) Act, 2023, the government created a new "judicial jurisdiction", the CJP noted, adding that the rulers tried intervening with the court's administrative matters.
"But I am happy that this law [the review act] is only related to Article 184(3)."
The CJP added that "everyone" should reconsider their stance.
"After the May 9 incidents, try to find a silver lining. Try to bridge the differences. Try to bring balance and peace to the system and hold elections through the right procedure."
Court did not invalidate commission: CJP
Moving on, the CJP told the attorney-general that he must have read the court's judgement in the audio leaks commission case. "Keep in mind that the court did not invalidate the commission," CJP Banidal remarked.
It may be noted that the Supreme Court Friday stayed the proceedings of the high-powered judicial commission formed to probe the audio leaks related to the judiciary, as well as the federal government's notification on the commission's constitution.
Justice Qazi Faez Isa, when he resumed the proceedings of the audio leaks commission the next day, raised questions over the SC order stopping the judicial panel from working.
Today, CJP Bandial said that the court has to protect the independence of the judiciary.
The top judge remarked that things will not work when secret meetings take place.
"It is a historical accident that there is only one chief justice," he added.
The CJP said that the court had seen the notifications for the Memogate Commission, Abbottabad Commission and the commissions set up in the Shahzad Saleem murder case. He said that all the judicial commissions are constituted at the will of the chief justice.
"If you want to investigate something, it should be done through proper procedures. I will not form a commission consisting myself," he added.
The top judge also gave the option of investigations through another judge, saying that "this political temperature will not improve livelihood and law and order".
Pakistani surgeon sets world record in robotic surgery for women
LONDON: A Pakistani surgeon Dr Amer Raza is leading the innovative Da Vinci surgical robotic surgery for the treatment of endometriosis, which affects pregnancy for women of all ages.
Dr Raza has led a team of surgeons to perform the maximum number of complex gynaecology operations in two days at London's Chelsea and Westminster Hospital — setting a new record of not only using an innovative robotic technology but also doing 12 major operations in a day.
Amer Raza, a graduate of Nishtar Medical College, Multan, has not only performed the operations but also set a world record of doing 12 major operations in a day.
Robotic surgery is the most modern type of keyhole surgery in which a surgeon operates in the patient's abdomen through instruments controlled from a distance.
Dr Raza is a renowned expert in endometriosis, in which women suffer from pelvic pains and period pains which have a major adverse impact on conceiving. The condition not only affects the pelvic organs but also the bowel, bladder and nerves. The disease affects women from young age to old age and tens of millions of women across the world suffer from this condition.
He graduated from Nishtar Medical College, Multan, and has been trained as a laparoscopic surgeon. He is now one of the world's leading surgeons in endometriosis and complex pelvic disease.
He is also the director of the world-class International Centre of Endometriosis Cromwell Hospital, London, and is leading a big team of multi-speciality surgeons. Dr Raza is also the Founder and Director of CCMIG Chelsea Centre of minimal access surgery, which organises national and international laparoscopic courses across the world. He travels to the Middle East, Pakistan, Africa and Europe to teach laparoscopic gynaecology courses.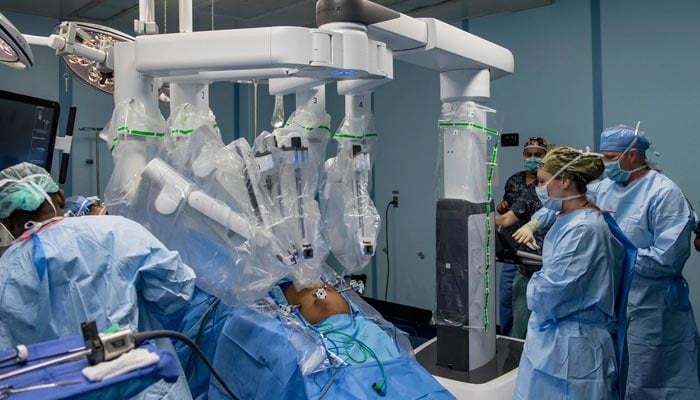 Speaking to Geo News, Dr Amer Raza said: "Since COVID, our National Health Service (NHS) has been under huge pressure of long waiting times. We have pioneered the most efficient strategic planning to do the most number of operations with the help of robotics in two days. Robotics technology allows a doctor to complete the operation in a shorter time with more safety and accuracy than a conventional approach. I am very excited that we have achieved this landmark and that our efforts will help women of all age groups.
"Robotic surgery is now attracting the attention of clinicians and patients alike due to its benefits. The technique will be adopted in hospitals across the world and many robotic systems are being introduced in the health sector. Endometriosis causes debilitating symptoms including chronic pelvic pain, fatigue and fertility problems. Surgery can help to provide pain relief."
Dr Raza said that he and his team crafted a care model in which preoperative work, surgical approach by robotics and after-operation discharge was planned. Robotic surgery allows the team to finish the operation in a relatively shorter time than a conventional laparoscopic approach, saving 30-50 minutes in each surgery to enable the team to do more operations.
"The new technique also causes less blood loss and the recovery period is significantly faster. We were assisted by a team of 20 staff members who worked very efficiently to enable us to do this," said the British Pakistani doctor.
Dr Raza said he owes a lot to Pakistan and will be working with doctors and hospitals in Pakistan to introduce robotic technology to help women. "I look forward to working with doctors in Pakistan. Britain has thousands of doctors from Pakistan who are doing great work in the NHS. I am glad that the British press has highlighted my contribution which is a credit to Pakistan," he said.
Dr Raza has recently been featured on Channel 4 and dozens of English papers covering his achievement and hailing it as a breakthrough for women.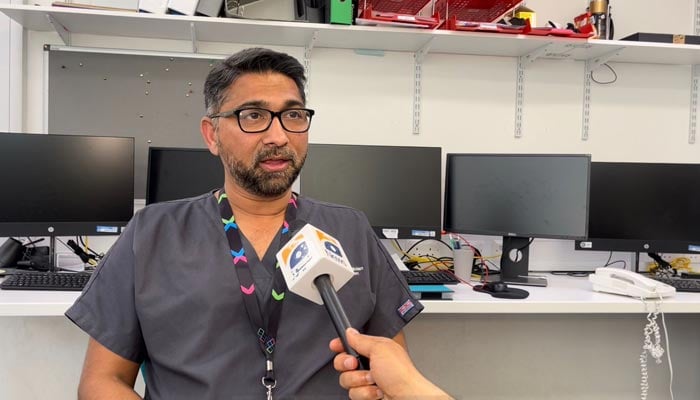 He said that one in 10 women in the UK are affected by endometriosis. There are many ways to explain the disease but primarily the inside lining of the uterus called endometrium comes outside the uterus and leads to adhesions and causing pelvic pains.
The diseases increase in over half of the cases and cause severe debilitating problems such as bowel and ureteric issues. Endometriosis involves the ovaries in almost half the cases and can cause damage to ovaries and fertility.
According to NHS statistics, half a million women are currently on a waiting list for gynaecology treatment in the UK and more than 5,000 have been waiting more than 18 months. The organisation and strategic planning along with innovative robotic surgery is the way forward to address the huge backlog in the NHS.
Dr Raza is originally from the village of Babi in Tehsil Taunsa. He started his career at Nishtar Medical College Multan and then moved to the UK in Birmingham. He has worked in many hospitals before being employed as endometriosis and laparoscopic surgeon in Chelsea and Westminster hospitals.
Weather to get pleasant as rain expected in Karachi, other cities
Weather in the country is expected to become pleasant as the Met Office has predicted more rains and relatively decreased temperatures from next week onwards.
According to the Pakistan Meteorological Department (PMD), the temperatures are likely to remain below normal across the country next week.
Areas, where wind, dust, thunderstorm and rain is expected, include Balochistan's Quetta, Zhob, Barkhan, Qilla Saifullah, Qillah Abdullah, Chaman, Pishin, Noshki, Naseerabad, Kalat, Lasbella, Khuzdar and Sibbi; Sindh's Sukkur, Dadu, Karachi, Hyderabad, Jacobabad, Shaheed Benazirabad, Mirpurkhas, Khairpur and Larkana; and Punjab's Layyah, Bhakkar, Dera Ghazi Khan, Rajanpur, Rahim Yar Khan, Bahawalnagar, Multan, Sahiwal, Khanewal, Okara and Pakpattan on May 28 (evening/night) and 30, the PMD stated.
Meanwhile, rain alongside wind, dust and thunderstorm with a few hailstorms and isolated heavy falls are expected in Kashmir's Neelum Valley, Muzaffarabad, Poonch, Hattian, Bagh, Haveli, Sudhanoti, Kotli, Bhimber, Mirpur; Gilgit-Baltistan's Diamir, Astore, Ghizer, Skardu, Hunza, Gilgit, Ghanche and Shigar.
Weather patterns will remain the same also in Chitral, Dir, Swat, Kohistan, Mansehra, Abbottabad, Haripur, Peshawar, Charsadda, Nowshera, Swabi, Mardan, Bajaur, Kurram, Waziristan, Kohat, Bannu, Tank, Karak, Dera Ismail Khan, Islamabad, Murree, Galliyat, Rawalpindi, Attock, Chakwal, Gujranwala, Sargodha, Sheikhupura, Faisalabad, Jhang, Toba Tek Singh, Nankana, Mandi Bahauddin, Khushab, Mianwali, Narowal, Sialkot, Kasur, Lahore and Jhelum with occasional gaps.
The meteorological authority added that downpour is expected in some places.
The Met Office has advised concerned authorities to remain alert to avoid any untoward situation during the forecast period owing to the expected dust and wind storm, as it may cause damage to lose structure and standing crops in Punjab, Khyber Pakhtunkhwa, Balochistan, Sindh and Kashmir from May 38 to 30.
It has asked farmers to remain cautious, while tourists have been advised to plan their activities accordingly. Meanwhile, the general public has been warned to remain at safer places during the dust storms/wind thunderstorm.
NDMA warns extreme climate events
Earlier this month, the National Disaster Management Authority (NDMA) warned provinces to gear up for extreme climate events including intensive heat waves, extraordinary snow melting, land sliding, flash floods, forest fires and cyclones, The News reported, citing an official letter from the disaster management authority.
The official letter informed all provincial governments of the extraordinary preparations needed to face probable extreme climate events between April and October.
Besides Provincial Disaster Management Authority (PDMA) Sindh, Balochistan and Gilgit-Baltistan (GB) were informed that PMD has forecast higher temperatures in northern regions and along the coastal belt during the period May-July.
Last Sunday, the NDMA also issued an advisory alert to all the federal and provincial departments concerned to ensure disaster preparedness measures after the PMD issued a rain-thunderstorm forecast from May 22-26.