Are you deleting your search history correctly? You may not be
Most people ask Google questions which some are unable to ask publicly. And after asking them they delete their search history. What if we tell you that you have been deleting your history wrongly and that your browsing data was still with Google?
Yes, it is true. To delete it permanently, it takes a further secret step.
Generally, people go into the history bar and delete the browsing history from their Chrome browser.
But if you take this one step, you will be able to delete data that's associated with your account.
For this, you need to tap your image right at the top right corner of your Chrome next to the search bar.
Click "Manage your Google Account", which will lead to a menu with several tabs.
Type "My Activity" in the search bar on that page where "Search Google Account" is written. Clicking "My Activity" will lead you to your search history. In order to delete these searchers, click on the delete button.
There is also an option available which allows you to delete your history at a specific time.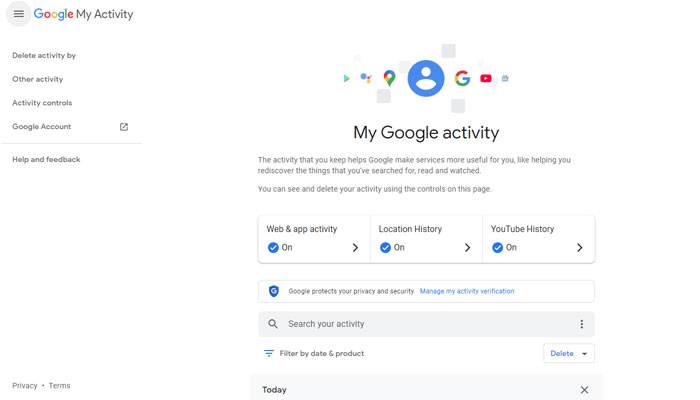 As you proceed further, Google will present you a list which includes whether you only want to erase the history of the google chrome browser or that would include YouTube too.
Moving further step, you will be asked for final confirmation after the history is deleted.
While this process does delete your history, Google states that other data will be kept for as long as you keep your account in order to help the tech giant improve its services.
Google's privacy terms, read: "We keep some data for the life of your Google Account if it's useful for helping us understand how users interact with our features and how we can improve our services."
It further read: "For example, after you delete a specific Google search from My Activity, we might keep information about how often you search for things, but not what you searched for. When you delete your Google Account, the information about how often you search for things is also removed."
My Activity button can also be used to change your location history after which Google would be suggesting you personalised data.
This feature is for age 18 by default.
The advice from Google reads: "When you turn on Location History, you may see a number of benefits across Google products and services, including personalized maps, recommendations based on places you've visited, help to find your phone, real-time traffic updates about your commute, and more useful ads."
Chinese space expert believes India's Chandrayaan-3 did not land on lunar south pole
Chandrayaan-3's location on earth would be within Antarctic Circle. 
ISRO awaits to establish contact with Chandrayaan-3 a week later.
US and China planning to send astronauts to the lunar south pole.
---
Tensions between India and China have spilled over into space exploration following the former's recent achievement of a significant milestone with the successful landing of the Chandrayaan-3 on the moon's southern pole, surpassing Beijing's previous record.
However, a prominent Chinese scientist has disputed the landing site's location, asserting that it is not actually situated in the southern pole region or anywhere near it.
The Chandrayaan-3 landing location, at 69 degrees south latitude, is far from the pole, which is defined as being between 88.5 and 90 degrees, Ouyang Ziyuan, who is credited with founding China's lunar exploration programme told the Chinese publication Science Times.
On Earth, 69 degrees south would be within the Antarctic Circle, but the lunar version of the circle is much closer to the pole. The Chandrayaan-3 was 619 kilometres (385 miles) distant from the polar region, Ouyang said.
After the successful landing of Chandrayaan-3, Pang Zhihao, a Beijing-based senior space expert, said that China had much better technology, Bloomberg reported.
"China's space program has been capable of sending orbiters and landers directly into earth-moon transfer orbit since the launch of Chang'e-2 in 2010, a manoeuvre that India has yet to deliver given the limited capacity of its launch vehicles. The engine that China used is also far more advanced," Zhihao said.
Still, India's Chandrayaan-3 went much farther south than any other spacecraft, according to Mint.
The Indian space agency, ISRO, is now waiting to establish contact with the Vikram lander and Pragyan rover on Chandrayaan-3 after the rover went into sleep mode a week ago.
Till the next moon sunset, which is scheduled for October 6, the Indian space agency will keep trying to revive the Chandrayaan-3 lander and rover.
Chang'e 4, a Chinese spacecraft, made the first landing on the far side of the moon in 2019 at a latitude of 45 degrees south. In 1968, Surveyor 7, an unmanned Nasa spacecraft, landed on the moon in a position of roughly 41 degrees south.
Moreover, both the US and China are looking to the region in preparation for their forthcoming ambitions to send astronauts to the moon for the first time since Nasa's Apollo programme came to an end 50 years ago.
WATCH: Meta's AI-fuelled chatbots bring celebrities to your private conversations
Mark Zuckerberg, the CEO of Meta Platforms, has just dropped a bombshell of tech innovations set to change the way we interact with AI.
Among the highlights are smart glasses that redefine connectivity, AI-powered chatbots with celebrity personas, and an updated virtual reality headset.
Personality-infused chatbots
Meta is at the forefront of the chatbot revolution, introducing a series of intelligent virtual assistants.
These chatbots are not your ordinary digital helpers. They come with distinct personalities and specialisations, offering more personalised and engaging interactions.
From settling arguments to providing holiday tips and cooking advice, Meta's chatbots are designed to connect with users on a deeper level.
Meta's Ray-Ban smart glasses
Shipping from October 17th at £299, the new generation of Meta's Ray-Ban smart glasses is set to redefine how we experience reality.
These cutting-edge glasses incorporate a Meta AI assistant, enabling users to seamlessly stream their real-world experiences directly to Facebook and Instagram.
Gone are the days of mere photo capturing. These glasses deliver real-time immersion.
Quest 3: The ultimate mixed-reality experience
Meta's Quest 3 headset, slated to be available from October 10th, takes mixed reality to new heights.
With a starting price of £500, it's positioned as the best value in the VR industry, challenging Apple's higher-priced Vision Pro headset.
Wearers can enjoy virtual experiences while maintaining a connection to the real world, thanks to a live video feed.
Generative AI
Meta also introduced generative AI into its arsenal. This AI innovation can generate both text responses and lifelike images, adding an exciting element of creativity to user interactions.
Zuckerberg's presentation at the Meta Connect conference, the company's first in-person event since the pandemic, showcased Meta's commitment to making cutting-edge technology accessible and affordable to everyone.
By combining celebrity personas with AI chatbots and delivering immersive tech experiences, Meta is forging a path towards a more interactive and entertaining digital future.
WATCH: Google search engine shows off creative doodle to celebrate 25th anniversary
Over 25 years ago, a unique concept for an internet search engine that would classify and rank web pages was developed by two Stanford University students during a brainstorming session in their dorm.
BackRub, initially a startup, transformed into Google, a globally influential company with products like Gmail and Search used by billions, while its co-founders Larry Page and Sergey Brin ranked among the world's richest people.
While Google Inc was incorporated on September 4, for more than a decade the company has celebrated its birthday on September 27 with unique doodles displayed on its search engine.
However, this year, Google Inc decided to take a "walk down memory lane" and showcased a series of creative different doodles, including doodles of previous logos, to mark this special occasion.
This year's Google Doodle comes with a GIF that shows the term 'Google' going through a series of transformations before finally transforming to 'G25gle'.
The tech giant said that it was using this day as a "time to reflect" while being oriented towards the future.
"Today's Doodle celebrates Google's 25th year. And while here at Google we're oriented towards the future, birthdays can also be a time to reflect. Let's take a walk down memory lane to learn how we were born 25 years ago," Google wrote in its blog.
Google was founded by Sergey Brin and Larry Page in the late 90s, who met in Stanford University's computer science program.
They shared a vision to make the World Wide Web more accessible, working tirelessly from their dorm rooms to develop a better search engine prototype.
"As they made meaningful progress on the project, they moved the operation to Google's first office — a rented garage. On September 27, 1998, Google Inc was officially born," according to the blog.
Furthermore, the company emphasised that much has changed since 1998, but also said that its mission has remained the same which is "to organise the world's information and make it universally accessible and useful".
Thanking users for "evolving with us over the past 25 years," Google added, "We can't wait to see where the future takes us, together".
Google's CEO, Sundar Pichai, celebrated the company's birthday by reflecting on its journey in a note last month.
He looked back on the company's role in technology transformation, and its future path while thanking users, employees, and partners for their contributions to Google's success.
He also praised the constant innovation challenge and commended the dedication of past and present Googlers.
In his note, Pichai also noted the importance of innovation and adaptation, acknowledging that the once extraordinary technology quickly became ordinary as the boundaries continued to be pushed, NDTV reported.