5 million feared sick over next 12 weeks in flooded areas due to disease outbreak
People likely to get diarrhea, cholera, gastroenteritis, typhoid, dengue and malaria.
Children at risk of getting measles, which can spread like fire among the displaced populations, and polio.
A disease outbreak would initially require medicines and medical supplies worth Rs1 billion.
---
Health experts have sounded the alarm regarding the outbreak of disease in flood-affected areas, estimating around five million people to fall sick in the next four to 12 weeks, The News reported.
People in the flooded areas of Sindh, Balochistan, southern Punjab and Khyber Pakhtunkhwa are likely to get diarrhea, cholera, gastroenteritis, typhoid and vector-borne diseases like dengue and malaria, the health experts warned on Tuesday.
It is estimated that a disease outbreak would initially require medicines and medical supplies worth Rs1 billion, they said, and urged donors, philanthropists and common people to donate these after consulting health experts and officials of rescue and welfare organisations.
"Of the 33 million people affected due to monsoon rains and floods across Pakistan, it is estimated that around five million people, including children, would get sick due to outbreak of water-borne and vector-borne diseases in the next four to 12 weeks.
"As there is no clean drinking water available in the flood-ravaged areas, there is a risk of outbreak of diarrhea, cholera, typhoid, gastroenteritis, dengue and malaria," renowned public health expert and Vice-Chancellor of the Health Services Academy (HSA) Islamabad Dr Shahzad Ali told The News on Tuesday.
He said children would be more vulnerable due to weak immunity and warned that an outbreak of acute watery diarrhea, and other water-borne diseases could kill hundreds of children and adults if immediate preventive measures were not adopted.
"There is an urgent need to vaccinate all the people in the flood affected areas against typhoid-cholera. This vaccine is available in the country and it can be deployed to prevent deaths from typhoid and cholera in Sindh and Balochistan. Similarly, prophylactic treatment of malaria should also be started to prevent deaths from the vector-borne disease," Dr Khan said.
Urging the authorities to make anti-snake venom and anti-rabies vaccines available in abundance, he said hundreds of incidents of snake-bite and dog-bite had been reported from KP, Sindh and Balochistan.
Former health director-general and an expert on infectious diseases Dr Rana Muhammad Safdar was of the opinion that children in the flood affected areas were the most vulnerable and needed immediate medical attention, saying immunisation programmes of the provinces should reach out to unvaccinated children.
"In addition to diarrhea and other water-borne diseases, children are at the risk of getting measles which can spread like fire among the displaced populations. Polio is another threat and unfortunately, we have seen wild poliovirus 1 circulating in many cities of KP and Punjab, while it can travel to the other cities where it has not yet been found," Dr Safdar said.
On the other hand, officials of the welfare organisations working in the flood-hit areas said a large number of people, including women and children, had already started suffering from water-borne infections, including diarrhea, gastroenteritis, cholera, fever, flu, allergy, scabies and other fungal skin ailments.
"We also believe that around Rs1 billion would be required initially to meet the medical needs of sick people in the flood-hit areas as hundreds of people are getting sick due to water-borne and vector-borne diseases in these areas," said Sufyan Ahmed, Managing Director of the Al-Khidmat Health Foundation, who is coordinating with the charity and welfare organisations for relief operations in the flood-hit areas across Pakistan.
According to Ahmed, in the absence of any guidelines, a huge quantity of unwanted medicines were being donated which go to waste or are misused in the name of flood victims.
"In these circumstances, we have prepared guidelines for relief operations with the assistance from Pakistan Society of Health-System Pharmacists. These guidelines provide a complete list of medicines, medical supplies and other stuff that is needed by the patients in distress at the moment," Ahmed said.
He then referred to the guideline which carried details of several medicines for anti-infectives (oral), cough and cold preps, pain/colic, fever management (oral), pregnancy or female care, antacids, wound dressing, vomiting/nausea (oral), anti-diarrheal (oral) and others as basic first aid supplies. The list also identified several medicine supplies for the healthcare units, which are required in the flood hit areas.
The health authorities, he said, were also coordinating with the local pharmaceuticals and charity and welfare organisations to help them reach out to the affected areas in dire need of medical supplies.
"One such engagement was facilitated between local pharmaceutical company Pharmevo and Al-Khidmat Foundation and the former is providing Rs5 million medicines to the latter for the affected areas of Sindh and Balochistan in the first phase," he said. "It's a gigantic task and the government alone cannot handle the situation. So we are engaging all individuals and organisations and channelising the operation for effective results."
The fresh initiative, he said, was aimed at giving patients access to basic clinical services for their medicinal needs, better than what the local infrastructure has to offer in a very disastrous situation.
Sindh schools winter vacations from Dec 22
KARACHI: The Sindh government on Thursday announced the winter vacation schedule for public and private educational institutions across the province.
According to a notification issued by the Sindh School, Education, and Literacy Department, the educational institutions in the province will observe winter vacation from December 22 to 31.
"In pursuance of decisions taken in the steering committee meeting, all public and private educational institutions under the administrative control of School Education and Literacy Department Government of Sindh shall remain closed w.e.f 22-12,023 to 31-12,023 for Winter Vacation."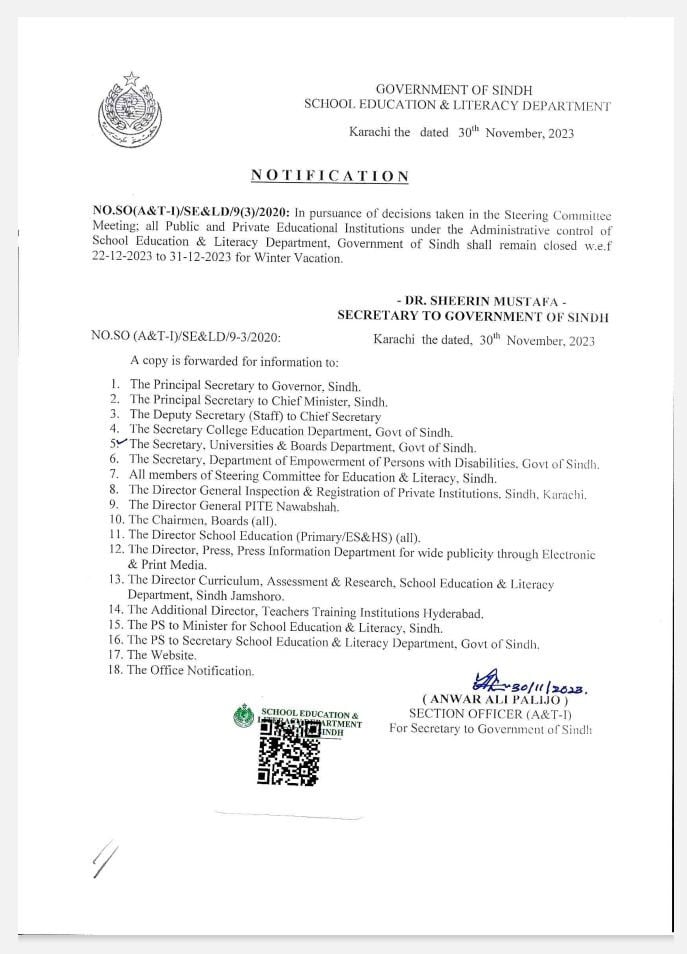 After the winter break, the educational institutions will reopen on Friday (January 1, 2024).  
Meanwhile, the new academic year in the public and private schools across Sindh will commence on April 15, 2024, and August 1, 2024, in the colleges.
The matriculation and intermediate exams will be started from the last week of May 2024, while the results will be announced on July 31 and the second week of August, respectively.
COAS Gen Asim Munir meets Kuwaiti crown prince
PM Anwaar-ul-Haq Kakar to meet Kuwaiti crown prince today.
Both army chief and PM are in Kuwait on official visit.
PM Office says multiple MoUs expected to be signed during visit.
---
Army chief General Asim Munir on Tuesday met Kuwait's Crown Prince Sheikh Mishal Al-Ahmed Al-Jaber Al-Sabah as part of his official visit to the gulf country, reported Kuwait News Agency (KUNA).
The meeting was also attended by Caretaker Law Minister Ahmed Irfan Aslam, Pakistan Ambassador to Kuwait Malik Mohammad Farooq and other members of the delegation.
Meanwhile, PM Kakar has also arrived in Kuwait City after concluding the UAE visit and is expected to meet the crown prince today, the PM Office said on Wednesday.
The premier will also meet his Kuwaiti counterpart Sheikh Ahmed Al-Nawaf Al-Ahmad Al-Sabah.
The PM office said that a number of memorandum of understanding (MoUs) will be signed for mutual cooperation in various sectors including manpower, information technology, minerals and mining, food security, energy and defence.
In UAE, Pakistan signed several MoUs worth multi-billion dollars in a range of areas on Monday to boost economic and strategic cooperation between the two countries, PM Kakar said.
The prime minister said with the signing of the MoUs, the bilateral economic and strategic relations had entered into a new era of bilateral cooperation.
Congratulating the people of Pakistan and the UAE, he said the foundation of friendship with Pakistan which was laid by Sheikh Zayed bin Sultan Al Nahyan in the 1970s, had been taken forward by his son Sheikh Mohamed bin Zayed Al Nahyan to a new era.
PM Kakar expressed the hope that the MoUs that were signed by the two countries would turn into tangible projects very soon.
Haj 2024: Pakistanis to get 'free SIMs with internet'
Caretaker Minister for Religious Affairs and Inter-faith Harmony Aneeq Ahmed said Tuesday that the government would provide free-of-cost mobile SIMs with roaming internet packages to Pakistanis performing Haj in 2024.
In conversation with a private news channel, the caretaker minister said abayas would also be given to female pilgrims, having a Pakistani flag on the backside, and 13kg suitcases would be given to all.
The minister called the reduction of around Rs100,000 in the Haj cost a "historic step" taken by the caretaker government, noting that a further Rs50,000 would be slashed and the amount would be refunded to the people in their accounts.
He said a new mobile application has been designed to assist pilgrims, which will provide navigation support and enable constant communication between pilgrims and relevant officials.
Initially available in English and Urdu, the application will later incorporate various regional languages, he said, adding, that the app would also provide digital training programmes to every pilgrim.
The minister also disclosed a project that Haj ministry, with the collaboration of the education ministry, has planned to convert city mosques into schools to enroll out-of-school children where the mosques' imams would play a leading role.
The minister said that mosques will play their role as community centers in every city areas, adding that imams will resolve community issues as well after offering prayers.
He said that haj ministry is taking all four provinces on board and enhancing the connectivity of mosques.
While describing another project, the minister said that his ministry with the collaboration of the health ministry has another project in the works, in which medical clinics will also be part of mosques.