5 million feared sick over next 12 weeks in flooded areas due to disease outbreak
People likely to get diarrhea, cholera, gastroenteritis, typhoid, dengue and malaria.
Children at risk of getting measles, which can spread like fire among the displaced populations, and polio.
A disease outbreak would initially require medicines and medical supplies worth Rs1 billion.
---
Health experts have sounded the alarm regarding the outbreak of disease in flood-affected areas, estimating around five million people to fall sick in the next four to 12 weeks, The News reported.
People in the flooded areas of Sindh, Balochistan, southern Punjab and Khyber Pakhtunkhwa are likely to get diarrhea, cholera, gastroenteritis, typhoid and vector-borne diseases like dengue and malaria, the health experts warned on Tuesday.
It is estimated that a disease outbreak would initially require medicines and medical supplies worth Rs1 billion, they said, and urged donors, philanthropists and common people to donate these after consulting health experts and officials of rescue and welfare organisations.
"Of the 33 million people affected due to monsoon rains and floods across Pakistan, it is estimated that around five million people, including children, would get sick due to outbreak of water-borne and vector-borne diseases in the next four to 12 weeks.
"As there is no clean drinking water available in the flood-ravaged areas, there is a risk of outbreak of diarrhea, cholera, typhoid, gastroenteritis, dengue and malaria," renowned public health expert and Vice-Chancellor of the Health Services Academy (HSA) Islamabad Dr Shahzad Ali told The News on Tuesday.
He said children would be more vulnerable due to weak immunity and warned that an outbreak of acute watery diarrhea, and other water-borne diseases could kill hundreds of children and adults if immediate preventive measures were not adopted.
"There is an urgent need to vaccinate all the people in the flood affected areas against typhoid-cholera. This vaccine is available in the country and it can be deployed to prevent deaths from typhoid and cholera in Sindh and Balochistan. Similarly, prophylactic treatment of malaria should also be started to prevent deaths from the vector-borne disease," Dr Khan said.
Urging the authorities to make anti-snake venom and anti-rabies vaccines available in abundance, he said hundreds of incidents of snake-bite and dog-bite had been reported from KP, Sindh and Balochistan.
Former health director-general and an expert on infectious diseases Dr Rana Muhammad Safdar was of the opinion that children in the flood affected areas were the most vulnerable and needed immediate medical attention, saying immunisation programmes of the provinces should reach out to unvaccinated children.
"In addition to diarrhea and other water-borne diseases, children are at the risk of getting measles which can spread like fire among the displaced populations. Polio is another threat and unfortunately, we have seen wild poliovirus 1 circulating in many cities of KP and Punjab, while it can travel to the other cities where it has not yet been found," Dr Safdar said.
On the other hand, officials of the welfare organisations working in the flood-hit areas said a large number of people, including women and children, had already started suffering from water-borne infections, including diarrhea, gastroenteritis, cholera, fever, flu, allergy, scabies and other fungal skin ailments.
"We also believe that around Rs1 billion would be required initially to meet the medical needs of sick people in the flood-hit areas as hundreds of people are getting sick due to water-borne and vector-borne diseases in these areas," said Sufyan Ahmed, Managing Director of the Al-Khidmat Health Foundation, who is coordinating with the charity and welfare organisations for relief operations in the flood-hit areas across Pakistan.
According to Ahmed, in the absence of any guidelines, a huge quantity of unwanted medicines were being donated which go to waste or are misused in the name of flood victims.
"In these circumstances, we have prepared guidelines for relief operations with the assistance from Pakistan Society of Health-System Pharmacists. These guidelines provide a complete list of medicines, medical supplies and other stuff that is needed by the patients in distress at the moment," Ahmed said.
He then referred to the guideline which carried details of several medicines for anti-infectives (oral), cough and cold preps, pain/colic, fever management (oral), pregnancy or female care, antacids, wound dressing, vomiting/nausea (oral), anti-diarrheal (oral) and others as basic first aid supplies. The list also identified several medicine supplies for the healthcare units, which are required in the flood hit areas.
The health authorities, he said, were also coordinating with the local pharmaceuticals and charity and welfare organisations to help them reach out to the affected areas in dire need of medical supplies.
"One such engagement was facilitated between local pharmaceutical company Pharmevo and Al-Khidmat Foundation and the former is providing Rs5 million medicines to the latter for the affected areas of Sindh and Balochistan in the first phase," he said. "It's a gigantic task and the government alone cannot handle the situation. So we are engaging all individuals and organisations and channelising the operation for effective results."
The fresh initiative, he said, was aimed at giving patients access to basic clinical services for their medicinal needs, better than what the local infrastructure has to offer in a very disastrous situation.
KU students end protest after 'picked up' student returns
KARACHI: Students of Karachi University called off their protest after a fellow student who was allegedly "picked up" from the varsity's premises returned.
A KU student confirmed to Geo News that Saqib, the student who was allegedly "whisked away", has returned.
The students of the varsity had launched a protest, earlier today, after Saqib was allegedly "taken away".
The protesters told Geo News that the student, studying at the Department of Urdu, was allegedly whisked away by some people in plain clothes. They said the men claimed they were from a law enforcement agency.
However, KU Security Adviser Dr Moiz Khan said Rangers have disassociated themselves from the incident.
The university's administration analysed the closed-circuit television (CCTV) footage to identify the students and the people who picked him up.
After the incident, the students staged a protest outside KU's Silver Jubilee Gate and blocked the University Road.
However, upon the police's request, they shifted their protest to the front of the varsity's administration block.
The Islami Jamiat-e-Talaba (IJT) claimed that the student was its worker.
Jibran Nasir's 'kidnapping' case registered hours after he was 'picked up' in Karachi's DHA
Cases registered under sections 365 and 34 of PPC.
Nasir's wife seeks immediate release of her husband.
Protest today at 4:00pm at KPC to demand Nasir's release.
---
KARACHI: The port city's police have registered a "kidnapping" case of prominent lawyer and human rights activist Jibran Nasir on the complaint of his wife, Mansha Pasha, hours after the advocate was "picked up" from Defence Housing Authority (DHA) area.
The case has been registered at the Clifton Police Station under two sections of the Pakistan Penal Code — 365 (kidnapping or abducting with intent secretly and wrongfully to confine a person) and 34 (Acts done by several persons in furtherance of common intention).
Pasha, a renowned actress, told police in an application earlier that her husband was "picked up" by men on Thursday night.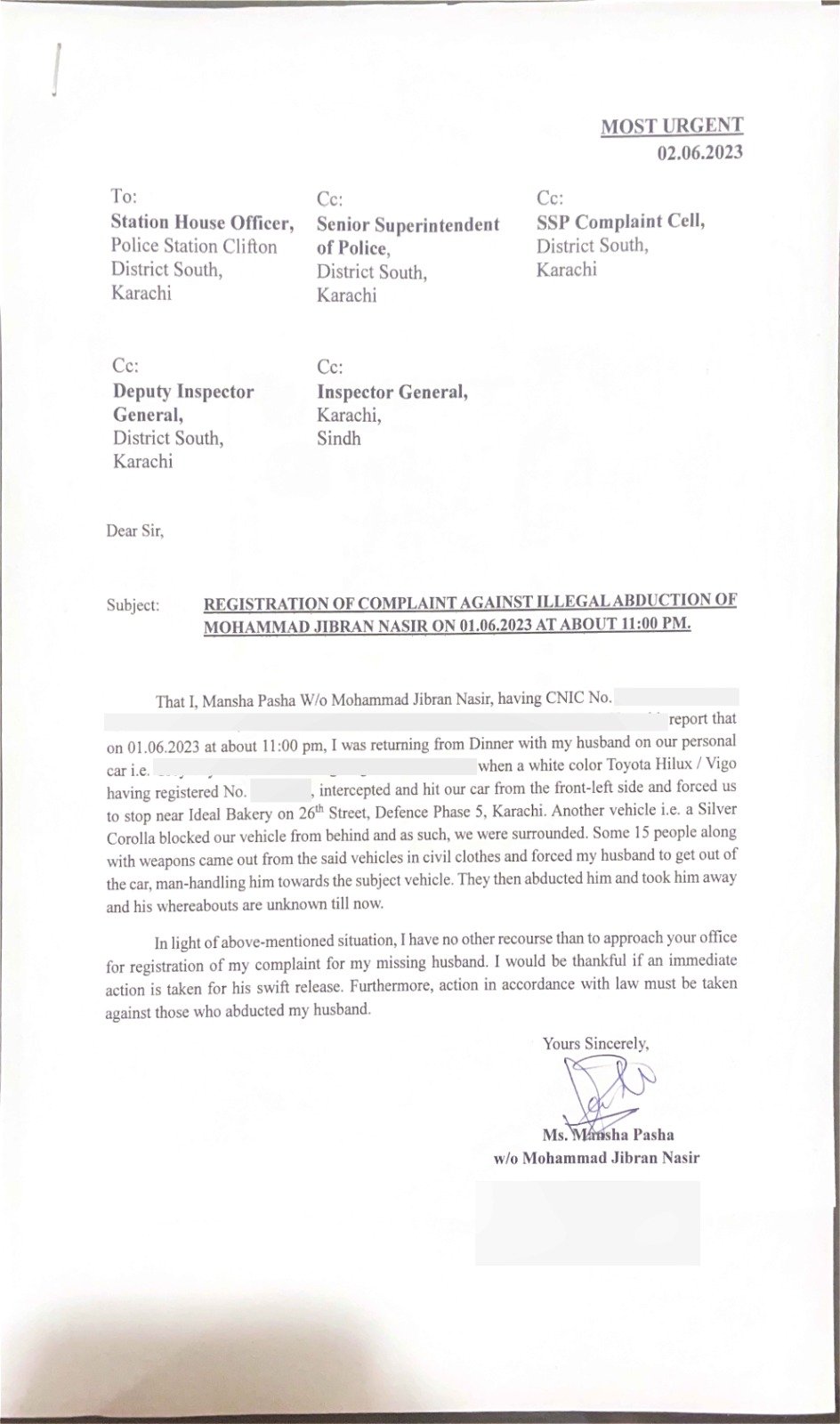 Police were at first, according to Pasha, not registering the FIR. She said she would move the court if the law enforcers did not register the case.
She stated: "On 01.06.2023 at about 11:00 pm, I was returning from dinner with my husband in our personal car … when a white color Toyota Hilux / Vigo … intercepted and hit our car from the front-left side and forced us to stop near Ideal Bakery on 26th Street, Defence Phase 5, Karachi."
She further added: "Another vehicle i.e. a Silver Corolla blocked our vehicle from behind and as such, we were surrounded. Some 15 people along with weapons came out from the said vehicles in civil clothes and forced my husband to get out of the car, man-handling him towards the subject vehicle. They then abducted him and took him away and his whereabouts are unknown till now."
In her application, she also requested immediate action be taken to ensure his swift release.
"In light of the above-mentioned situation, I have no other recourse than to approach your office for registration of my complaint for my missing husband. I would be thankful if an immediate action is taken for his swift release. Furthermore, action in accordance with law must be taken against those who abducted my husband," she wrote.
Furthermore, Pasha told Geo News that a protest was being held at 4:00pm at the Karachi Press Club to demand her husband's release.
Condemnations
As the news of Nasir's abduction went viral, several people and human rights organisations condemned the incident.
Concerned by the abduction, they demanded that Nasir be returned home safely and quickly.
The Human Rights Commission of Pakistan (HRCP) took to Twitter stating: "HRCP is deeply concerned by reports that lawyer and activist [Jibran Nasir] has been abducted by unknown armed persons in Karachi. We demand that he be safely recovered immediately and his abductors held accountable under the law."
Prime Minister's Strategic Reforms Salman Sufi also tweeted his support for the human rights activist.
"Very disturbing to hear about [Jibran Nasir] abduction. Hope Sindh police will assist his family and locate him immediately. Jibran has always spoken against violent extremism and rioting. Hoping for his safe and immediate return," he wrote.
Moreover, Imaan Mazari, the daughter of the former human rights minister Shireen Mazari expressed his dismay at the news.
"No words… complete madness," she tweeted.
8-year-old girl raped in Islamabad
Afghan girl was raped by a man in broad daylight.
Case lodged at Shahzad Town Police Station.
Medico-legal official confirms the girl's rape.
---
ISLAMABAD: An 8-year-old Afghan girl was raped by a man in broad daylight who managed to run away in the presence of residents of Mohallah Diptian falling in the jurisdiction of Shahzad Town Police Station, The News reported Friday.
The minor victim was shifted to a hospital where the medico-legal official confirmed the rape.
The Shahzad Town police have registered the case against the unidentified rapist under sections 376 and 377/B of the Pakistan Penal Code on the complaint of the father of the victim but couldn't hunt down the rapist till the filing of this report.
Hazar Gul, an Afghan national, hailing from Jalalabad, lodged a complaint with the Shahzad Town, saying that he was living in Mohallah Diptian, located near Mariam Masjid with his family for a couple of months.
"I was present at my house along with my elder brother when we heard some noises from the street, we rushed out of the house and witnessed a young man running towards us, consequently, without knowing the reason for his escape, we both tried to intercept him but he succeeded to let loose from our clutches and ran off from our custody," the complainant narrating his story, said.
However, he said, "We moved towards the place where people of the street were gathered and saw my minor daughter crying."
Upon query, the minor victim told him the tale of the brutal attack on her, saying she was playing near her house when she was dragged by the rapist into an under-construction house and raped forcibly.
The DPO (Rural) has taken up the case and asked the Shahzad Town police to take the case as a challenge and use all their efforts to make headway to arrest the rapist, the police sources said.
The SP has constituted teams and sent them to different locations to get a clue about the rapist.
The sources added that the police have rounded up a few suspects for investigation, claiming that the police teams would make headway to the criminal and hunt him down within the next 24 hours.