Unprecedented condemnation of UK Home Secretary's racist anti-Pakistan rhetoric
LONDON: Faith leaders, community groups, professional forums and activists have come together to issue unprecedented condemnation of the Home Secretary Suella Braverman's racist, Islamophobic, irresponsible and divisive rhetoric on child sexual exploitation linking it with Pakistanis.
The Home Secretary's racist and inflammatory comments from a series of interviews last week have been labelled as "inflammatory and divisive rhetoric that is sensationalist and contradicts her own department's evidence".
Pakistani organisations have been joined by British Nigerian, British Indian, British Bengali and others in mounting condemnation of the Home Secretary, arguing that the Home Secretary's rhetoric overlooks the impact "cuts in public sector and community services under the current government have had on young people increasing their vulnerability".
British Pakistan Foundation (BPF) has called on Prime Minister Rishi Sunak to distance himself from Braverman's extremist rhetoric and issue an apology to British Pakistanis.
The Muslim Women's network and others who have evidenced and worked with Asian victims of grooming have commented: "The Home Secretary's approach of demonising an entire community and lending credibility to far-right narratives undermine the need to ensure all victims of CSE are protected and all perpetrators are brought to justice."
Whilst Community organizations across England, Wales and Scotland labelled the Home Secretary's approach as "an act of collective punishment for the reprehensible acts of a few," senior leaders from the world of finance and business called on the Prime Minister to withdraw the Home Secretary's remarks arguing that a failure to do so would be viewed as "a government led by you seen as encouraging and normalising bigotry targeted at British Pakistanis".
In a letter to PM Sunak, the British Pakistan Foundation said its 18,000 strong members wanted action from the PM.
The letter by the BPF said: "We are writing to you to share our deep concern and disappointment at the Home Secretary's recent comments and for you not speaking out against them. These comments singled out only the involvement of British Pakistani males in so-called "grooming gangs" and "holding cultural values totally at odds with "British values".
"A report commissioned by the Home Office in 2020, entitled "The characteristics of group-based child sexual exploitation in the community", concluded that the majority of child sexual exploitation offenders are White and further went on to note that, despite some high-profile cases, links between ethnicity and this form of offending cannot be proven. The NSPCC's Chief Executive warned that the further entrenchment of such a narrative could create 'new blind spots that prevent victims from being identified'. Further, the National Policing lead on child sexual abuse emphasised that 'child abusers come from all parts of our society and sadly most abuse happens in the home'.
"These conclusions are supported by the conviction last week of 21 individuals of both genders and from "white" British ethnicity, who over a decade sexually abused young children in Walsall."
The letter added: "Recent examples of violence rooted in the ethnicity narrative include the riots outside a hotel housing migrant in Knowsley (February 2023), the firebomb attack on an immigration centre in Dover (November 2022), the massacre in Christchurch, New Zealand (March 2019), the attack on a crowd close to Finsbury Park Mosque (January 2018) and the murder of an innocent 81-year-old man in Rotherham (August 2015). The divisive and dangerous way in which the Home Secretary is seeking to portray all British Pakistani males and insinuating that the community is complicit in their actions is reprehensible. We, therefore, ask you to immediately clarify the Home Secretary's claims and ask her to withdraw her remarks. We also ask for your prompt engagement with the British Pakistani community, and others, on this issue to ensure that the Home Secretary's irresponsible words, and a government led by you, are not seen as encouraging and normalising bigotry targeted at British Pakistanis."
Dozens of leading Muslim organisations have also written to the Prime Minister demanding an apology – or risk losing complete faith in the community.
The joint letter says the community is appalled at the Home Secretary's recent comments where she described British Pakistani males as holding "cultural values totally at odds with British values who see women in a demeaned and illegitimate way and who pursue an outdated and frankly heinous approach in the way that they behave".
The letter to the PM says: "These remarks and others were made by the Home Secretary without caveats and were not limited to those convicted of Child Sexual Exploitation (CSE) but instead stereotyped and targeted an entire community. We wholeheartedly condemn all those convicted of CSE and stand with the victims of child abuse. It is a shame for all in our country that 1 in 10 children have suffered sexual abuse and that half a million children are sexually exploited every year. The Home Secretary's approach, however, of demonising an entire community and lending credibility to far-right narratives undermine the need to ensure all victims of CSE are protected and all perpetrators are brought to justice.
"The Home Secretary's words are the latest in a long line of comments by her and others targeting communities with little regard for the real-life consequences that flow from such comments by politicians. Hate crime in the UK is on the rise with recent high-profile attacks in Dover and Knowsley following shortly after incendiary language from Ministers. In the past, unfounded rhetoric has had real world consequences. In 2019 a far-right terrorist in Christchurch, New Zealand wrote "for Rotherham" on his ammunition before opening fire at a mosque killing 51 people. In 2020 false rumours about "grooming" in Barrow led to far-right harassment of Asians in the town. The Home Secretary's comment encourages the likelihood of such further attacks.
"The Home Secretary's approach is an act of collective punishment for the reprehensible acts of a few. We therefore ask you to publicly distance yourself from the Home Secretary's claims which are clearly unsubstantiated and ask you to withdraw her remarks. We also ask you to end your government's policy of disengagement with British Muslims and ensure that the Home Secretary's irresponsible words are not seen as yet another example of a government led by you, encouraging and normalising bigotry targeting your fellow British citizens."
The joint letter has been penned by Muslim Women's Network; Muslim Council of Wales; British Muslim Heritage Centre; Islamic Society of Britain; Bury Council of Mosques; Rochdale Council of Mosques; Liverpool Regional Mosque Network; West London Islamic Centre; London Muslim Forum; Cheadle Masjid; Ilford Islamic Centre; Wifaqul Ulama; Manchester Muslim Community; Woking Muslim Welfare Association; Zakariyya Jaami'e Masjid Bolton; Brent Muslim Burial Council; Apna Haq; Finsbury Mosque; Al Madina Mosque Barking; Masjid Anwar Blackburn; East End Islamic Centre; Masjid Bilal; Anjuman e Islamia Newham; Jamia Masjid Khizra Bury; The Worthing Masjid;
Muslim Council of Britain; Muslim Council of Scotland; Council of Sri Lankan Muslim Organisations; Federation Of Student Islamic Societies; Muslim Council of Southampton; Lancashire Council of Mosques; Shahjahan Mosque Woking; Bristol Muslim Strategic Leadership Group; Hazrat Sultan Bahu Trust; Pakistan Community Centre London; Union of Muslim Organisations; Walsall Federation of Muslim Organisations Leicester Muslim Engagement and Development; Rushmoor Muslim Association; Bait Mohammed Academy Blackburn; Quwwatul Islam Rotherham; Community Muslim Forum; Central Mosque Brent; Muhafiz Islamic Portal; Newham Muslim Forum; Masjid-E-Kuba; Masjid Al' Habib; Masjid E Tauheed Manor Park; and Southampton Madina Mosque.
Sindh schools winter vacations from Dec 22
KARACHI: The Sindh government on Thursday announced the winter vacation schedule for public and private educational institutions across the province.
According to a notification issued by the Sindh School, Education, and Literacy Department, the educational institutions in the province will observe winter vacation from December 22 to 31.
"In pursuance of decisions taken in the steering committee meeting, all public and private educational institutions under the administrative control of School Education and Literacy Department Government of Sindh shall remain closed w.e.f 22-12,023 to 31-12,023 for Winter Vacation."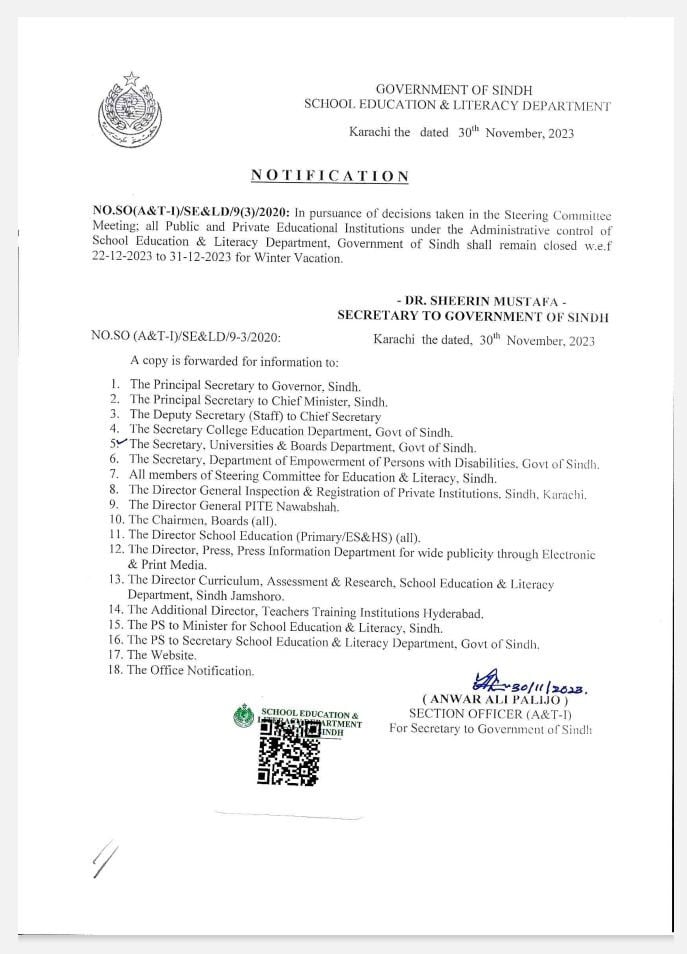 After the winter break, the educational institutions will reopen on Friday (January 1, 2024).  
Meanwhile, the new academic year in the public and private schools across Sindh will commence on April 15, 2024, and August 1, 2024, in the colleges.
The matriculation and intermediate exams will be started from the last week of May 2024, while the results will be announced on July 31 and the second week of August, respectively.
COAS Gen Asim Munir meets Kuwaiti crown prince
PM Anwaar-ul-Haq Kakar to meet Kuwaiti crown prince today.
Both army chief and PM are in Kuwait on official visit.
PM Office says multiple MoUs expected to be signed during visit.
---
Army chief General Asim Munir on Tuesday met Kuwait's Crown Prince Sheikh Mishal Al-Ahmed Al-Jaber Al-Sabah as part of his official visit to the gulf country, reported Kuwait News Agency (KUNA).
The meeting was also attended by Caretaker Law Minister Ahmed Irfan Aslam, Pakistan Ambassador to Kuwait Malik Mohammad Farooq and other members of the delegation.
Meanwhile, PM Kakar has also arrived in Kuwait City after concluding the UAE visit and is expected to meet the crown prince today, the PM Office said on Wednesday.
The premier will also meet his Kuwaiti counterpart Sheikh Ahmed Al-Nawaf Al-Ahmad Al-Sabah.
The PM office said that a number of memorandum of understanding (MoUs) will be signed for mutual cooperation in various sectors including manpower, information technology, minerals and mining, food security, energy and defence.
In UAE, Pakistan signed several MoUs worth multi-billion dollars in a range of areas on Monday to boost economic and strategic cooperation between the two countries, PM Kakar said.
The prime minister said with the signing of the MoUs, the bilateral economic and strategic relations had entered into a new era of bilateral cooperation.
Congratulating the people of Pakistan and the UAE, he said the foundation of friendship with Pakistan which was laid by Sheikh Zayed bin Sultan Al Nahyan in the 1970s, had been taken forward by his son Sheikh Mohamed bin Zayed Al Nahyan to a new era.
PM Kakar expressed the hope that the MoUs that were signed by the two countries would turn into tangible projects very soon.
Haj 2024: Pakistanis to get 'free SIMs with internet'
Caretaker Minister for Religious Affairs and Inter-faith Harmony Aneeq Ahmed said Tuesday that the government would provide free-of-cost mobile SIMs with roaming internet packages to Pakistanis performing Haj in 2024.
In conversation with a private news channel, the caretaker minister said abayas would also be given to female pilgrims, having a Pakistani flag on the backside, and 13kg suitcases would be given to all.
The minister called the reduction of around Rs100,000 in the Haj cost a "historic step" taken by the caretaker government, noting that a further Rs50,000 would be slashed and the amount would be refunded to the people in their accounts.
He said a new mobile application has been designed to assist pilgrims, which will provide navigation support and enable constant communication between pilgrims and relevant officials.
Initially available in English and Urdu, the application will later incorporate various regional languages, he said, adding, that the app would also provide digital training programmes to every pilgrim.
The minister also disclosed a project that Haj ministry, with the collaboration of the education ministry, has planned to convert city mosques into schools to enroll out-of-school children where the mosques' imams would play a leading role.
The minister said that mosques will play their role as community centers in every city areas, adding that imams will resolve community issues as well after offering prayers.
He said that haj ministry is taking all four provinces on board and enhancing the connectivity of mosques.
While describing another project, the minister said that his ministry with the collaboration of the health ministry has another project in the works, in which medical clinics will also be part of mosques.