Pakistan to take up issue of Afghan nationals' involvement in extortion
CTD arrests two TTP militants involved in extorting politicians.
CTD official says TTP extorting businessmen, politicians, others.
Arrested TTP militants are Afghan nationals, says CTD official.
---
Pakistan plans to take up the issue of Afghan nationals' involvement in extorting Pakistani citizens once again, a top official said Tuesday, as Islamabad ramps up efforts to safeguard its people from cross-border threats.
The authorities have time and again mentioned that Afghan citizens were involved in terrorism, extortion, and other illicit activities in Pakistan, asking the neighbouring nation to take action against such elements.
In a press conference in Peshawar, DIG Counter Terrorism Finance Imran Shahid said the Pakistani side has decided to raise the matter of Afghan citizens' involvement in extortion with the interim Taliban government in Kabul.
The top official mentioned that the authorities have arrested two extortionists, who belong to the Tehreek-e-Taliban Pakistan (TTP) — the banned group that Pakistan says has safe havens in Afghanistan.
"Zaman Faiz and Saeedullah, who were arrested, are Afghan citizens. They were arrested from Lahore and we have also seized their mobile phones," he said.
The extortionists demanded money from businessmen, politicians, and other people — as people opted against complaining to the local authorities out of fear.
"The arrested people operated in district Mohmand; they have 71 other accomplices. This network has also called politicians (including a senator and a member of provincial assembly) seeking extortion money."
The CTD official mentioned that the arrested TTP members have also made 10 WhatsApp groups related to extortion.
The banned TTP was crushed through military operations in 2014, after a brazen attack on the Army Public School in Peshawar, which killed nearly 150 people, mostly pupils.
The TTP were largely routed, their fighters fleeing to Afghanistan where they were hunted by US-led forces.
But after Afghanistan was back under Taliban rule, Pakistan says that it has become a "safe haven" for the TTP terrorists, who are also involved in attacks on military personnel.
Sindh schools winter vacations from Dec 22
KARACHI: The Sindh government on Thursday announced the winter vacation schedule for public and private educational institutions across the province.
According to a notification issued by the Sindh School, Education, and Literacy Department, the educational institutions in the province will observe winter vacation from December 22 to 31.
"In pursuance of decisions taken in the steering committee meeting, all public and private educational institutions under the administrative control of School Education and Literacy Department Government of Sindh shall remain closed w.e.f 22-12,023 to 31-12,023 for Winter Vacation."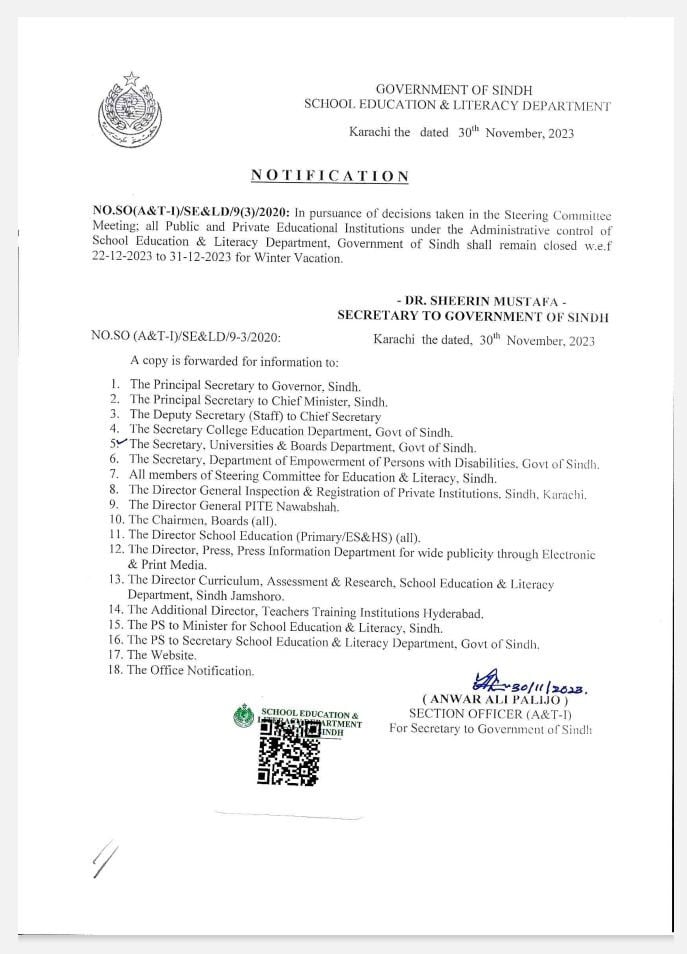 After the winter break, the educational institutions will reopen on Friday (January 1, 2024).  
Meanwhile, the new academic year in the public and private schools across Sindh will commence on April 15, 2024, and August 1, 2024, in the colleges.
The matriculation and intermediate exams will be started from the last week of May 2024, while the results will be announced on July 31 and the second week of August, respectively.
COAS Gen Asim Munir meets Kuwaiti crown prince
PM Anwaar-ul-Haq Kakar to meet Kuwaiti crown prince today.
Both army chief and PM are in Kuwait on official visit.
PM Office says multiple MoUs expected to be signed during visit.
---
Army chief General Asim Munir on Tuesday met Kuwait's Crown Prince Sheikh Mishal Al-Ahmed Al-Jaber Al-Sabah as part of his official visit to the gulf country, reported Kuwait News Agency (KUNA).
The meeting was also attended by Caretaker Law Minister Ahmed Irfan Aslam, Pakistan Ambassador to Kuwait Malik Mohammad Farooq and other members of the delegation.
Meanwhile, PM Kakar has also arrived in Kuwait City after concluding the UAE visit and is expected to meet the crown prince today, the PM Office said on Wednesday.
The premier will also meet his Kuwaiti counterpart Sheikh Ahmed Al-Nawaf Al-Ahmad Al-Sabah.
The PM office said that a number of memorandum of understanding (MoUs) will be signed for mutual cooperation in various sectors including manpower, information technology, minerals and mining, food security, energy and defence.
In UAE, Pakistan signed several MoUs worth multi-billion dollars in a range of areas on Monday to boost economic and strategic cooperation between the two countries, PM Kakar said.
The prime minister said with the signing of the MoUs, the bilateral economic and strategic relations had entered into a new era of bilateral cooperation.
Congratulating the people of Pakistan and the UAE, he said the foundation of friendship with Pakistan which was laid by Sheikh Zayed bin Sultan Al Nahyan in the 1970s, had been taken forward by his son Sheikh Mohamed bin Zayed Al Nahyan to a new era.
PM Kakar expressed the hope that the MoUs that were signed by the two countries would turn into tangible projects very soon.
Haj 2024: Pakistanis to get 'free SIMs with internet'
Caretaker Minister for Religious Affairs and Inter-faith Harmony Aneeq Ahmed said Tuesday that the government would provide free-of-cost mobile SIMs with roaming internet packages to Pakistanis performing Haj in 2024.
In conversation with a private news channel, the caretaker minister said abayas would also be given to female pilgrims, having a Pakistani flag on the backside, and 13kg suitcases would be given to all.
The minister called the reduction of around Rs100,000 in the Haj cost a "historic step" taken by the caretaker government, noting that a further Rs50,000 would be slashed and the amount would be refunded to the people in their accounts.
He said a new mobile application has been designed to assist pilgrims, which will provide navigation support and enable constant communication between pilgrims and relevant officials.
Initially available in English and Urdu, the application will later incorporate various regional languages, he said, adding, that the app would also provide digital training programmes to every pilgrim.
The minister also disclosed a project that Haj ministry, with the collaboration of the education ministry, has planned to convert city mosques into schools to enroll out-of-school children where the mosques' imams would play a leading role.
The minister said that mosques will play their role as community centers in every city areas, adding that imams will resolve community issues as well after offering prayers.
He said that haj ministry is taking all four provinces on board and enhancing the connectivity of mosques.
While describing another project, the minister said that his ministry with the collaboration of the health ministry has another project in the works, in which medical clinics will also be part of mosques.